3 Lawmakers Join Campaign to Protect Anti-Terror Tipsters From Discrimination Suits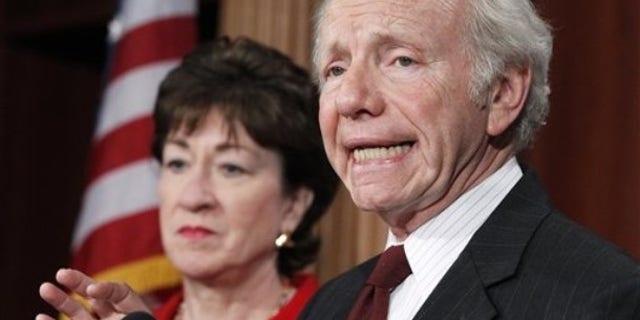 NEWYou can now listen to Fox News articles!
Three U.S. lawmakers from both sides of the aisle on Tuesday joined a growing campaign to expand protections for Americans who tip off law enforcement to potential terrorist threats from discrimination lawsuits if they identify the wrong person.
Sens. Joseph Lieberman, I-Conn., chairman of the Senate Homeland Security Committee, Susan Collins, R-Maine, the Republican on the committee, and Rep. Lamar Smith, R-Texas, chairman of the House Judiciary Committee, unveiled Tuesday the "See Something, Say Something Act."
Their legislation is just the latest effort to win protections for tipsters of suspicious terror activities. The Department of Homeland Security began the "See Something, Say Something" campaign last year that encourages people to report suspicious activity. It has teamed up with the NBA at its All-Star game and the NFL at its Super Bowl to promote the campaign.
Rep. Peter King, chairman of the Homeland Security Committee, introduced legislation by the same name in January. He has been pushing for this kind of legislation for years. And King will begin holding hearings this week on Muslim radicalization to examine what he says is a lack of cooperation in the community with law enforcement.
The campaign received a boost after a citizen tip led to the arrest in Texas this month of Khalid Aldawsari for allegedly trying to use a weapon of mass destruction. Lawmakers on Tuesday also noted that last year's Times Square bombing was thwarted when two people notified the NYPD after seeing smoke coming from a parked car.
"Time and again, we've seen terrorist plots disrupted because alert citizens noticed suspicious behavior and alerted law enforcement," Lieberman said.
Collins noted that the current U.S. legal system deters some Americans from tipping off authorities, citing a group of US Airways passengers who were sued in 2006 after reporting six Islamic clerics who requested seat changes and asked for seat belt extenders that she said could have been used as weapons.
"They were acting in good faith to report suspicious activity and ended up in tangled litigation," she said. "Our laws must do more to protect individuals like these, encouraging them to report suspicious activity when they see it and promote a sense of civic duty."
Smith added," This bill provides legal safeguards for vigilant citizens who provide tips regarding possible terror activity and the law enforcement officers who follow up on those leads. We cannot afford to let those who help prevent terror attacks become the targets of senseless liability suits."