225,000 liberals want Manchin out of Dem leadership post
Several far-left groups delivered a petition with more than 225,000 signatures to Senate Minority Leader Chuck Schumer's office Thursday demanding Sen. Joe Manchin, D-W.Va., lose his party leadership post for hugging President Trump.
Most Democrats quickly left the House chamber after the president's first address to a joint session of Congress on Tuesday night. But Machin, one of the Senate's few moderate lawmakers and the vice chairman of the Policy and Communications Committee, lingered. As President Trump made his way towards the exit, he stopped to give Manchin a hug, handshake and a pat on the back.
Not only that, but during Trump's speech Manchin gave a standing ovation when the he spoke about ending Obama-era regulations impacting the coal mining, which is paramount to the West Virginia economy. And then the following day, Manchin praised the speech on Capitol Hill.
"I loved the presidential tone," Manchin said Wednesday. "The tone was good — it was exactly what we needed to hear."
But Thursday several liberal groups, like CREDO, #AllOfUs, Democracy for America, Other98 and 350 Action, gathered in the Hart Senate Building, with their boxes of signatures, calling Manchin a "phony Democrat."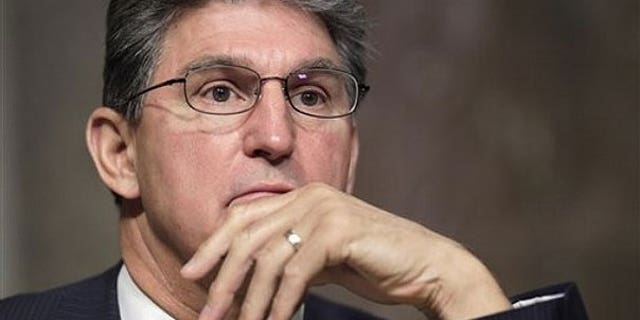 "Manchin has failed time and time again to fight back against Trump's racist, sexist and xenophobic agenda," CREDO Senior Campaign Manager Heidi Hess, said. "His willingness to collaborate with Trump makes him unqualified for Democratic leadership and Sen. Schumer should do the right thing and immediately remove Manchin from Democratic leadership."
Manchin, who has voted in favor of the majority of President Trump's pick for his cabinet, voted to confirm Dr. Ben Carson as Secretary of Housing and Urban Development on Thursday, releasing a statement saying:
"As a former Governor, I understand how crucial it is for an executive leader to have his team in place."
Neither Schumer's nor Manchin's offices responded to Fox News' request for comment on the petition.
"Joe Manchin has spent the last few months aiding and abetting the Trump administration," said Charles Chamberlain, executive director of Democracy for America Charles Chamberlain. "Removing him from Democratic leadership should be a no- brainer."