2016 Power Index: Unsteady Walker still Jeb's top rival, but press pile on continues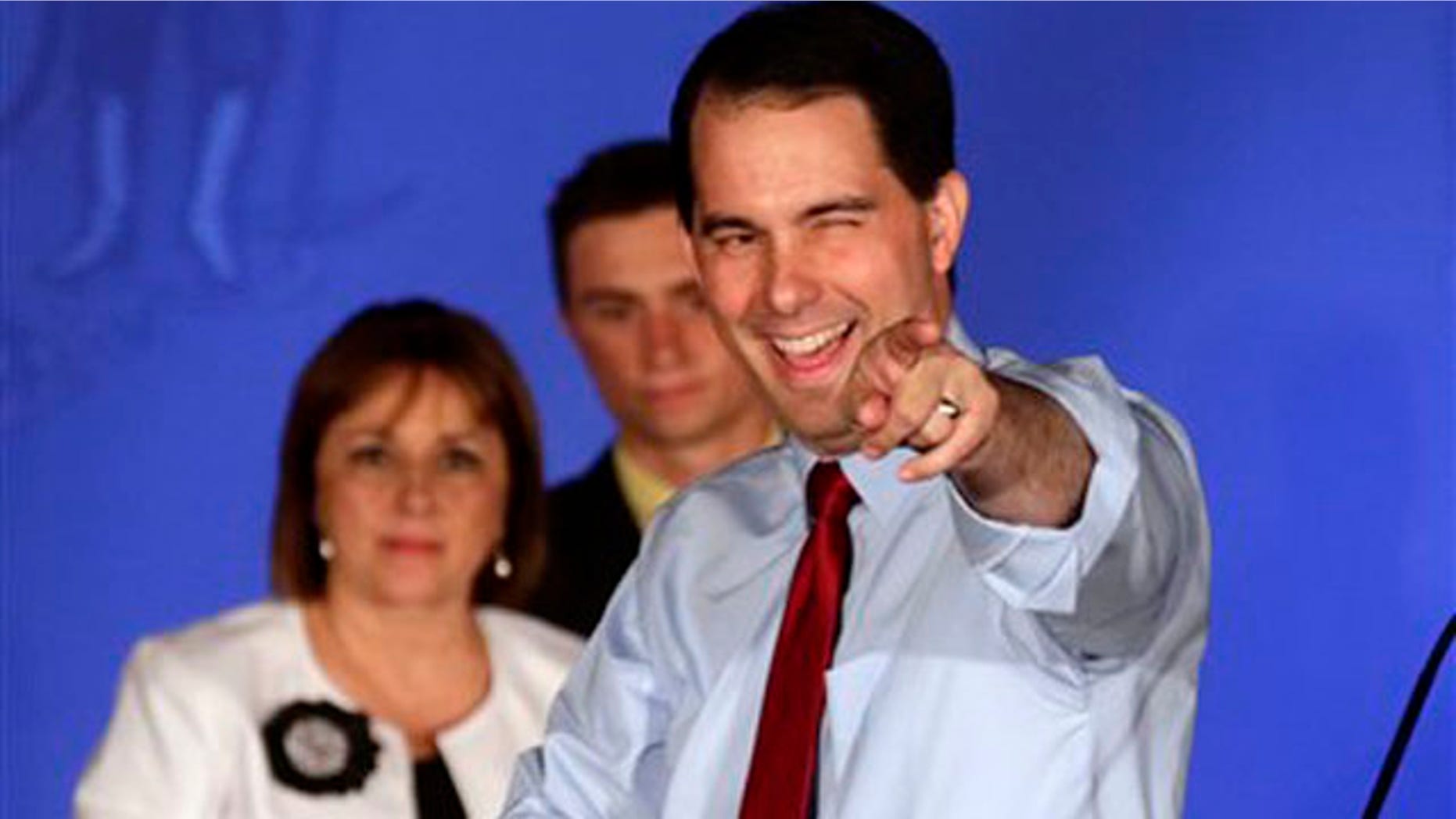 **Want FOX News First in your inbox every day? Sign up here.**
Buzz Cut:
• 2016 Power Index: Unsteady Walker still Jeb's top rival, but press pile on continues
• Poll: Cruz, Walker all tied up in Texas
• Obama gives Warren a lift in Wall Street war
• Senate Dems keep up blockade for Obama amnesty
• Never bet against Megatoad
2016 POWER INDEX: UNSTEADY WALKER STILL JEB'S TOP RIVAL, BUT PRESS PILE ON CONTINUES
Oddly, the cardinal attribute now sought in a presidential candidate is the ability to successfully evade horrid questions. And Scott Walker is learning that the hard way. The Wisconsin governor's most recent error was complaining aloud about a puerile question posed by the WaPo about what Walker believed President Obama believes about Jesus Christ. In so doing, Walker gave the kind of response his questioners were hoping for, because the words "I don't know" were part of a soliloquy on media bias. A question like this is the rhetorical equivalent of throwing a wolverine at a man's face and then writing the headline: "Candidate struggles with wolverine attack." Well, yeah... But the wolverines will keep coming, and so will the honey badgers, ferrets, otters and the rest of the family Mustelidae. And if you want to be president, you'd better find a way to deal with it.

This is Walker's second such error. On a trip to London earlier this month, Walker let his internal monologue slip out when he said he was going to "punt" a crummy question about evolution. When being treated like a native shipped back to England by Captain Cook, it would be tempting to say much worse than that. But even announcing the "punt" was bad enough. What Walker said subsequently was just fine. But his blurted intention to evade was all that anyone will remember. If you want to dodge, just look to the president, who has punted for more yards in Washington than anyone since Sammy Baugh. The president just boots that sucker down to the other end zone, the ball carried aloft on great gusts of windy words.

In order to fulfill the media narrative in which Jeb Bush is the sensible candidate trying to tame an insane Republican Party, Scott Walker must be made into an insane person. He is trying hard not to oblige the press, but if he wants to win, he will have to stop telegraphing his evasions and do what every other successful politician does and just dropkick his answers.

[Watch Fox: Chris Stirewalt joins Gretchen Carlson on "The Real Story" in the 2 p.m. ET hour with the latest on who's up and who's down in the 2016 Power Index.]

And here's this week's full ranking: 1) Jeb Bush; 2) Scott Walker; 3) Marco Rubio; 4) Ted Cruz; 5) Rick Perry [+1]; 6) Rand Paul [-1]; 7) John Kasich [+2] 8) Ben Carson [-1]; 9) Chris Christie [-1]; 10) Mike Huckabee [-1].

On the Radar - Rick Santorum, Bobby Jindal, Mike Pence, Carly Fiorina, Lindsey Graham, John Bolton

[What would you say? - Give us your take on the GOP field and we will share the best and brightest with the whole class. Send your thoughts to FOXNEWSFIRST@FOXNEWS.COM]

Miami vice: WaPo restocks story on Jeb's wife's spending - WaPo goes back to the 1990s to look at the spending habits of Columba Bush, wife of then-Florida Gov. Jeb Bush "…she took out a loan to buy $42,311.70 worth of jewelry on a single day, according to records filed with the state of Florida by Mayors Jewelers. That purchase was part of a pattern by Columba Bush of borrowing to buy tens of thousands of dollars of jewelry at a time from the South Florida store over a 14-year period."

Government worker unions reeling under Walker rules - WaPo: "The anti-union law passed here four years ago, which made Gov. Scott Walker a national Republican star and a possible presidential candidate, has turned out to be even more transformative than many had predicted. Walker had vowed that union power would shrink, workers would be judged on their merits, and local governments would save money. Unions had warned that workers would lose benefits and be forced to take on second jobs or find new careers. Many of those changes came to pass, but the once-thriving ­public-sector unions were not just shrunken, they were crippled. Unions representing teachers, professors, trash collectors and other government employees are struggling to stem plummeting membership rolls and retain relevance in the state where they got their start."

Rubio steps it up in New Hampshire - WMUR: "U.S. Sen. Marco Rubio of Florida is heading to New Hampshire to interact directly with voters who will help determine his presidential fate. Rubio, a Republican, is traveling to key early voting states to promote his book, "American Dreams." Rubio's trip to New Hampshire includes a Q-and-A session with voters in Hollis and a book signing in Manchester [today]. He'll also speak at 'Politics & Eggs' on Tuesday in Manchester. ...Observers doubted whether Rubio would run for president against his political mentor, former Florida Gov. Jeb Bush, but Rubio recently signaled he is serious about a run by hiring New Hampshire operative Jim Merrill."

Poll: Cruz, Walker all tied up in Texas - Texas Tribune: "Wisconsin Gov. Scott Walker has erased U.S. Sen. Ted Cruz's strong lead among Texas Republicans in the volatile and still-developing race for the party's 2016 presidential nomination, according to the latest University of Texas/Texas Tribune Poll.  Cruz's 25 percentage-point lead over Walker in October has vanished: The Texan won the support of 20 percent of the state's registered voters to Walker's 19 percent — a statistical tie. Former Florida Gov. Jeb Bush and author Ben Carson were tied at 9 percent, and former Texas Gov. Rick Perry was next at 8 percent."

Perry plays up hawkish stance on Putin - Weekly Standard: "Former Texas governor Rick Perry is taking on Russian president Vladimir Putin. The possible presidential candidate says that the 'peace and security of the world' depends on how America deals with Russia in a video statement…'The United States needs to get back in the game. The administration's actions have put us on the sidelines. We need to lead our allies, this is Russia we are talking about. We have to stop telling Putin what we won't do and telegraphing our limitations. Obama always thinks through the consequences of action, and never considers the consequences of inaction. The peace and security of the world is at stake and the consequences of inaction are too great to be ignored.'"

Kasich cites scripture to Rand's hit on ObamaCare expansion - Bloomberg:"Potential 2016 contender Gov. John Kasich, R-Ohio, defended his decision take Medicaid expansion money under Obamacare, rival Sixteener Sen. Rand Paul, R-Ky., has called a move by governors who think money grows on trees. 'You know, Matthew 25 says that it's about how you treat the widowed, how you treat the poor, how you treat the hungry,' Kasich said on CNN. 'How do you clothe those who have no clothes? That is a conservative position to help them get on their feet so they then can assume their rightful place in our society.' In Kentucky, he added, 'maybe everybody's fine, maybe there aren't people who are suffering these problems.'"

"I'm not saying I won't. I'm not saying I will. I'm leaving my options out there and we'll see how things develop." –Gov. John Kasich, R-Ohio, on CNN.

The Galilee Primary - Mike Huckabee is the only top-tier Republican candidate taking a pass on this week's CPAC cattle call, but WaPo explains what he's been up to: "…Huckabee is currently shepherding his flock of 253 paying guests around Israel for 10 days. That's six busloads — a lot more people than may follow some candidates around New Hampshire in February next year. The Huckabee entourage includes … country western star Larry Gatlin, who came off the bus here at Masada sporting a burnt-orange cap with a stitched-on pistol and the words "Texas: We Don't Call 911" — which is kind of appropriate if you know the story of Masada. The price is $5,250, including round-trip airfare from New York, five-star hotel accommodations, all meals, deluxe motor-coach transport, licensed guides and all fees, tips and taxes. Huckabee's wife, Janet, said they tell guests they can bring a $20 bill and come home with the change."

Pence plucky - Fox News: "Indiana Gov. Mike Pence suggested Sunday that he's still considering a 2016 White House run but brushed aside questions about whether his expected mid-spring decision will leave him too far behind the coalescing GOP field."

"I was raised to say 'do what is in front of you, do it well.' and then we'll consider whatever opportunities." –Gov. Mike Pence, R-Ind., on "Fox News Sunday with Chris Wallace." Watch here.

OBAMA GIVES WARREN A LIFT IN WALL ST. WAR
USA Today: "President Obama will order the Labor Department on Monday to begin developing new rules for financial managers who handle retirement accounts for working Americans. … Obama will make the announcement during Monday afternoon visit to the offices of AARP, according to the White House schedule. Among guests at the speech: Sen. Elizabeth Warren, D-Mass., an outspoken critic of some Wall Street practices."

[Pressure is growing from Hillary boosters for Warren to make it official and endorse the frontrunner now.]

Hillary shucked in Iowa over foreign fundraising - Ken Thomas checked in with Iowa Democrats to see how the flap over foreign contributions to the Clinton foundation was playing: "'There was a reason they stopped taking foreign government donations when [Hillary Clinton]was secretary of state,' said Mike Carberry, a Johnson County, Iowa, supervisor and former county Democratic chairman. He said the foundation should reinstate the policies used from 2009 to 2013. 'It doesn't seem right.' … Beyond the headlines, many Democrats say it shows the need for Clinton to begin actively campaigning and build an apparatus better suited to rapidly respond to these types of critiques. 'There's a vacuum,' said Tom Henderson, the chairman of the Polk County, Iowa, Democrats, who noted potential candidates such as former Maryland Gov. Martin O'Malley and former Virginia Sen. Jim Webb are visiting soon. 'She isn't doing anything' in Iowa, he said."

Indigestion over branding - WaPo: "Is Hillary Rodham Clinton a McDonald's Big Mac or a Chipotle burrito bowl? A can of Bud or a bottle of Blue Moon? JCPenney or J. Crew? As she readies her second presidential campaign, Clinton has recruited consumer marketing specialists onto her team of trusted political advisers."

Whatever breed you like - WashEx: "Hillary Rodham Clinton's campaign in waiting, 'Ready for Hillary,' … is piggybacking off the winner of last week's The Westminster Kennel Club 139th Annual Dog Show to pitch some trinkets like dog collars and bowls. In the past, the group has featured a brown Boston terrier. But in a new email a beagle, like the show winner, is used."

McAuliffe calls for Clinton to hoard cash - "Having done this for many years, the second you get in and open up a campaign account, let me tell you, that money just goes out the door. There's no need at this point. We're in a very good position, so she can take her time on her timetable, which is spectacular." –Gov. Terry McAuliffe, D-Va., in an interview with WaPo

WITH YOUR SECOND CUP OF COFFEE...
A young photographer and a group of Marines staked their claim on history with a flag and a message. Associated Press photographer Joe Rosenthal saw a few Marines raising an American flag in the rubble atop Mt. Suribachi on the island of Iwo Jima, scene of one of the most intense battles of World War II. Just as he reached the scene to capture the moment, however, the flag was already up. Rosenthal saw another group raising an even larger flag nearby, and seized his chance. He took the photograph that would go on to win him a Pulitzer Prize and a place in American history. The image of the Marines captured on this day 70 years ago served as the model for the Marine Corps War Memorial and continues to serve as a symbol of the determination and pride that the Marines embody. Semper Fidelis.

Got a TIP from the RIGHT or LEFT? Email FoxNewsFirst@FOXNEWS.COM

POLL CHECK
Real Clear Politics Averages
Obama Job Approval: Approve – 45.6 percent//Disapprove – 49.7 percent
Direction of Country: Right Direction – 33.4 percent//Wrong Track – 58.2 percent

SENATE DEMS KEEP UP BLOCKADE FOR OBAMA AMNESTY
With just days left to avoid a shutdown of the Department of Homeland Security, Senate Democrats are expected to block a fourth attempt to start debate on a House-passed bill that would fund DHS while rolling back President Obama's temporary amnesty for illegal immigrants. The impasse continues amid reports that Senate Republicans are considering a plan in which they would split off legislation attacking the president's executive actions, but it's unclear whether conservative Republicans would go along with de-coupling it from DHS funding. "'We would try to have a vote on just that issue,' a Republican aide told the Hill. 'Does it have to be addressed as part of DHS, or can it be addressed separately? If we can get to that issue and have a vote on that issue, then you come back to DHS appropriations.'" With the House returning Tuesday evening, just three days remain for Congress to work out a legislative solution.

Hello, Iowa! - "I hope my House colleagues will understand that our best bet is to challenge this in court, that if we don't fund the Department of Homeland Security, we'll get blamed as a party." –Sen. Lindsay Graham, R-S.C., on ABC's "This Week."

Govs to talk immigration with Obama today - AP: "As they gather in Washington, many of the nation's Republican governors are blaming President Barack Obama for a budget standoff that threatens a potential Department of Homeland Security shutdown. They'll be able to make their case in person when they convene at the White House on Monday morning."

Obama's pen to find new use this week - NYT: "Wielding the weapon of his pen, President Obama this week is expected to formally reject a Republican attempt to force construction of the Keystone XL oil pipeline. But in stopping the transit of petroleum from the forests of Alberta to the Gulf Coast, Mr. Obama will be opening the veto era of his presidency. The expected Keystone veto, the third and most significant of Mr. Obama's six years in office, would likely be followed by presidential vetoes of bills that would make changes in the Affordable Care Act, impose new sanctions on Iran and roll back child nutrition standards, among others."

[Watch Fox: Chief Congressional Correspondent Mike Emanuel with the latest on the immigration/DHS funding fight from Capitol Hill.]

Government bank under fire yanks public info - The Hill: "Critics of the Export-Import Bank are seething over the removal from a government Web site of previously public data earlier they say helps them detect cronyism. Between January 29 and February 13, officials at the bank removed disclosures listing businesses that applied for financing at the bank but were denied, a source at the bank told The Hill. "During a regular quarterly review, it was decided to reformat the way data is presented," the source said. Under the changes, bank officials are no longer disclosing denied applicants.  But critics of the Ex-Im, created to help U.S. companies finance overseas endeavors, say that information helps illuminate how the bank chooses which businesses to finance."

HOMELAND BOSS SAYS 'VIOLENT EXTREMISM' EUPHEMISM AT BEHEST OF MUSLIMS
Fox News: "Homeland Security Secretary Jeh Johnson said on Sunday that President Obama's decision not to say the actions of the Islamic State is a form of "radical Islam" is at the behest of the Muslim community. 'The thing I hear from leaders in the Muslim community in this country is ISIL is attempting to hijack my religion,' Johnson told 'Fox News Sunday,' referring to the terror group also known as Islamic State, or ISIS. Johnson said the leaders argue their religion is about peace and brotherhood and 'resent' that Islamic State is 'attempting to hijack that from us.' Obama is facing sharp criticism, even from within his own party, for instead using the term 'violent extremism' to describe the actions of ISIS and other terror groups that are based on a form of Islam…"

No shouting, please - Reuters: "U.S. Secretary of State John Kerry and his Iranian counterpart Mohammad Javad Zarif met for two hours in Geneva on Sunday in another round of nuclear talks to try to narrow gaps as they pressed against a March 31 deadline to reach a political agreement."

NEVER BET AGAINST MEGATOAD
Matt "Megatoad" Stonie set the bacon-eating world record by consuming 182 slices in five minutes. As one of Major League Eating's top two eaters in the world, Stonie estimates he ate more than 6 pounds of meat, that included more than 28,000 milligrams of sodium, according to Smithfield, which sponsored the event in Daytona, Florida. Unofficial records show the previous record was a meager 54 pieces though Major League Eating had not officially sponsored a bacon contest before. Stonie sits neck and neck with Joey "Jaws" Chestnut among MLE's list of gustatory greats and admitted he needed to set the bar high to preserve his feat.

Chris Stirewalt is digital politics editor for Fox News.  Want FOX News First in your inbox every day? Sign up here.