2012 GOP Names Still Floating, But Is It Too Late for New Contenders?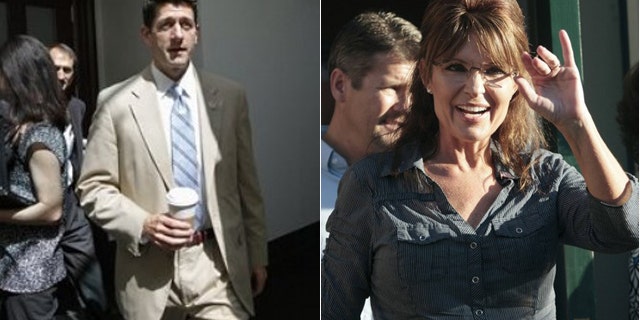 The field is full, though perhaps not complete, but if any other candidates are thinking of joining the Republican presidential race, they better move quick.
That's the thinking from the sidelines, where strategists, former candidates or could-have-been contenders are offering their take on the 2012 race.
"It's getting a little late in the day. If they don't act within the next couple of weeks, just pragmatically it's tough," said former Sen. Evan Bayh, D-Ind., who has often been on short-lists as presidential or vice presidential material.
Getting into the race late has its ups and downs. A former Arkansas governor by the name of Bill Clinton was the last entry into the Democratic contest in 1991. That worked out for him. Texas Gov. Rick Perry is the most recent to join the nominating contest. The scrutiny has been fierce but the polling looks good.
But an axiom of presidential politics is that a candidate is always strongest the day before his or her official entry into the race. After that, candidates face much closer scrutiny, and if the sheen wears thin, voters begin looking beyond the latest entry to the next potential runner.
For most late entrants, the decision on entering the field comes down to whether their presence is a benefit. Such is the concern facing politicians like New Jersey Gov. Chris Christie, former New York Mayor Rudy Giuliani, 2008 vice presidential candidate Sarah Palin and Wisconsin Rep. Paul Ryan, to name a few.
"There's nothing wrong with searching for the best we can do. Right?" asked Indiana Gov. Mitch Daniels, who decided earlier this year to forego entry to the race. "I think that's what all Americans are hoping for. And my own view has been that although I like all those folks -- there's something to like about each one of them -- that this is a more the merrier situation."
"I put credence in rumblings," said Republican strategist Ed Gillespie. "If you're Paul Ryan; if you're Sarah Palin and you're looking at the dynamics right now, of course you're weighing the possibility of getting in."
Gillespie said one of the factors that could motivate fence sitters to enter is President Obama's 39 percent job approval rating in a recent Gallup poll, the lowest of his presidency.
"If you're a Republican, you're probably thinking, well, in 2016, I can't wait because there's going to be a Republican in the White House and I don't want to run in a primary. So if you're going to ... run for president, it kind of speeds things up a little bit," Gillespie said.
Karl Rove, a senior adviser to former President George W. Bush, said both Paul and Christie have been getting a lot of pressure from influential people around the country, and both at least must be considering getting in the race based on the encouragement they're receiving.
As for Palin, Rove said he'd put cash on that bet.
"I'm not much of a gambler but I'd put a little more money that she gets in than if she doesn't," Rove said, citing her scheduled appearance in Iowa next week and her political action committee's release of a video on Friday that sounded very campaign-oriented.
"It looks like that of candidate, not celebrity," Rove said. "Her difficulty is if she doesn't get in shortly after next week, then I think people are going to basically say she's not in, she won't be in, if she gets in, I'm not going to be for her. You can only tease so many times in the political process, and I think she is getting to the end of that."
Arizona Sen. John McCain, who chose Palin to run with him on the Republican ticket in 2008, said he'd put some credence on Rove's predictions, but he doesn't know her plans.
"That's a decision that is so personal. It has to do with your family, it's got to do with and all of these things. So, it's hard for me to know where Sarah should run or not. I think she would be very formidable," he said.
"I hear, for example, maybe Rudy Giuliani is going to get in the race. I think he would be very formidable," he added.
If Ryan were to enter the race, Daniels said his message would "enrich this debate."
"He understands that an affirmative pro-growth, pro-jobs message that says everything else must take second place to that is the one hope for low-income people in this country," Daniels said. "And he would be a very effective and clear spokesman with a heart for people that I think our party must display."
But for Bayh, who agrees Paul is "a serious person," his entry may not be so graciously greeted.
"I admire the fact that he's focusing on entitlements, but if he's the nominee, it's going to be a referendum on Social Security and Medicare. And it doesn't help when you have serious publications out there that have said his plan would end Social Security and Medicare as we know it," he said.
With the field possibly still open to newcomers and primary polling cycle still five months away from starting, none of the politicians or strategists could predict who would be the best bet for Republicans or the nation. But they did agree that today's front-runners could easily be tomorrow's toast, and vice versa.
"I remind you that in 2007 at this time I was done, if you might recall," McCain said. "My campaign was doomed. A lot of things are going to happen."
Rove and Bayh were on "Fox News Sunday"; McCain and Gillespie appeared on CBS' "Face the Nation; Daniels was on NBC's "Meet the Press."