18 Former ACORN Workers Have Been Convicted or Admitted Guilt in Election Fraud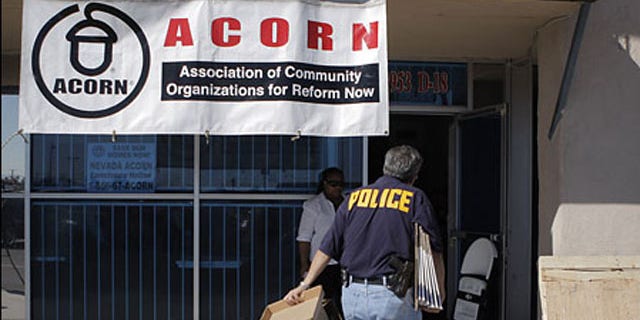 The scandal-plagued ACORN may no longer exist, but its tarnished legacy lives on in court, as the activist group and its former employees face criminal punishment.
So far this year, at least 18 former workers have admitted guilt or been convicted on varying charges of election fraud. The punishment has ranged from probation to several months of prison time.
ACORN, once a powerful advocate for low-income and minority voters, shuttered its operations amid plummeting revenues in March, six months after conservative activists posing as a pimp and prostitute caught on video some of the group's employees offering them tax advice.
But the group is still facing charges in Nevada on conspiracy to commit the crime of compensation for registration of voters.The trial, originally scheduled to begin Monday, has been postponed likely until next year.
Former workers across the country already are being punished for their criminal activities.
In Miami, seven former ACORN voter registration canvassers were convicted of "false swearing-in an election," and sentenced to probation and community service and banned from participating in future political campaigns, according to court documents.
In Pennsylvania, six of seven former ACORN workers who were charged in an investigation were convicted of unsworn falsification and interference with election officials. Four have reached a plea agreement on reduced charges and will serve two years of probation. Cases against two others who entered pleas to reduced charges are pending.
Charges against the seventh, Eric Jordan, are not being prosecuted because Jordan has pleaded guilty to much more serious charges, including aggravated assault, resisting arrest and carrying firearms without a license.
In Milwaukee, three former ACORN workers have been convicted of election fraud.
Last week, Kevin Clancy was sentenced to 10 months in prison for his role in submitting falsified voter registration forms before the 2008 election. Clancy will start his sentence once he finishes another sentence he is currently serving for armed robbery.
Clancy's co-worker, Maria Miles, who pleaded guilty to election fraud in August, will be sentenced on Dec. 6.
In September, Frank Walton pleaded guilty to submitting 54 fake voter registrations during the 2008 presidential campaign. He faces up to 42 months in prison and a $10,000 fine when he's sentenced Dec. 6.
In Washington state, Kendra Lynn Thill was convicted in March of voter registration fraud in the 2006 midterm election. In Nevada, a former ACORN supervisor pleaded the equivalent of a no-contest in a case alleging that canvassers were illegally paid to register voters during the 2008 campaign. But while Amy Busefink's plea acknowledges the state had evidence for a conviction at trial, her lawyer said she still plans to challenge the constitutionality of the state law prohibiting paying canvassers based on the number of voter registration forms they turn in.