What's a Democrat to run on these days? In California: gays, guns, grass and government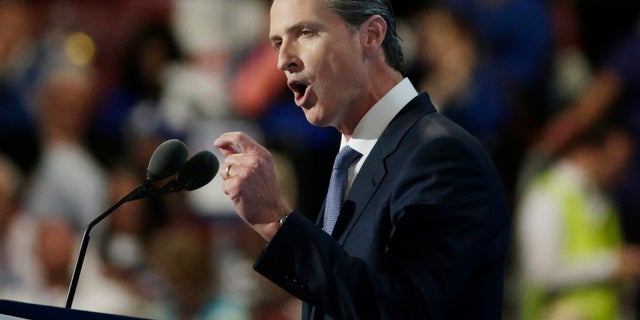 Thanks to Hillary Clinton's unexpected defeat last fall, Democrats face a quandary they weren't expecting until the next decade: what does their party embody in a post-Clinton universe?
One place to go seeking answers: California and an open gubernatorial seat in 2018 that's a window into modern-day progressivism – or, at least, the Left Coast version of it.
One recent statewide poll has Lt. Gov. Gavin Newsom well ahead of his Democratic rivals – 28 percent overall support, to only 11 percent for former Los Angeles Mayor Antonio Villaraigosa, 8% for state Treasurer John Chiang and 3 percent for former state schools superintendent Delaine Eastin.
Among just Democrats, the numbers are more jarring. Newsom receives 40 percent of his party's vote, to only 15 percent for Villaraigosa (25 percent of Democrats were undecided).
So what does Newsom owe this to, aside from his dogged pursuit of a job that eluded him when he challenged Jerry Brown for it back in 2010?
It's more than good looks. Although, blessed with a striking Stanford-educated wife who's dabbled in films and four young children, the well coiffed, corporate-casual, 49-year-old Newsom is the embodiment of Marin County metrosexual chic.
Nor is it Newsom's Bill Clinton-like quest to convince voters of his passion for big ideas. One of Newsom's pet concepts: how automation – driverless cars, robotic burger-flippers – will scramble California's job market.
What distinguishes Newsom in California circles – and why his gubernatorial quest is worth studying for other Democrats trying to rebuild the "blue wall" that Donald Trump laid to waste across the Rust Belt – is his ownership of four topics, all beginning with the letter "g", that resonate with his party's faithful.
Those topics:
Gays. In 2004 and at the time the mayor of San Francisco, Newsom sparked a nationwide political and legal firestorm by issuing about 4,000 marriage licenses to same-sex couples. It put him eight and nine years ahead of Barack Obama and Hillary Clinton.
It gives Newsom a big civil-rights talking point to market to Democrats both in California and nationwide should his ambitions take him beyond the Golden State (though same-sex marriage remains a tough sell to some black Protestants).
Guns. Newsom was a sponsor of 2016's Proposition 63, which outlawed the possession of high-capacity magazines and requires background checks for buying ammunition and outlaw magazines that hold more than 10 rounds.
Gun control is not a political third rail in deep-blue California (Prop 63 received a high percentage of votes than did Mrs. Clinton. However, it remains troublesome for Democrats in purple states (last October, the National Rifle Association spent heavily on broadcast networks in North Carolina, Ohio and Pennsylvania – three states that eluded Clinton's grasp).
Grass. Guns weren't Newsom's only involvement with last fall's initiative slate. He also co-sponsored Proposition 64, which legalized recreational marijuana use for California adults 21-and-over.
Newsom hailed its passage as nothing less than a "game changer" regarding America's war on drugs, although Prop 64 received almost 685,000 fewer votes than Prop 63 and one million fewer voters than another ballot measure that raised California's tobacco tax.
A funny thing about legalized pot: of the eight states that have legalized recreational use, only one (Alaska) didn't vote for Hillary Clinton in 2016; two others (Colorado, Nevada) are battleground states. The remaining five – California, Maine, Massachusetts, Oregon and Washington – are the backbone of a Democratic electoral count (three "blue wall" states – Michigan, Ohio and Pennsylvania – have medicinal marijuana laws on the books).
As with his stance on same-marriage marriage, is Newsom's advocacy for legalized pot two or more campaign cycles ahead of the curve?
Government. More recently, Newsom added new timber to his gubernatorial platform: universal healthcare. What Newsom envisions is a statewide version of the Healthy San Francisco plan implemented while he ran that city, which provides coverage to over 50,000 uninsured city residents (without regard to income or immigration status).
A potential snag for any healthcare expansion in California, as summed up by the man Newsom hopes to succeed: "Where do you get the extra money?"
After an election in which Democrats found themselves on the defensive over Obamacare's flawed promise, is the utopia of universal healthcare a winning message come 2020? Three years from, will voters in the same flyover states that lost touch with the national Democratic Party warm up to the progressive agenda underway in California?
An oddity of recent times is goliath California's lack of relevance in presidential affairs. After having a favorite son on a national ticket in seven of the nine national elections from 1952 to 1984, California's been out of the game for over three decades now. Given its heavy tilt to one party, the nation-state serves little purpose for presidential candidates other than chichi fundraisers and daytime drop-ins on Ellen DeGeneres' couch.
Perhaps the next governor ends that drought. If so, it could be part of the next tectonic shift in California politics.
In 1966, Ronald Reagan led a conservative revolt against Democratic rule of Sacramento, running against the cultural drift of the times – a crusade that eventually took him to the White House.
In 2003, Arnold Schwarzenegger led a less ideological, more populist uprising – again, at the expense of California's Democratic power structure.
Schwarzenegger wasn't constitutionally eligible to run for president. But one could argue that hints of his celebrity-driven populism could be found in Donald Trump's improbable campaign.
Were Gavin Newsom to succeed Jerry Brown, it's neither a rebellion against nor a repudiation of Democratic policies. However, it would mark a pronounced shift in favor of progressive idealism (Brown, the nation's oldest governor, opposes marijuana legalization, claims to be a fiscal conservative, and fashions himself as a pragmatic curb against the State Legislature's liberal excesses).
What Newsom is offering to California may sell in the Golden State a year from now. But "gays, guns, grass and government" as the cure to what ails the party out of power?
California dreaming – until proved otherwise far away from the Left Coast.