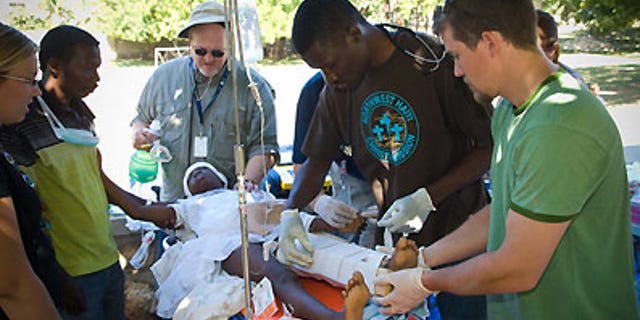 I met a little princess in Haiti last Saturday.
Gamaelle, 10, wore a crisp, white dress. She was a pretty girl even with swollen, bloodshot eyes. A soiled dressing covered her head. A makeshift splint ran up and down her left leg. She was missing teeth. Bruises, scrapes, gashes and bumps covered most of her body.
Her injuries happened in the seconds after the earthquake. When it struck she had bolted outside in a desperate attempt to escape from her own crumbling home. The problem was that the moment she made it outside a wall on the house next door collapsed onto her.
She was trapped for more than hour until her father was able to pull her from the rubble.
By last Saturday, her broken leg had still not been set. So, her father managed to get her to the church where our team from Convoy of Hope had partnered with a team from Mission of Hope to offer a medical clinic and food.
In the shade of a tree she screamed and wailed as a team of health professionals set her leg.
"Don't touch my leg there," she cried. "God, you forgot me!"
A lot of people in Haiti probably think God forgot them. As we drove through the streets we saw thousands of desperate people left with nothing but the clothes on their backs. It will be years before their lives return to normal — and as we all know, normal isn't all that good in Haiti.
Food and clean water are hard to come by when things were normal in Haiti … now they're even harder to obtain. But Convoy of Hope has great partners in Haiti who have given us inroads into some of the hardest hit places. Those inroads have allowed us to distribute more than 230,000 meals in the days since the earthquake struck.
We've made a commitment to be in the country for the long term. In the days ahead we will expand our points of distribution where we will continue to give families food. We'll also continue to give communities water filters and we'll eventually send building teams to help rebuild.
But we are not naïve. We know that what we have done and will do will only be a few pieces of the massive jigsaw puzzle that will hopefully help Haitians return to an even better normal.
But no one organization or even government can do it alone. We need help. And lots of it. Convoy of Hope is on the ground and will remain to be so. But that only happens because of people who are willing to help us help others. The response has been tremendous, but there is much work to be done.
Tonight, Gamaelle and her family will sleep out on the streets again. Their home has been destroyed. They have no money. And it will be a longtime coming before her father can find work. In other words, they will be on the streets indefinitely.
Hours after Gamaelle had her leg set I caught up with her father and asked if he was worried about the future.
"I'm alive and we're still on the earth," he said flatly. "So, we'll do what we can to survive."
A father's hope for himself and his family is that they will survive. That's not asking for much. But after what has happened in Haiti it might feel like it is.
Convoy of Hope will continue to work in Haiti.
After all, the street is no place for a little princess with a broken leg.
Kirk Noonan is currently in Haiti working for Convoy of Hope.
Help the earthquake victims in Haiti -- You can help Convoy of Hope provide needed food and medical supplies by making a donation at www.convoyofhope.org. Convoy of Hope has been rated four stars for six years in a row by the prestigious Charity Navigator.