Todd Starnes: Desecrated American flag moved at University of Kansas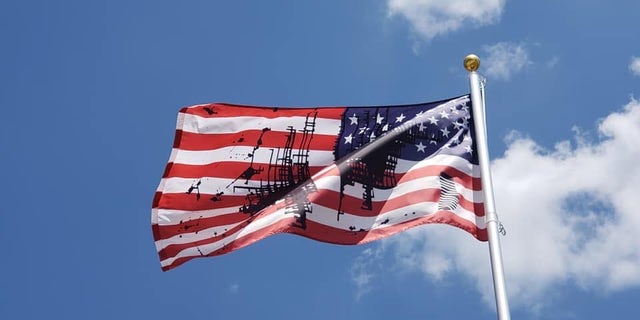 NEWYou can now listen to Fox News articles!
Facing national outrage after my report on the "Todd Starnes Radio Show" and publication of my op-ed by Fox News, the University of Kansas on Wednesday moved an American flag that had been desecrated to protest President Trump and his border security policies.
Kansas Gov. Jeff Colyer, a Republican, told me that he personally called the university's chancellor Wednesday and demanded the flag be taken down from an outdoor flagpole on the campus.
"The disrespectful display of a desecrated American flag on the KU campus is absolutely unacceptable," the governor told me. "Men and women have fought and died for that flag and to use it in this manner is beyond disrespectful."
Colyer said he was livid that a "taxpayer-funded institution would allow such a display of our sacred flag."
A university spokesperson said the flag was part of a display from the nationwide "Pledges of Allegiance" public arts project that went up July 5 and is at 13 locations around the country.
University Chancellor Douglas Girod said in a statement that "the conversation around the display has generated public safety concerns for our campus community."
"While we want to foster difficult dialogue, we cannot allow that dialogue to put our people or property in harm's way," the chancellor said. He said the flag exhibit would be moved inside the Spencer Museum of Art "where we can continue the important conversation it has generated."
The chancellor did not offer an apology to the scores of military veterans, alumni or taxpayers who were offended by the flag desecration.
Kansas Secretary of State Kris Kobach said on my nationally syndicated radio program that he is outraged by the exhibit.
"It's outrageous that you would see a public university displaying a desecrated flag," said Kobach, a Republican who is running for governor against Colyer in the Aug. 7 GOP primary.
"The fact they call it art does not make it any less of a desecration of our flag," Kobach added.
The defaced and desecrated flag is the work of Josephine Meckseper, according to Creative Time, a public arts organization.
"The flag is a collage of an American flag and one of my dripped paintings which resembles the contours of the United States," Meckseper said in a post on Creative Time's website. "I divided the shape of the country in two for the flag design to reflect a deeply polarized country in which a president has openly bragged about harassing women and is withdrawing from the Kyoto protocol and UN Human Rights Council."
As for the symbol of a black and white sock stuck to the side of the Star-Spangled Banner?
"The black and white sock on my flag takes on a new symbolic meaning in light of the recent imprisonment of immigrant children at the border," she said.
I'm not sure I follow the symbolism unless illegal immigrants crossing our border are sockless.
"Let's not forget that we all came from somewhere and are only recent occupants of this country – native cultures knew to (take) care of this continent much better for thousands of years before us," Meckseper said. "It's about time for our differences to unite us rather than divide us."
Ironically, a good many red-blooded American taxpayers were united in their disgust and outrage of the university's utter contempt for Old Glory.
And thank goodness the Sunflower State has lawmakers who are unafraid to call out the academic elites and stand up for the red, white and blue.