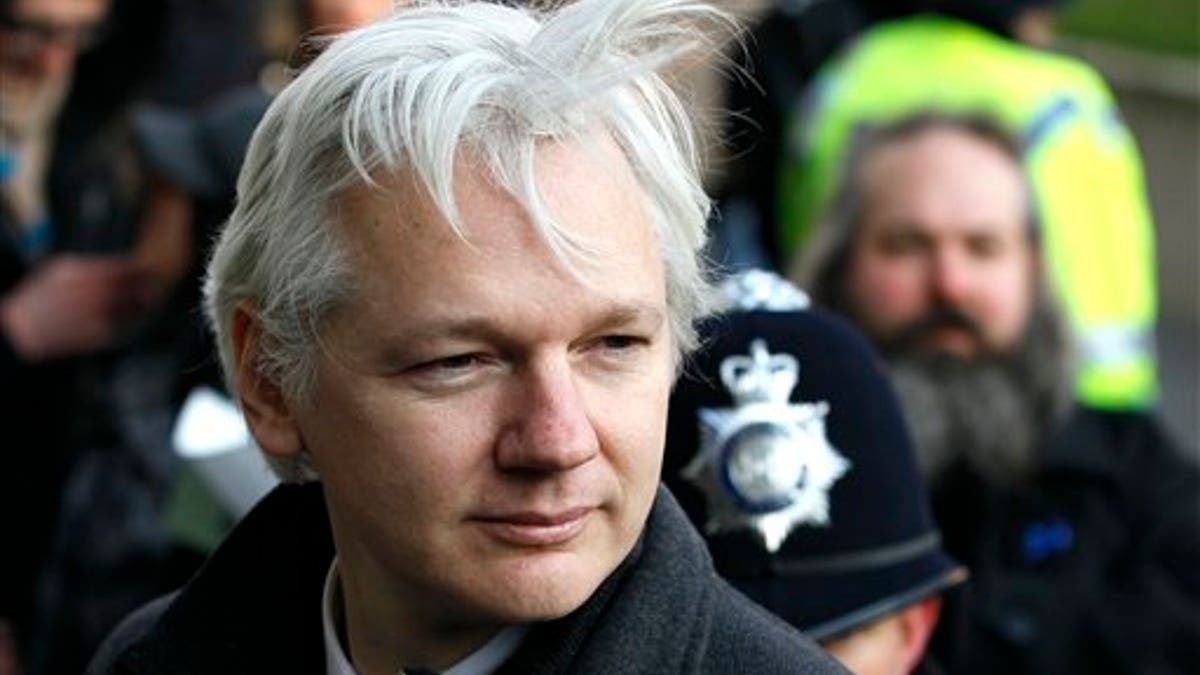 What does it say about the sanctimonious Wikileaks founder Julian Assange that he would seek the protection of an autocratic regime in Ecuador -- a country that is one of world's worst crusaders against free speech? And, what does Ecuador's irascible President Rafael Correa have to gain by granting asylum to a man who, in addition to waging a reckless campaign to publish thousands of stolen documents, is wanted on separate rape and molestation charges in Sweden? The two men are such archetypal pariahs that one of the few ways either one of them could damage his reputation is by associating with the other. They were made for each other.
Assange is hiding in Ecuador's embassy in London as a criminal, not as a Wikileaks activist; by seeking political asylum there he has jumped bail in a bid to evade a Swedish extradition request that already has been upheld by the British supreme court.
Still, there are many who buy into Assange's self-image as a free speech crusader and journalist. "It is the role of good journalism to take on powerful abusers, and when powerful abusers are taken on there's always a bad reaction. So we see that controversy, and we believe that is a good thing to engage in," Assange said in describing his vision for Wikileaks.
Assange's hypocrisy is breathtaking. He flirted with the option of political asylum in Ecuador about 18 months ago, and he interviewed Correa on Moscow-run "Russia Today" just last month.
Although he once criticized the Obama administration as "a regime that doesn't believe in the freedom of the press," Assange failed to challenge Correa on his own notorious campaign against independent journalism, opinion and dissent. Perhaps Assange was sizing up Correa not as a journalist but as an international fugitive.
Assange must know that, since taking office in 2006, Correa has treated the independent media as a political foe that must be vanquished. His modus operandi of using government regulators and corrupt judges to persecute the media can be traced back to 2008, when he sent armed police to take over two television stations and nearly 200 other companies belonging to Grupo Isaias.
According to the Committee to Protect Journalists, the two stations – which account for about 40 percent of the nation's audience – were put under the management of state television and ordered publicly to adopt "a new editorial line…"
Correa and his cronies continue the judicial persecution of the Isaias family, some of whom have sought refuge in the United States and are hopeful that US authorities will not return them to face trumped up charges in Ecuador's kangaroo courts. (Ironically, even one of the US State Department cables published by Wikileaks criticized Correa's mistreatment of the Isaias-owned television station as an assault on freedom of the press.)
Correa's aggression against free expression is relentless. Last spring he sued the publishers and editor of the venerable Guayaquil newspaper El Universo for $40 million over a February 2011 opinion piece criticizing his infamous mishandling of a police protest the year before. A succession of questionable judicial rulings favored Correa, including one lengthy opinion that appears to have been written by the president's own attorney.
Last February, the country's high court ratified the judgment against the newspaper and its editor – even after one judge fled the country and denounced the judicial corruption in the case. Correa subsequently pardoned the publisher and journalists, but they continue their independent reporting under the cloud of politically motivated prosecution.
Last month, 17 nations at the UN Human Rights Council singled out Ecuador for its poor human rights record – with many nations expressing concern about a Correa initiative that criminalizes free speech. Undaunted, Correa's delegation led the charge at a recent regional assembly to neuter a well-regarded and independent human rights organization that has criticized attacks on freedom of expression in Ecuador and other countries under leftist authoritarian rule.
It remains to be seen whether Correa will grant Assange asylum in Ecuador. If he does, it will put his country on a collision course with Britain, Sweden, and the United States, which has spoken publicly of charging Assange with crimes for publishing classified government documents. That is just the sort of confrontation that will help Correa burnish his image as the successor of the dying Venezuelan dictator Hugo Chávez.
Correa is infamous for impulsive, self-serving decisions, so whether he has the courage to take up Assange's controversial cause is anybody's guess.
As for Assange, if he does take up residence in Correa's Ecuador, he might want to do what bona fide free-speech advocates are forced to do: hold his tongue or suffer the consequences.
Roger F. Noriega was Ambassador to the Organization of American States from 2001-2003 and Assistant Secretary of State from 2003-2005. He is a visiting fellow at the American Enterprise Institute and managing director of Vision Americas LLC, which represents U.S. and foreign clients.