The big takeaway from Shimon Peres' grand sendoff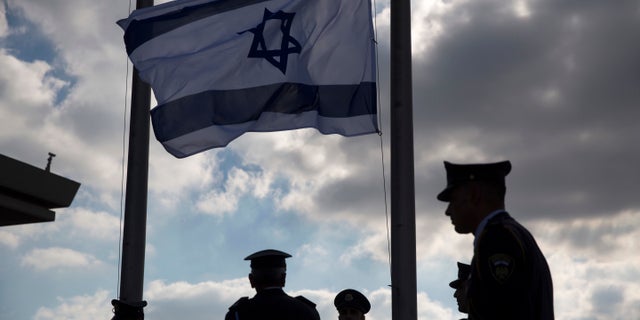 NEWYou can now listen to Fox News articles!
The funeral of Shimon Peres was exactly the kind of grand sendoff that he, himself, himself would have appreciated. In fact, he made sure it would be good by planning it himself.
Peres chose the venue, Jerusalem's Mt. Herzl, where most of Israel's dead leaders are buried. He picked his eulogizers. He even requested his favorite song--"Avinu Malkanu," a Hebrew prayer Barbra Streisand serenaded him with three years ago, at his ninetieth birthday party.
The result was a ceremony fit for Nobel Peace Prize-winning elder statesmen. The assembly of mourners included European royalty, presidents and prime ministers of every continent, high officials of the U.N. and the EU, representatives of Jewish communities throughout the diaspora and, of course, Israel's ruling elite. These dignitaries managed to sit through half a dozen eulogies with patience and even interest.
Prime Minister Netanyahu, a onetime political adversary, gave a graceful speech focusing on Peres' early career and his role in founding Israel's defense industries and its nuclear program.
Bill Clinton, a personal friend, praised Peres' boundless optimism, a trait that enabled Peres to weather a seemingly endless string of humiliating electoral defeats over three decades). In the 1996 Israeli elections, Clinton himself tried, unabashedly but futilely, to help Peres beat Netanyahu. So far Bibi has not appeared to return the favor; Hillary has Donald Trump to thank for that.
The headliner of the day was Barack Obama, who swooped down in Air Force One a few hours before the funeral, accompanied by an entourage that included Secretary of State John Kerry, House Minority Leader Nancy Pelosi and a couple dozen head of Democratic congressmen.
Somehow three or four Republicans also managed to slip in, but this was not a bipartisan moment.
Everyone knows that Peres, who first met JFK in 1963, was a lifelong honorary Democrat (just as Bibi is an unofficial member of the GOP). The only prominent Republican in sight was Sheldon Adelson, the biggest Republican donor this year. He flew in on his own plane.
Obama's speech was the grand finale. He began by paying tribute to Mahmoud Abbas, the president of the Palestinian Authority, who was seated in the front row. Obama called his presence, "a gesture and a reminder of the unfinished business of peace."
Abbas's decision to attend the funeral was a brave act. Peres, who was one of the main enablers of the West Bank settlement movement, is not popular among Palestinians. Hamas, which rules Gaza and threatens to win the next election in the West Bank (in the unlikely event that an election is ever held), declared the funeral a "Day of Rage." A Hamas spokesman put it succinctly: The Palestinian people are very happy at the death of this criminal."
Arab public opinion wasn't much better. Al Jazeera called Peres, "a murderer." Egypt and Jordan, two Arab countries at peace with Israel, sent only mid-level delegations. And the Israeli Arab faction in the Knesset, Israel's parliament, boycotted the event entirely on the grounds that Peres was a Zionist.
That much is true. Shimon Peres was, as Obama put it in a statement issued the day of Peres's death, was indeed, "the very essence" of Israel.
At the funeral, President Obama compared him to Nelson Mandela (and, oddly, Queen Elizabeth) and voiced his own high opinion of the Jewish State. "Justice and hope are at the heart of the Zionist idea," he said. Sadly, Palestinians tend not to agree.
Obama also lauded Israel which, thanks to the efforts of Peres, as "a nation that can defend itself, by itself." This is a small exaggeration. The U.S. and Israel recently concluded a multi-billion dollar defense aid deal. But the basic point is correct (and, I imagine, a great relief to Obama or any U.S. president). Israel is, in fact, the only country in the Middle East that does not require American troops to deal with Islamic barbarity, Iranian ballistic missiles, Syrian butchery--or enduring Palestinian revanchist fantasies.
"The region is going through a chaotic time," Obama observed. "Threats are ever present. And yet [Peres] did not stop dreaming and he did not stop working."
Shimon Peres, as prime minister, did seek a peace deal, but one on terms that Israel could live with.
The Palestinians refused, launched a massive bombing campaign and found Peres ready to fight.
That's how it is in this part of the world. Israeli prime ministers, even the loveable ones, have to save the dreaming for when they are out of office.