Ten years after Katrina, Bush's role in New Orleans' renaissance deserves recognition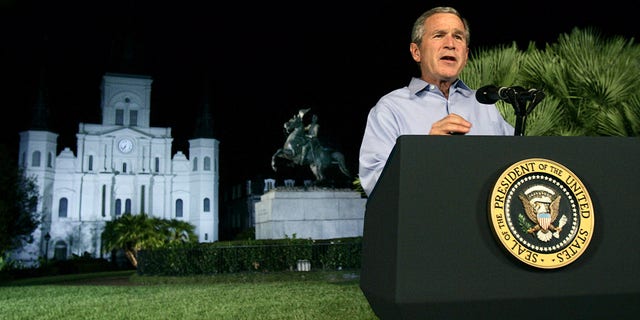 NEWYou can now listen to Fox News articles!
Walking through Jackson Square with my family it's hard to believe it's been ten years since I rode through these unlit, abandoned streets of New Orleans after Hurricane Katrina.
Travelling in an open-top Jeep with the 82nd Airborne Division gave me a first-hand look at our nation's worst natural disaster. In a vehicle behind me rode the president of the United States en route to his address to the nation live from Jackson Square.
As we made our way through the historic streets of the French Quarter, bright television lights emerged, brightly bathing St. Louis Cathedral in glorious, yet temporary, radiant light -- a reassuring sight that the physical heart of this city was intact -- tonight would be a turning point towards restoration and rebuilding.
Katrina obliterated the Gulf Coast, taking 2,000 lives, forcing more than 600,000 people from their homes and leaving scars that still can be seen and felt today.
Ten years ago on that night in Jackson Square a determined president made clear that hope would not be his strategy. He made it clear that action was necessary to bring back this great American city. He reassured us all that "New Orleans will rise again."
As the 10 year anniversary of Katrina approaches, media reports, studies and first-hand accounts point to an almost unimaginable renaissance for New Orleans in the years since the storm. It's not surprising, however, that they also ignore that the rebirth of New Orleans would not have been possible without the political and personal commitment of President George W. Bush, and the generosity of the American people.
On that September night in 2005, George W. Bush made his promise to the Crescent City clear. While Speaker Dennis Hastert was telling Americans their 38th largest city should be bulldozed and abandoned, President Bush was resolute. He confidently said, "All who question the future of the Crescent City need to know: There is no way to imagine America without New Orleans, and this great city will rise again." In his speech, Bush committed to not only rebuilding the city, but making it stronger.
At Bush's urging, Congress passed a package of $52 billion in aid to help rebuild and recover the estimated $108 billion lost to the storm. The Bushes, who had a deep love for and connection to New Orleans prior to Katrina, personally visited the Gulf region 41 times with their sleeves rolled up, grabbing hammers and lending hands to rebuilding efforts.
In 2008, the Presidential Debate Commission rejected New Orleans as a host city over false fears the hospitality industry lacked capacity. President Bush one-upped them. He decided to host the final international summit of his administration in New Orleans – inviting the leaders of Mexico and Canada, along with the international media, to town for financial negations, a jazz second line and a visit to Treme's Dooky Chase for heaping bowls of Chef Leah's gumbo.
In the last ten years dwindling pre-Katrina population trends have reversed, with metropolitan New Orleans returning to over 94 percent of its pre-storm population. Evacuees and many new young families, like mine, have been drawn here by the promise and future the city now has to offer.
President Bush knew entrepreneurship was the economic path forward for the region, and that night promised that "we will take the side of entrepreneurs as they lead the economic revival of the Gulf region." Today, New Orleans has truly become an "idea village." Successful startups like Dinnerlab and Kickstarter are based here. The city exceeds the national rate of entrepreneurship by over 64 percent.
New Orleans tourism is also once again booming with the city bringing in 9.5 million visitors last year. Those visitors are dining at one of the cities 1,400 fabled eateries -- almost double the number pre-Katrina. New industries have emerged post-Katrina as well. As of 2013, more movies are filmed in Louisiana than in Hollywood including blockbuster hit "Jurassic World" -- which repurposed the Katrina ravaged Six Flags as it's primary set.
The picture, of course, is not all rosy. It is also realistic. Like any big city we struggle with crime, a neutralized but still unacceptable poverty rate and the unfortunate distinction of having the highest incarceration rate in the U.S.. These issues adversely affect our city's minority population, but hope is growing with an emerging new generation destined for greatness.
New Orleans' education system has seen a complete revolution over the last decade. The Bush administration supported radical changes to the city's decaying and failing system. A charter school-based recovery school district was established -- giving parents and students choice and control. Over 115 schools had their libraries restocked thanks to former librarian Laura Bush -- who personally raised and committed $6.3 million dollars to the cause close to her heart. Elementary and middle school test scores have risen on average between 8 to 15 points and high school graduation rates have increased producing a new generation of confident leaders who can put their knowledge to use combating the challenges that still remain.
Ten years ago on that night in Jackson Square a determined president made clear that hope would not be his strategy. He made it clear that action was necessary to bring back this great American city. He reassured us all that "New Orleans will rise again." Like so many things I watched President Bush say and do in the ten years I worked for him, he perhaps knew he'd never get the credit – but he did it just the same.
Today, our growing family -- like many – thrives in this rising, diverse and beautiful place. Experiencing this renaissance from the ground up has turned us into evangelicals about all New Orleans has to offer. Many weekends are spent at Audubon Aquarium, meeting new baby penguins like Chicory, then strolling down to Café DuMonde, just across the street from a now boisterous Jackson Square, for their incredible beignets.
Dark memories of Katrina will linger always, but the promise of what's ahead shines even brighter than those temporary television lights used in Jackson Square that night, now ten years ago, thanks to the promises President Bush made and commitments he kept. On this anniversary, this city owes him thanks. I think we'll stop by for beignets in his honor.