Rick Sanchez: Ebola vaccine could soon be on the way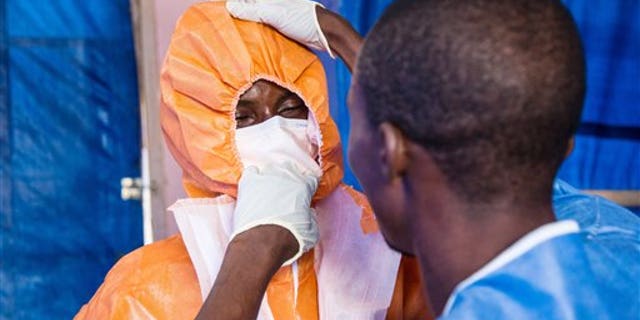 NEWYou can now listen to Fox News articles!
Amid the angst, the worrying and the apoplectic news anchors all screaming, "Ebola is coming, run for the hills," there is an untold story that offers hope. It's a story about a vaccine that may be close to becoming reality.
National Institute of Health director Francis Collins suggests that if not for budget cuts in research, we'd probably already have a vaccine.
However, that seems a bit politically opportunistic as responses go. Especially when you consider that combating pathogens is all about private money, prioritizing and in some ways – it's also a lot like gambling.
Right now, the World Health Organization is predicting up to 10,000 infections a week worldwide from Ebola. But prior to this outbreak, Ebola had only infected at total of 2,400 people. Compare that to Malaria, which kills 600,000 people a year, tuberculosis, 1.3 million, and AIDS, 1.6 million, and you begin to understand why an Ebola vaccine was a low priority for both health officials and pharmaceuticals companies.
"In the past, Ebola episodes simply burned themselves out," said Dr. Aileen Marty, an infectious disease professor at Florida International University.
Marty, who came to the United States as a Cuban immigrant when she was a young girl and has just returned from Africa where she's been working as one of the leading infectious disease specialists from the United States helping to combat the deadly Ebola virus, says the fact that Ebola seemed controllable in the past is part of the reason the vaccine for it is not yet available.
"There really was less of a feeling that a vaccine should be on the market," she explained during an interview for Fox News Latino and WIOD News radio.
Now, given that Ebola is killing up 70 percent of those infected with the disease in Liberia, Sierra Leone and Guinea, the market "is demanding a vaccine" for humans. And, according to a recent report in National Geographic, there are already two vaccines for macaque monkeys that have proven to be highly effective.
One vaccine introduces Ebola into lab monkeys as a harmless protein, which the monkey's body interprets as an attack from Ebola and develops a sure-fire immune response. Researchers say it's working "fantastically" well. And soon, we'll know whether it works on people.
The human testing process is said to have begun last month, according to National Geographic, when 10 healthy Americans were injected with the vaccine. And so far, it looks promising enough to have Anthony S. Fauci, director of the National Institute of Allergy and Infectious Diseases, tell the Washington Post that so far there are "no red flags."
Sounds to me like great news amid all the doom and gloom of Ebola reporting. It also sounds like a market-driven solution is on the way, one that thankfully will undercut the claims of politics by breathless and frenetic reporters who seem hell bent on scaring the hell out of us.