Rick Sanchez: Cut The Euphemisms, Santa Barbara Shooter Was Crazy And Belonged In Asylum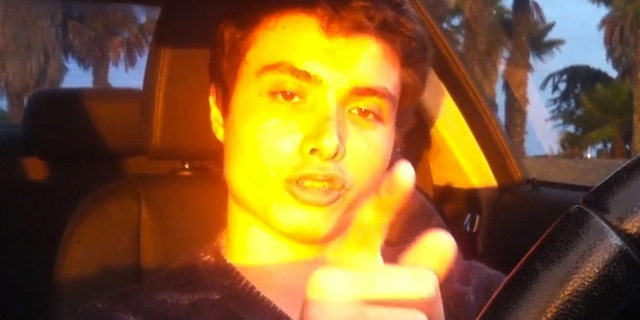 NEWYou can now listen to Fox News articles!
We used to lock up crazy people. Then we stopped. We used to care for crazy people. Then we stopped. We used to call crazy people insane. Then we stopped. We used to call crazy people mentally ill. Then we stopped.
Now, we do next to nothing. Until they do something, like kill for reasons most of us could never even begin to fathom.
Today we're no longer allowed to call them insane. We're simply allowed to say they're "ill —mentally ill." Gone are the places to put them. Gone are the institutions. So what are we left with? Crazy people, lots of them. And drugs, lots of them. And murders, lots of them. 
Elliot Rodger was lonely. Elliot Rodger was desperately lonely. Elliot Rodger was isolated. Elliot Rodger was a murderer, he was sick, and we can sit there and blame it on class warfare, misogyny, alienation, guns. The real cause (not to be disrespectful to the dead) is the fact that Elliot Rodger was just plain crazy.
There, I said it. Somebody has to. Since the dawn of time, there have been people who are ... well ... "crazy."
I know it sounds harsh, but the longer we sit around looking for euphemisms and explanations for their actions, the more people will die.
It turns out that Rodger was on "psychotropic" drugs. What are psychotropic drugs? Basically they are medicines that alter chemicals in the brain, which in turn affect mood and behavior. Some of the common side effects include (but are not limited to) suicidal tendencies, hallucinations, psychosis and mania.
Psychotropic drugs have become so commonplace, they've blended into our lexicon and may be taken, at one time or another, by as many as half of all Americans. Lithium and Prozac come to mind as immortalized by Gen X-ers. In the Nirvana song of the same name, Kurt Cobain describes crazy for millions of fans with the lyrics: "I'm so happy/'Cause today I found my friends/They're in my head." By the way, Kurt Cobain was a manic-depressive drug user who shot and killed himself in the head 20 years ago.
Which brings us back to Elliot Rodger. He too had a friend in his head, a friend who convinced him that women who didn't want to be with him needed to die. This past weekend he went on a violent killing spree in and around the campus of the University of California Santa Barbara due to his "loneliness." He was a sad, sick young man who thought he was entitled to love, entitled to sex ... misunderstood?
Actually, he was pretty easy to figure out. He was crazy. His mother told that to the police, but they they didn't listen.
Police chose to leave him alone. They didn't take his guns (they didn't see them). They didn't even take him away. Why? Because, by law, they couldn't institutionalize him unless he'd already been institutionalized. They problem is we no longer institutionalize.
Psychiatrists say getting somebody committed today is close to impossible. Long-term facilities are few and far apart, with waiting periods of up to a year. As for short-term interventions? They say insurance companies aren't willing to pay for hospital stays, thereby creating a revolving door where even the violently insane can pass through undetected.
And therein lies the problem. We used to have a place for people who we thought were crazy. They were called "insane asylums." Then in the 1960s and 1970s, we did away with them. We chose instead to treat them with anti psychotic drugs and manage them with short-term or outpatient care.
Today we're no longer allowed to call them insane. We're simply allowed to say they're "ill —mentally ill." Gone are the places to put them. Gone are the institutions. Gone is the money to manage their care, long term or short.
So what are we left with? Crazy people, lots of them. And drugs, lots of them. And murders, lots of them.
Is it unfair to suggest that all people who consume psychotropic drugs become violent criminals? Of course it is. So instead, let's consider this list of the most noteworthy violent offenders who were on psychotropic, beginning with a man who tried to kill a president.
John Hinckley (1981) attempted assassination of President Ronald Reagan. Also shot press secretary James Brady, Secret Service agent Timothy McCarthy and policeman Thomas Delahanty. Drug: Valium.
Laurie Dann (1988) shot up a second-grade classroom in Winnetka, IL, killing one and wounding six. Drugs: Ana-franil and Lithium.
Patrick Purdy (1989) conducted a schoolyard shooting rampage in Stockton, CA, murdered five children and wounded 30. Drugs: Amitriptvine and Thorazine.
Joseph T. Wesbecker (1989) shot 20 workers at Standard Gravure Corp. in Louisville, Ky., killing nine. Drug: Prozac.
Kurt Danysh (1996) shot his own father to death in 1996 without knowing what happened. Drug: Prozac.
Michael Carneal (1997), just 14 year old, shot up a High School prayer meeting in Paducah, KY, killing three and leaving another paralyzed. Drug: Ritalin.
Kip Kinkel (1998), 15 years old, murdered his parents and went to school the next day where he killed two classmates and wounded 22. Drugs: Prozac and Ritalin.
Eric Harris and Dylan Klebold (1999) were behind the school shooting rampage in Columbine, Colorado in which they killed 12 students and a teacher and wounded 24 others. Drug: Luvox.
Larry Gene Ashbrook (1999) murdered seven people and injured seven at a Christian Rock concert in Fort Worth, Texas. Drug: Prozac.
Michael McDermott (2000) accused of gunning down seven of his co-workers at a Wakefield tech. Drugs: A trio of anti-depressants.
Christopher Pittman (2001), 12 years old, murdered his grandparents. Drugs: Paxil and Zoloft
Andrea Yates (2001) drowned all five of her children – ages 7 years down to 6 months – in a bathtub. Drug: Effexor.
Jeff Weise (2005), a 16-year-old living on Minnesota's Red Lake Indian Reservation, shot and killed nine people and wounded five others. Drug: Prozac.
Terry Michael Ratzmann (2005) killed seven members of the Living Church of God (LCG) before committing suicide. Drug: Medication for Hashimoto's thyroiditis.
Seung-Hui Cho (2007) was the spree killer who killed 32 people and wounded 17 others at Virginia Tech. Drug: Prozac.
Robert Hawkins (2007) killed eight people before turning a gun on himself and committing suicide. Drugs: Ritilin and Zoloft.
Steven Kazmierczak (2008) opened fire in a lecture hall at Northern Illinois University, killing six and wounding 21. Drugs: Xanax and Ambien.
Robert Stewart (2009) killed eight people in a shooting at the Pinelake Health and Rehab nursing home in Carthage, NC. Drugs: Lexapro, Ambien, Benadryl, Xanax.
Jared Loughner (2011) shot former Rep. Gabby Giffords, D-Ariz. at an event she was holding at a Safeway market. Drug: Medication for schizophrenia.
Eduardo Sencion (2011) entered IHOP restaurant in Carson City, Nev., and shot 12 people. Five died, including three National Guard members. Drugs: He was taking unknown drugs for "mental issues."
Scott Evans Dekraai (2012) entered a hair salon in Seal Beach, Ca. Killed and fatally shot six women and two men. Drug: Anti-psychotics.
Thomas "TJ" Lane (2012) killed three students during a rampage at Chardon High School in Chardon, Ohio. Three others were injured. Drugs: Mix of prescription drugs with heroin.
Ian Stawicki (2012) opened fire on Cafe Racer Espresso in Seattle, Wash., killing five and himself after a citywide manhunt. Drugs: Unknown medication for "psychiatric problems."
James Holmes (2012), dressed like the Joker, killed 12 people and wounded 58 during the midnight premiere of "The Dark Knight Rises" in Aurora, Colo. Drugs: Four prescription medications including Vicodin, (he was said to be hooked on it.)
Andrew Engeldinger (2012) shot five to death at Accent Signage Systems in Minneapolis, Minn. Three others were wounded. Drugs: Mirtazapine Trazodon, Temazepam and Wellbutrin.
Adam Lanza (2012) shot and killed 27 people, including 18 children, at Sandy Hook elementary in Newtown, Conn. Drug: Fanapt.