Resolved: Read the Bible in 2015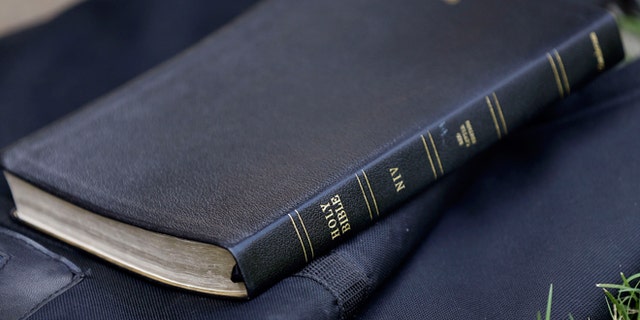 NEWYou can now listen to Fox News articles!
Most Americans make a New Year's resolution. The No. 1 resolution is to lose weight. No. 2 is to exercise more. But within three days, most Americans quit their resolution because they have no one to hold them accountable.
Why not make a more lasting resolution this year that will spiritually enhance you from within? Make a New Year's resolution to read the Bible.
In 2011, I created The Bible Challenge and urged my Episcopal church to read the entire Bible in a year. It began a movement that has started to span the world. We now have over 500,000 participants in more than 2,500 churches in over 40 countries reading the Bible in a year.
[pullquote]
In 2015, I hope you'll join us.
Ralph Waldo Emerson wrote, "What lies behind you and what lies before you, pales in comparison to what lies inside you." If you read the Bible, it will change your life, and you will never regret it.
John Adams, the second president of the United States, read the entire Bible every year. He studied the Scriptures every Thursday, Friday, Saturday and Sunday mornings. Regularly reading the Bible shaped his character, and his character shaped our country.
Andrew Jackson, our seventh president, referred to the Bible as "the rock on which our Republic rests." He read three to five chapters each day. Abraham Lincoln, our 16th president, called the Bible "the best gift God has ever given to man … But for it we could not know right from wrong."
Woodrow Wilson, our 28th president, said, "The Bible is the Word of life. I beg that you will read it and find this out for yourself. When you have read the Bible you will know it is the Word of God, because you will have found in it the key to your own heart, your own happiness, and your own duty."
Dwight D. Eisenhower, our 34th president, and his family used the Bible each day during family devotions, with each family member taking his or her turn in reading a passage. Jimmy Carter, our 39th president, reads the Bible daily and has taught a Sunday school class for over four decades.
Ronald Reagan, the 40th president, wrote, "Inside the Bible's pages lie all the answers to all the problems man has ever known. I hope Americans will read and study the Bible … It is my firm belief that the enduring values presented in its pages have a great meaning for each of us and for our nation. The Bible can touch our hearts, order our minds, and refresh our souls."
Here are 20 reasons you should considering committing to read the Bible this year:
• It's the No. 1 best-selling book of all time.
• No book has made a greater impact on the world than the Bible.
• The Bible magnifies our ability to love others and to love ourselves.
• No book reveals more about God than the Bible, and God rejoices when we read it.
• Daily Bible reading centers us spiritually and is so enjoyable that you will want to encourage others to do it as well.
• Taking time to read the Bible for 15 or 30 minutes each day transforms our lives, our marriages, our relationships and our families. It helps us to be better parents, spouses, neighbors, Christians, workers, citizens and human beings.
• The Bible is the best understanding that we have of Jesus — the person who has had the greatest impact on history.
• There are over 2 billion Christians. One out of every three people on the planet practices Christianity. The Bible is their chief narrative. It's worth knowing why. • The Bible has inspired people to found the first universities and hospitals in Western society.
• You cannot fully appreciate Western culture, literature and art without knowing the Bible.
• Many of the expressions that we use each day come directly from the Bible.
• People constantly debate what they believe the Bible says without having read it. It's worth reading it to find out what the Bible actually says.
• You can read the Bible every day and constantly find new things within it.
• The Bible will speak to you in a different way each time you pick it up and read it.
• Reading the Bible will push you to explore what it means to be created in God's image, and it will help you understand God, your life's purpose and why you were put on earth.
• No two people interpret the Bible in the exact same way. It's worth developing your own understanding of the Bible and not settling for what someone else has to say about it.
• The Bible, prayerfully and reasonably read on a regular basis, inspires people to be better persons than they ever would be had they not taken time to read it regularly.
• The Bible offers the most sustained and vital value system in history, and we cannot live and impart these values to our children and to others unless we read it regularly.
• The Bible is like a mirror. Reading it regularly develops our conscience, helps us to arrange our priorities and encourages us to make significant improvements in our lives.
• Reading the Bible keeps our heads and our hearts in the right place, develops compassion and good judgment within us and prepares us to spend eternity with God.
The Center for Biblical Studies offers reading plans and reading tips to help you read through the Bible or the entire New Testament, Psalms and Proverbs in a year. You can find suggestions for daily reading plans and which translations of the Bible are most fruitful to read by visiting our website: www.thecenterforbiblicalstudies.org.
Let the Center for Biblical Studies know if you would join to read the Bible in 2015. We will gladly send you a short spiritual commentary to accompany your daily reading and to help you fulfill your goal of reading the entire Bible in a year.