Rep. Kinzinger: Syria is not your political football, Mr. Obama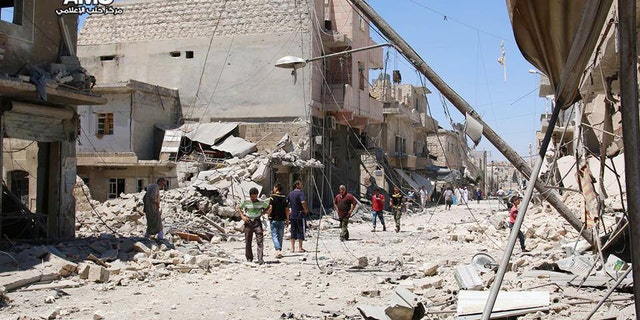 NEWYou can now listen to Fox News articles!
Last week, President Obama spoke at the 'Leader's Summit on Refugees' and read a letter from a young boy named Alex.
Alex wrote to the president about Omran Daqneesh – the young Syrian boy whose photograph and video went viral after he was placed in an ambulance, bloodied and dazed but calm, following an airstrike on civilians in Aleppo.
The letter was touching, innocent, genuine, and an example for us all. However, the president took it and turned it into a political moment to say that we need to be inviting more refugees to America.
The president made an appealing, compassionate speech that pulled at the heartstrings of everyone there – his reflection of Alex's letter resonated more widely when the White House released a video of the speech hours later. But in typical fashion, rather than look at the root of the problem in Syria, the president found an opportunity.
His eagerness to push his own agenda, while innocent kids are being murdered in Syria by a brutal dictator that the President has empowered, truly sickens me.
Personally, I loved hearing the letter that Alex wrote to the President. It's a reminder for us all to encourage kindness, humanity, caring, and acceptance in our children and our future generations.
But the crux of the problem in Syria is that the president has utterly, grotesquely, and gravely FAILED to lead. He has failed to adhere to any of the red lines he drew with Syrian dictator Bashar al-Assad.
He has failed to show strength when Russian planes conduct airstrikes on medical facilities and aid convoys. He has continually failed to understand he is being played like a fiddle by Vladimir Putin when he looks to work with the Russian dictator on a resolution to the conflict that his airstrikes continue to exacerbate.
It's embarrassing and it has done severe damage to our standing in the world. Our enemies no longer fear us, our allies don't trust us, and our own people have begun to wonder what we even stand for anymore.
The president's failure to lead, to stand up strong, to assert himself as the leader of the free world has ultimately led to the devastation we see in Syria. As commander in chief to the strongest nation in the world, it is the president's job to be our voice in the global community.
Yet, he has continued to sit on the sidelines and disengage. Nearly half a million Syrians have died in the last FIVE years and through it all, the president has done nothing. Empty rhetoric and a few ceasefires, which have all failed and were utter shams to begin with, does not equate to a strategy or plan of action.
I would strongly urge the president to rethink his gambles with Putin. I would encourage the president to visit with the people of Syria who are under constant attack by these dictators.
Go take a look at the dismembered bodies strewn across makeshift hospital floors, Mr. President. Look at the images of this carnage that our news stations cannot even show because of their gruesome nature.
This truly is "a problem from hell" – plain and simple.
It is beyond time to wake up and realize that if the president continues to sit back and allow Bashar al-Assad and Vladimir Putin to murder these innocent Syrians, his legacy will be remembered for allowing this genocide in Syria.
If we fail to act, fail to lead, fail to do something – this Syrian Civil War will be the greatest humanitarian crisis of the 21st century and more than likely the biggest shame on our president and world leaders.