Rep. Dave Reichert: Thank our police, don't take them for granted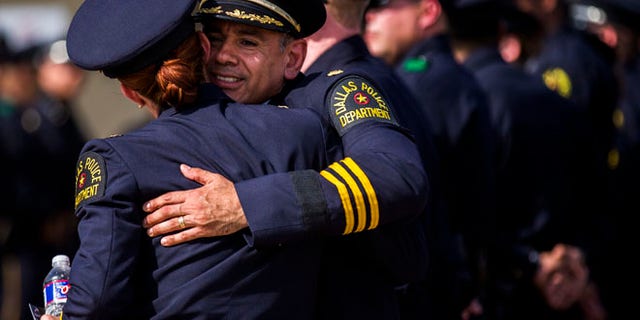 On Monday, hundreds of families, friends, colleagues, and loved ones from every corner of the country gathered at the U.S. Capitol for the 36th Annual National Peace Officers' Memorial Day to honor the 394 officers who gave their lives in service to their communities. Their names will forever be etched in hearts and on the walls of the National Law Enforcement Officers Memorial along with the over 21,000 that came before them.
Passersby may not recognize these names, but they are the names of our brothers, sisters, mothers, fathers and friends. Some were ambushed and executed; some lost their lives responding to a call to save a life or someone who called for help. These are the men and women who gave their lives so we could, in many cases, keep ours.
During National Police Week, we must remind ourselves the safety of our families and neighborhoods must not be taken for granted. The 394 additions to the wall are painful affirmations that our security comes at a tremendous cost.
Tacoma Police Officer Jake Gutierrez from my home state of Washington is one of the many examples of this cost. He lost his life in the line of duty late last year while protecting a woman from domestic violence. Jake was supposed to exchange wedding vows with his fiancée just a few weeks later. Instead, she and his three daughters and granddaughter attended his funeral and tried to picture a life without him.
I have also felt this pain personally during my 33 years serving in the King County Sheriff's Office. In 1982, I lost my partner and best friend, Sergeant Sam Hicks, who was ambushed, shot and killed investigating a homicide. Just two years later, my friend, patrol partner, and Academy classmate, Mike Raburn, was stabbed to death while serving a civil warrant. These were good men whose deaths forever changed the lives of the many who loved and cared for them.
Despite the daily acts of selfless courage and commitment to community we see from our members of law enforcement, whether it's de-escalating a domestic dispute or holding the hand of a dying man after a vehicle accident, this is not the image of law enforcement much of America has come to be familiar with.
Instead, our televisions and newsfeeds are dominated by stories that villainize those who do the most on our behalf and attempt to exploit the few bad apples working in law enforcement as representatives of the entire community.
When a law enforcement officer acts out of line they should – and must – be held accountable to the fullest extent of the law. But it is also our responsibility and the responsibility of the media not to rush to judgement when we see cropped cell phone videos that often do not tell the full story.
The consequences of supporting or allowing this public distortion of law enforcement to continue are grave. We have already seen the repercussions with targeted attacks against law enforcement and recruiting difficulties in law enforcement agencies across the country.
Instead of continuing down this dangerous path, let's turn the table and ask ourselves what we can do on behalf of law enforcement. We must begin with recognizing their sacrifices and saying thank you. We must highlight the good deeds of the everyday officer rather than cherry picking the bad. And at a state and federal level we must do our part to make sure our law enforcement agencies have the tools and resources necessary to perform their critical mission of keeping us safe.
Republican Dave Reichert represents Washington State's 8th district in the House of Representatives where he serves on the House Ways and Means Committee. He served 33 years in law enforcement.