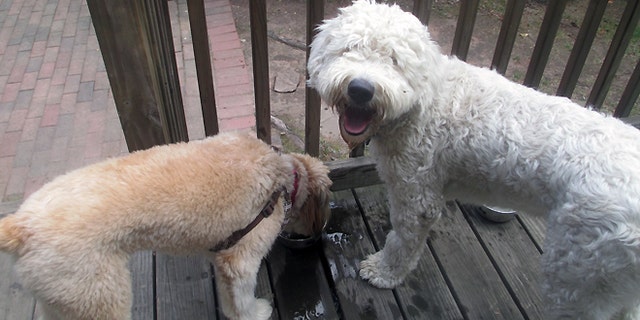 She had him at woof.
Our golden doodle puppy, Brady, has a crush on the girl next door.
She's an adorable Wheaton terrier named Elsie who's just a few months younger than Brady.
Ever since they discovered each other across our chain-link fence, their obsession has grown. When one is out, he/she is searching for the other.
[pullquote]
Their determination to connect is so intense, they've found spots all along the fence to dig holes just deep enough for Elsie (who's smaller) to escape into our yard.
While our neighbors are onboard with the relationship, they're none too pleased about the endless excavation, and they've tried many ways to shore up the shallow spots — to no avail.
Despite the neighbors' Les Miserables-quality barricades, those pups burrow their way to being together.
At least a few times a week, Elsie will dig on over, and I'll see the two dogs barking and chasing each other around with a glee akin to my kids when they hear the hypnotic carnival music from an ice cream truck.
They run, they wrestle, they nip at their ears.
They roll around in circles like animated cartoon dogs.
When they get tired, they stop to drink water, sharing one bowl even though there are always two.
Sometimes they'll find a shady spot and lie down next to each other, glancing around, and I swear they're having some telepathic conversation about me, the sorry state of our yard, or perhaps the high price of good steak these days.
Who knows?
They're so deeply in love, we've started referring to them as Romeo and Juliet.
Recently, I took Brady for a walk and left the gate to our yard open. Elsie must have been in her yard and heard him. When we returned from the walk, there she was — sitting eagerly on our driveway — waiting for her guy.
She could have run anywhere, and she had no leash for me to grab. But I wasn't worried, because I knew all she wanted was some Brady bliss.
We don't always want them escaping into the other yard — it's a pain to corral them — but they just can't stay away.
We arrange regular play dates so they get exercise and their flirting fix. (And speaking of fixed, don't worry, they've both been neutered.)
The only downside to this affair is that they get filthy from rolling around in the hay, so to speak.
But it's a small price to pay to see the determination and joy of love blooming through a metal fence.