NEWYou can now listen to Fox News articles!
Some of us have argued for years that parental choice has the potential to renew and reinvigorate one of the greatest success stories in American education: This country's network of Catholic schools.
Now we have proof of concept.
In Florida, home to the most expansive system of school choice in America, Catholic schools are flourishing. Schools that almost closed a decade ago have wait lists. New schools have opened. There's even a school – St. Malachy, near Fort Lauderdale – that closed during the Great Recession but now, thanks to resurgent demand, just re-opened.
According to an illuminating new report from Step Up For Students, the nonprofit that administers Florida's education choice scholarship programs, Catholic school enrollment rose 4 percent in Florida over the past 10 years, while it fell 33 percent in New Jersey, 31 percent in New York, and 25 percent in Pennsylvania. In fact, Florida is one of only a handful of states to see any Catholic school growth over that span, and the only one in the Top 10 in the number of Catholic school students.
School choice is a major contributor to this resurgence.
For generations, millions of parents have long valued the faithful, high-quality, and affordable education that Catholic schools provide. But make no mistake: it's been a challenge to compete with "free" government funded schools.
RANDI WEINGARTEN ATTACK ON DESANTIS OVER EDUCATION BACKFIRES
In Florida, school choice has leveled the playing field. Over the past 25 years, eligibility for state-funded choice scholarships has steadily expanded, empowering more and more parents to choose the schools they feel are best for their children. The result: Last year, Florida Catholic schools served 41,048 students using choice scholarships, three times as many as a decade prior.
As Step Up points out, that accessibility made Florida Catholic schools more diverse, too. Last year, they served more than 6,000 children using scholarships for students with special needs, triple the number from 10 years ago, while non-Catholic enrollment increased from 13 to 19 percent. The percentage of students of color is also way up, climbing from 46 to 65 percent. That makes Florida Catholic schools statistically more diverse than Florida's "public" schools. I put public in quotes because all of Florida's schools – traditional district, charter, private, and religious – serve the public and therefore the Common Good, not just those directly funded by the government.
Critically, choice in Florida has not eroded religious liberty. Catholic schools have not had to compromise core beliefs nor sacrifice autonomy to accommodate students using state scholarships. Indeed, families from all walks of life have found Florida's pivot to pluralism refreshingly liberating.
The resurgence of Florida's Catholic schools couldn't have come at a better time.
For one, the COVID-19 pandemic again highlighted the "Catholic school advantage." America's Catholic schools re-opened sooner than most of its traditional district and charter schools, and produced considerably better academic outcomes. A phenomenon that did not go unnoticed by parents.
Meanwhile, the Florida evidence comes as multiple states (including Florida) are adopting universal choice programs. Education freedom has long been popular with voters all over the political spectrum, but now, finally, policies are mirroring politics. It's incumbent on all who support Catholic education to seize this moment and momentum.
In states with expansive new choice programs, Catholic schools cannot rest on their laurels, nor assume once a program is passed that someone else will lead families to our front door. We must get out of the Upper Room and evangelize about the value of our schools and the opportunities that come with choice.
CLICK HERE FOR MORE FOX NEWS OPINION
As the Step Up report also underscores, Catholic schools in Florida have been thoughtfully diversifying their offerings to compete on a landscape where parents have more and better options every day. They've also been finding effective ways to inform parents about their choices. The Diocese of Venice, for example, sent one million messages via text and email to its families this year, to ensure they knew choice scholarships were available. Not surprisingly, all 16 Diocesan schools are full.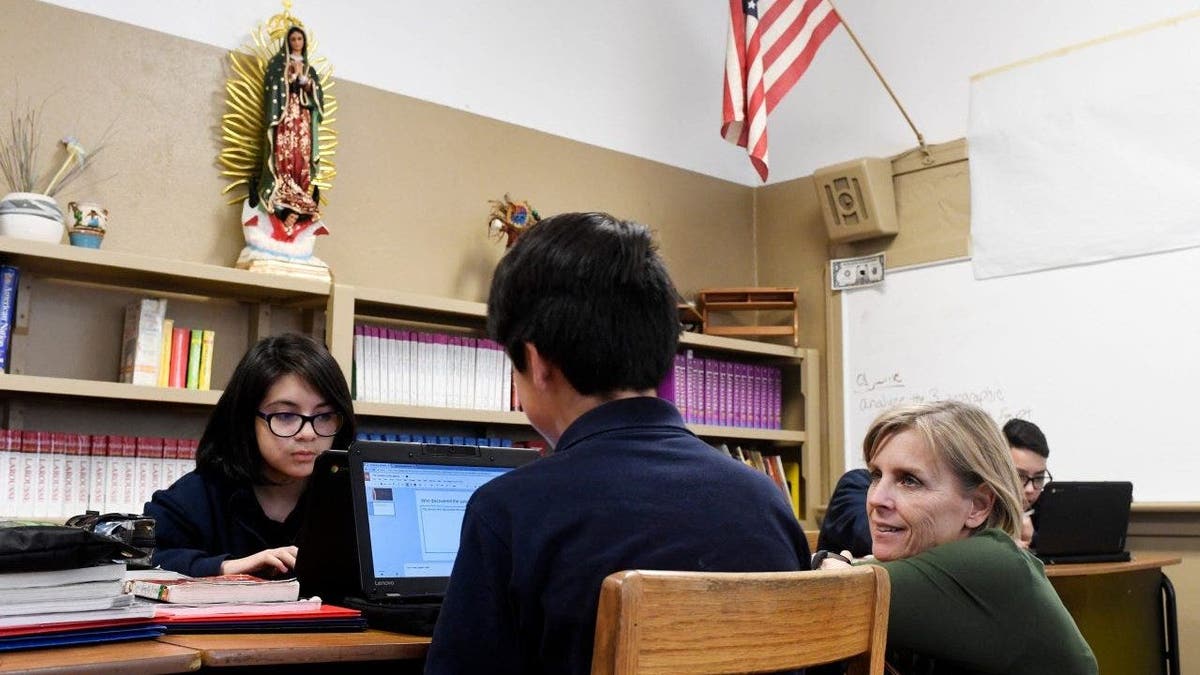 But not everywhere is as sunny as the Sunshine State. In places where political dynamics make state choice a stretch (for now), we think it's appropriate for supporters to lean into federal legislative initiatives. The Education Choice for Children Act is one such proposal and would create a $10 billion tax credit program to fund choice scholarships across America. It would be particularly helpful to families with no access to state programs.
CLICK HERE TO GET THE FOX NEWS APP
The remarkable expansion of school choice offers historic opportunities for Catholic schools to serve many more children and families. The Florida story shows what's possible when choice becomes the new normal. It should serve as both inspiration and motivation.
If supporters rise to the challenge, Florida won't be the outlier for long and all parents will enjoy true freedom and the right to direct their child's education.