Opinion: When It Comes To Immigration Reform, GOP Insists On Being The Party Of 'No We Won't'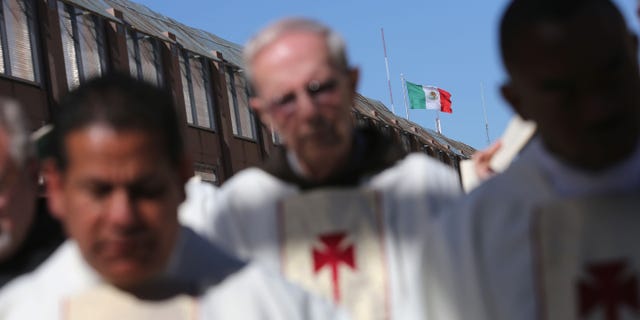 NEWYou can now listen to Fox News articles!
Daniel Neyoy Ruiz, an undocumented immigrant has, quite literally, turned to his church for an eleventh hour stay of deportation.
Since last week Ruiz, his wife and his U.S. citizen son have been held up in the Southside Presbyterian Church in Tucson, Arizona after it offered him refuge from U.S. Immigration and Customs Enforcement, which seems to have an insatiable appetite for devouring mixed immigration status American families.
Ruiz, who is from Mexico, was scheduled to be deported last week but instead chose indefinite detention in the church, which has a three decade history of offering sanctuary to undocumented immigrants.
Until Boehner and Cantor decide to show some political courage, good people like Mr. Ruiz will be forced to seek sanctuary in churches to protect their families from ICE agents looking to meet deportation quotas.
There is more than a little irony in an undocumented man fleeing to a church to protect his family while the GOP controlled House of Representatives – whose leaders are quick to tout religion and "family values" – do nothing to keep mixed immigration status American families safe and together. Never mind that recent polls show overwhelming support by Republicans (64 percent), Democrats (78 percent) and Independents (71 percent) for immigration reform, including a legal route to lawful immigration status for the 11 million undocumented noncitizens living in America. And that's not just a cold statistic. That's 11 million undocumented Americans – mothers, fathers, sisters and brothers – who came to this country like generations of immigrants before them, to build a better life for future generations.
Of course it's not quite fair to say that the House GOP has done nothing on immigration. To the contrary, they have voted to deport DREAMERs and, as I write this, House Majority Leader Eric Cantor is devoting his energy (and your tax dollars) to blocking the Enlist Act which would allow some undocumented immigrants to serve in the U.S. military and, under certain circumstances, earn green cards. The legislation was introduced Monday by Rep. Jeff Denham (R-Va.) as an amendment to the National Defense Authorization Act. But Cantor is vowing to not even allow debate on the bill.
It's almost like House Republican leaders are looking for ways to further alienate Hispanic voters and threaten the GOP's national viability.
Imagine if Speaker John Boehner, House Majority Leader Eric Cantor and the rest of the GOP leadership paid the same deference to the will of the American people that they do to the extremists in their party. An immigration overhaul would likely already be the law of the land and hard-working fathers like Mr. Ruiz would be supporting their families, continuing to pay their taxes and further contributing to the fabric of their communities.
But until Boehner and Cantor decide to show some political courage, good people like Mr. Ruiz will be forced to seek sanctuary in churches to protect their families from ICE agents looking to meet deportation quotas at the expense of common sense enforcement.
If the Republicans insist on being the party of "No We Won't" when it comes to immigration reform, then President Obama should once again insist that "Yes We Can." There is plenty the President can do to stop the humanitarian crisis which plagues the nation and bleeds American families in places like Tucson, Arizona, Seattle Washington, and Painesville, Ohio. Mr. Obama has the legal authority to broaden DACA, the temporary deportation reprieve he gave to qualified undocumented youth in June 2012. He could also order Attorney General Holder to review the onerous evidentiary burdens placed upon immigrants seeking waivers from immigration judges due to the extreme hardship that deportation would cause their U.S. citizen and lawful resident family members. Further, the President could use statutes already on the books to allow the qualified undocumented spouses of U.S. citizens to apply for green cards without having to leave the country and risk being banned from returning to their families for 10 years.
It's a sad day in America when an undocumented immigrant is forced to seek haven in a church to keep his family together. I am sure that many Americans will pray for him and other undocumented immigrants who are caught in the web of a broken, rigid and unforgiving immigration system.
In the meantime, it shouldn't take a miracle for the House of Representatives to do its job and pass immigration reform.