Opinion: Texas court decision on executive action is politically motivated, legally unsound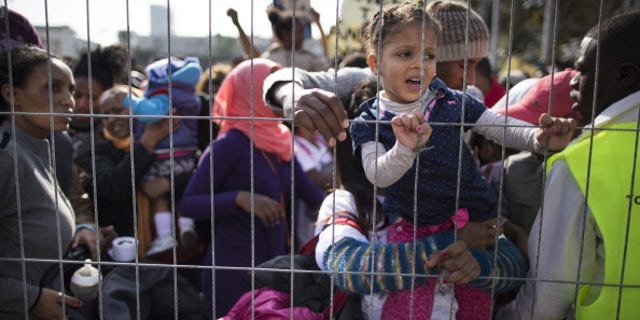 NEWYou can now listen to Fox News articles!
Take that! Last week, a federal judge in Brownsville, Texas fired the latest salvo in the battle over President Obama's executive action on immigration.On Tuesday, Judge Andrew Hanen issued a preliminary injunction against the expanded version of Deferred Action for Childhood Arrivals (DACA) and the new Deferred Action Parental Accountability (DAPA) program. These programs are both on hold, although on Monday the department of justice filed a motion to appeal Hanen's decision.
While Hanen's ruling has suspended the rollout of the president's immigration programs, there should be no doubt about their legal viability.Hanen's opinion is more of a political than a judicial document. Its reasoning is flawed, and this decision will ultimately be overturned.
This is cruel political gamesmanship masquerading as a legitimate judicial opinion. Hanen's ruling rests on flimsy legal logic, and will not withstand review by a higher court.
It was no accident that this case was heard in Hanen's court.The 26 Republican Governors who brought this lawsuit wanted the most sympathetic judge they could get, and they found it in Hanen. At a January hearing, he said, "Talking to anyone in Brownsville about immigration is like talking to Noah about the flood." In a 2013 case, he opined that the federal government was furthering a "criminal conspiracy" because it reunited an undocumented child with her mother. He's also said that Obama's immigration policy "endangers America" and "is an open invitation to the most dangerous criminals in society."
To be clear, Hanen did not find Obama's executive action unconstitutional or illegal. In fact, he did not rule on the merits of the case. Instead he cited a procedural error as a basis for determining that there was a chance the case could succeed. Pending further review, he stopped the programs from going forward.
Hanen's rationale for halting the programs is full of holes. He found that the states suffered harm from illegal immigration because of the costs of educating undocumented children. Yet this is irrelevant because the Supreme Court ruled in Plyler v. Doe (1982) that states must educate all children, regardless of immigration status. As other proof of harm suffered by the states, Hanen notes that Texas will have to spend money to issue driver's license to undocumented immigrants. He ignores the data that shows that bringing people out of the shadows produces a net economic benefit to our society; that's why the mayor of Brownsville sided with the Obama administration in this lawsuit.
None of these convoluted arguments matter anyway because the states lack "standing" to bring their case. Under this well-established doctrine, a party cannot bring suit unless a decision by the court can offer "redress," or a way to fix the problem. But the federal court cannot force the Department of Homeland Security to deport more people.The government currently deports about 315,000 people a year. Whether the executive action is upheld or not, that will not change. So because the court cannot "fix" the states' problem (undocumented immigrants, they say), the states lack standing – meaning there is no case here.
Still, in his opinion Hanen makes his political leanings clear. He uses terms like "amnesty" and "invasion," which is highly irregular in a legal opinion. He also makes assertions that are untrue, such as when he agrees with the states that the government has abandoned its duty to enforce the law. Really? That may come as a surprise to the millions of immigrants who have been caught up in the Obama administration's record levels of deportations. The Washington Post ran a whole article dissecting the misleading statements in Hanen's opinion, such as his (false) statement that undocumented immigrants lead to more crime.
Sure, Hanen found that the Obama administration may have made a procedural error in not allowing 90 days of public comment before announcing this policy change. For this most trivial of technicalities, Hanen has put the lives of estimated 290,000 Dreamers and 4 million of their parents on hold. Hanen ignores the fact that the Supreme Court has already ruled (in U.S. vs. Arizona, 2012) that the federal government has broad discretion over immigration enforcement. Consider that two similar lawsuits challenging Obama's executive action were both tossed out by federal courts. Or that presidents of both parties have been taking executive action on immigration since at least as far back as Eisenhower. None of this appears to matter to Hanen, who is willing to punish young immigrants and their families for the sake of thwarting President Obama.
Judge Hanen's decision has caused needless anxiety, confusion, and fear in the immigrant community. This is cruel political gamesmanship masquerading as a legitimate judicial opinion. Hanen's ruling rests on flimsy legal logic, and will not withstand review by a higher court.