Opinion: Sofia The Sexist And Beyoncé The Feminist? Only To Those With Blinders On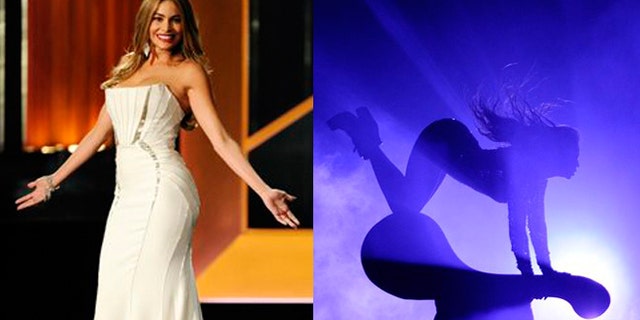 NEWYou can now listen to Fox News articles!
Sunday night at the VMA's, Beyoncé performed a 16-minute routine in an outfit showing a great deal of skin, with a background of women who, at one point, turned upside down so that Beyoncé was framed in nothing but their bare derrieres sprinkled with glitter, and of, course, stripper poles.
It was a scene better suited for a Penthouse pictorial than a VMA.
If anything is spinning aimlessly and destructively on a pedestal, it is society's woefully misapplied notions of who is a feminist and who isn't.
Beyoncé, however, has recently taken to calling herself a "feminist" – a completely unearned title the adoring media has swallowed without question – and the word was broadcast in huge letters on her stage as she performed. The Internet exploded with praise. Never mind that she is gyrating and thrusting on stage, deliberately showing off her body, and objectifying the half naked women behind her.
Few bothered to note the inherent contradiction. The stage reads "FEMINIST" in big bold letters, so it must be so!
The Emmys followed on Monday night. During a clearly comical bit, Bruce Rosenblum, chairman of the Television Academy of Arts and Sciences, gave an address while Vergara stood and spun on a pedestal, so that the viewers would have something nice to behold.
The Colombian starlet, known for her humor, clearly knows how to have some good-natured fun with her sexpot image. Yet the Internet exploded in outrage. As one Twitter user commented:
"So last night, Beyoncé shows her talent. Tonight, the #emmys show us Sofia Vergara's boobs. Great."
Vergara addressed the issue, following the event's conclusion, telling Entertainment Weekly:
"I think it's absolutely the opposite. It means that somebody can be hot and also be funny and make fun of herself. I think it's ridiculous that somebody started this — I know who she was — who has no sense of humor [and should] lighten up a little bit."
But the outrage continues, criticizing Vergara for objectifying herself whilst many of the same individuals and outlets curiously praised Beyoncé for her 'feminist' performance. This, despite the obvious truth that if any woman represents feminism, it is Vergara.
Single for years, she has not profited nor earned added fame through a man or marriage (as Beyoncé has). While proud of her body and posting a bikini photo from time to time, her work does not consist of parading around in half-naked costumes or singing sexually denigrating lyrics. Moreover, at the age of 41, Vergara's physical appeal should, one would think, be applauded by feminists: it is a direct rebuttal to the sexist male sneer that a woman over the age of 30 is 'over the hill.'
Any Latina reading this is only too familiar with the double standard, however. The 'saucy Latina' or 'Latina sexpot' image means we must live by it and be judged by it … but never playfully own it, embrace it, or make fun of it.
When Beyoncé gyrates on a stage surrounded by derrieres-in-thongs, it is feminist! When Vergara, in a tasteful, full-length gown, jokingly spins around on a pedestal, it is – and she is – sexist! One has to wonder how much of this is due to ethnic prejudices concerning Latinas, that Vergara is held to a different standard by the very same folks who gush over Beyoncé.
If anything is spinning aimlessly and destructively on a pedestal, it is society's woefully misapplied notions of who is a feminist and who isn't.
Sofia the Sexist and Beyoncé the Brilliant? Only to those with blinders on.