Opinion: 'Latino Issues' Are American Issues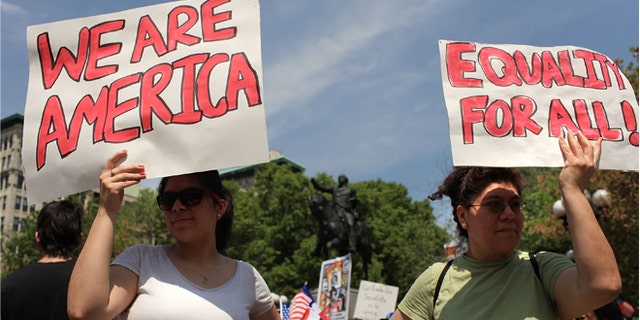 NEWYou can now listen to Fox News articles!
Just over a month ago, our co-founders Eva Longoria and Henry Muñoz, launched the Latino Victory Project with three goals: to create a pipeline of Latino leaders; to build a pipeline of Latino donors to fund the movement for political change; and to lift the voices of Latinos at the ballot box and beyond to the policy debates currently facing our country.
There is no question that Latino representation in elected office is not reflective of the size of our community. In our continued effort to build Latino political power, we are proud to be participating at the 31st Annual National Association of Latino Elected and Appointed Officials Conference here in San Diego this weekend. Bringing more than 1,000 Latino officeholders and appointed officials from across the country, this gathering is a testament to the power of the collective Latino voice to affect change and discuss issues of importance to this county.
The power of our collective voice is not only in advocating for change, but organizing against those who present roadblocks towards progress.
Our mission at the Latino Victory Project is not to advance "Latino issues." Our issues are American issues with Latino values that must be part of the national dialogue and effectively addressed by policymakers so that our country moves forward, stronger and more reflective of its people. This weekend, two issues on the Latino Victory Project's platform are of particular interest to the people of San Diego and the Latino leadership at the NALEO Conference.
The first is enacting immigration reform. Earlier this year, a coalition of U.S. mayors, including San Diego mayor Kevin Faulconer, signed a letter to leaders in Washington, D.C. asking for passage of immigration reform legislation. This is an issue with broad-based support that continues to lag in the House of Representatives and we could not agree more on the call for legislative action. The power of our collective voice is not only in advocating for change, but organizing against those who present roadblocks towards progress. We must cut through partisan gridlock and get this done for the benefit of all Americans.
The second is championing policies that protect the environment. In a January 2014 poll, the Natural Resource Defense Council found that nationally, nine in ten Latinos want the government to take action against the dangers of global warming and climate change. Again, here in San Diego, recognized as one of the greenest U.S. cities and for its commitment to sustainable energy and eco-friendly policies, there is no question about the benefits of a cleaner, more sustainable environment. Wanting a world where pollutants and toxins will not harm our children and future generations is not only a Latino concern; it is every parent's concern.
The vision of the Latino Victory Project is to realize the full political power of our community by closing the voting gap, engaging more Latino donors and electing Latino leaders to every level of government in order to advance policies that reflect our values. Under our vision, the United States is a land of opportunity where immigrants come out of the shadows and are equal participants in our economy. Latinos exercise their vote at the ballot box in large numbers and our air and water is cleaner and safer. People are healthier and better off because they have access to healthcare and an ample education. This is the American dream and we are closer than ever before to fulfilling its promise. Now is the time.