Opinion: Detained immigrants have a better pathway forward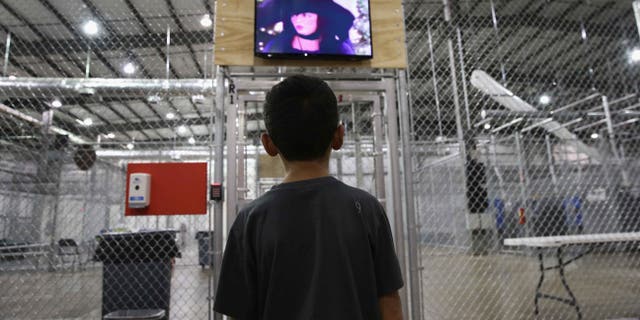 NEWYou can now listen to Fox News articles!
We've heard the rags-to-riches stories of immigrants who come to this country with very little and make a better life for themselves, achieving the American Dream. These are the profiles of famous Hispanic celebrities, policy makers, business owners and sports heroes who are highlighted in the media and become the benchmark for Latino success in the U.S. But what about the thousands of undocumented immigrants we don't see in the glossies who are currently in detention, without the privilege to freely live, work, or defend themselves in court?
Political advocacy to change a broken system is important, but finding a way to make that broken system work for more people in the meantime is also a critical mission.
Those are the stories worth telling to better understand how so many fall through the cracks within current immigration policy and how the American bail system has unjustly kept undocumented immigrants imprisoned within our country's detention centers.
Just like with the successful immigrant community we do see, there is also a will in those detained to be free, law-abiding citizens, and there is a way for them. In an age where technology is continuously improving nearly every aspect of society, we can leverage GPS technology to help facilitate the release of detainees that cannot meet the onerous financial conditions imposed by our immigration bail system.
To put this idea into context, you have to understand that detained undocumented immigrants are not subject to the same protections as those in the criminal system, which requires judges to consider a person's financial ability to pay a bond and determine alternative conditions of supervision to guarantee they show in court. Typically, bonds are paid in full cash collateral or a with a mortgage deed against a home owned free and clear (or in some cases, with a large amount of equity). However, most immigrant detainees do not have this type of collateral readily available to post their bonds. So why not offer a financially-viable option and facilitate their release as opposed to letting them languish in detention centers?
Libre by Nexus, a company I founded in 2011 with the sole mission of giving a voice to those who need it most, offers an alternative pathway forward. In partnership with a leading insurance company to underwrite upfront costs, we leverage GPS technology to secure bonds through voluntary agreements without requiring collateral, enabling more people to be released and be reunited with their families. In fact, I'm proud to say that this program has helped over 6,000 immigrants nationwide and boasts a 98 percent success rate in facilitating respondents' appearances in court proceedings. This is astoundingly higher than traditional immigration bonds secured by full collateral, which may fail at a rate of up to 70 percent.
Furthermore, a program like ours takes into consideration the inherent worth and dignity of all people, regardless of their immigration status. Libre by Nexus has been there for its clients during times of need in a variety of ways—from paying for healthcare services to helping with grocery bills, assisting with employment, free legal counsel through our pro-bono division called Caridades, housing support, and paying for mental health and substance abuse counseling—all of which help to more freely fight their cases and while enabling them to positively contribute to American society. Our program brings people out of the shadows and gives them hope that they might fully participate in the American democratic process.
While there are fees associated with using GPS technology in immigrant bond securitization, an important part of the approval process for Libre by Nexus clients is the determination that the GPS rental will not present a hardship on the family or sponsor of the detainee. Additionally, for those who cannot pay, Nexus offers payment forgiveness programs. Libre by Nexus is committed to advancing justice through helping as many immigrants in detention as possible.
Bail based on financial conditions will always equate to costs for detainees to secure their freedom. However, for many Libre clients, this system has proven most effective and offered them hope and opportunity instead of fear or despair in prolonged detention.
Imprisonment and unexpected financial obligations are inherently negative concepts clouded by a level of scrutiny and controversy. I understand that, but invite anyone who questions Libre's model to understand the context of this dire situation, and more importantly, consider the alternative. Our clients would definitely be languishing in prison otherwise; meanwhile, our innovative model has created a better pathway forward for both the immigrant community and our society, by saving taxpayers up to $348 million in detention fees.
Nexus' full-time in-house government affairs team alongside public affairs counsel has lobbied over 7,000 hours a year on behalf of public policy issues that are important to the communities we serve, such as reforming our immigration, criminal justice, and money bail bond systems. I invite others to join this cause and help us find our way through this broken system. We know the road will bumpy and at times difficult to navigate, but where there is a will, there is a way. A pathway forward is what immigrants languishing in detention need most. Political advocacy to change a broken system is important, but finding a way to make that broken system work for more people in the meantime is also a critical mission.