Mainstream media desperate to hide Muslim faith of attackers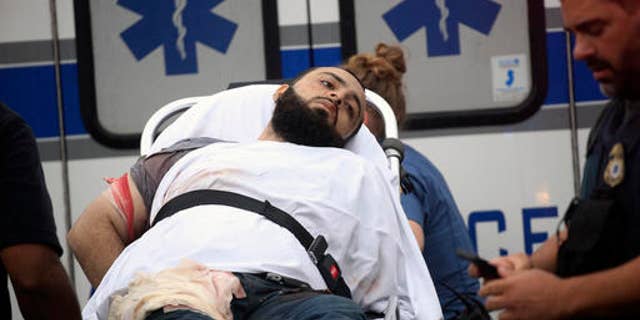 When you have a "48-hour reign of terror" journalists usually tell you about the suspect – except when he's Muslim.
Reporters have been going out of their way since Monday to hide that New York bombing suspect Ahmad Khan Rahami is Muslim.
Monday, all three broadcast networks buried that fact deep in their series of stories about the attacks. All three used the same backhanded way of mentioning the Islamic connection by discussing his family's lawsuit over alleged discrimination.
Then there was the Minnesota stabbing spree over the weekend, committed by Muslim Dahir Ahmed Adan, who was killed after stabbing 10 people in a mall.
Both attacks were reportedly committed by Muslims not born in the United States. But viewers were left to read between the lines of the reports to figure all that out.
Broadcast news is too politically correct for honesty.
Monday night, all three broadcast networks hid the Muslim connection until their second story on the attacks.
NBC was typical. It went through one entire report on the arrest before it even mentioned Rahami's faith. NBC anchor Lester Holt set the stage just as the other networks did, calling Rahami, "a naturalized U.S. citizen from Afghanistan." They said nothing about his faith.
Chief Foreign Correspondent Richard Engel slipped in the key detail in the second report. He talked about the family's lawsuit against police over their restaurant. "'Muslims make too much trouble in this country,' they claimed a neighbor said." Naturally, Engel pointed to that as a possible motive. "But was it a dispute over the family business that enraged Ahmad or something else?" he asked.
ABC and CBS employed the same strategy, telling viewers nothing about the suspect's faith until the second segment about the attack. ABC anchor David Muir explained, "The family owning a fried chicken restaurant, claiming they were discriminated against because they are Muslim."
CBS's Michelle Miller operated from the identical playbook. "The Rahamis allegedly refused and filed a lawsuit against the mayor and 20 police officers, saying they were being targeted because they were Muslim," she said.
The stabbing attack was blatant in Minnesota. According to NBC's Blake Falconer, Adan was "said to have referenced Allah, as he began stabbing eight men, one woman, and a 15-year-old girl."
St. Cloud, Minnesota, Police Chief William Blair Anderson gave key detail: "There was at least one victim who was asked if they were Muslim." Yet networks were unwilling to connect the two incidents or speculate about motive.
It wasn't just the broadcast networks. USA Today posted a ridiculous story Tuesday at 8:06 a.m., claiming to be "What we know about Ahmad Khan Rahami, suspect in NYC-area bombings." Only that story never mentioned Islam or called the suspect a Muslim.
The article went on to report how one friend said, "Rahami 'got more religious' and dressed differently after a trip to Afghanistan several years ago, the AP reported." It left readers to guess his religion.
Too bad huge numbers of people now view their news on their Smartphones. Journalists could have adopted the slogan: "PC News for your PC."