Janice Dean: In troubled times, look for the helpers
NEWYou can now listen to Fox News articles!
2017 has been a year that will go down in history as one of the worst in terms of weather disasters. Three major hurricanes – Harvey, Irma and Maria roared ashore in just a few weeks of each other – devastating islands, inundating major U.S. cities and causing catastrophic damage.
As a meteorologist, we do our best to warn as many people of a potential disaster. Thankfully, the science is getting better and we have more tools to help forecast these forces of nature to better prepare the public. But there's always going to be the chance that one storm hits your neighborhood with tragic consequences.
One of the things that brings me hope after these horrible weather events hits is the outpouring of community and support that comes in the wake of these storms. Mr. Rogers, the friendly sweater-wearing man I used to watch every morning on television, took notice of this as well. He wrote and spoke about it often:
"I was spared from any great disasters when I was little, but there was plenty of news of them in newspapers and on the radio, and there were graphic images of them in newsreels.
For me, as for all children, the world could have come to seem a scary place to live. But I felt secure with my parents, and they let me know that we were safely together whenever I showed concern about accounts of alarming events in the world.
There was something else my mother did that I've always remembered: 'Always look for the helpers,' she'd tell me. 'There's always someone who is trying to help.' I did, and I came to see that the world is full of doctors and nurses, police and firemen, volunteers, neighbors and friends who are ready to jump in to help when things go wrong."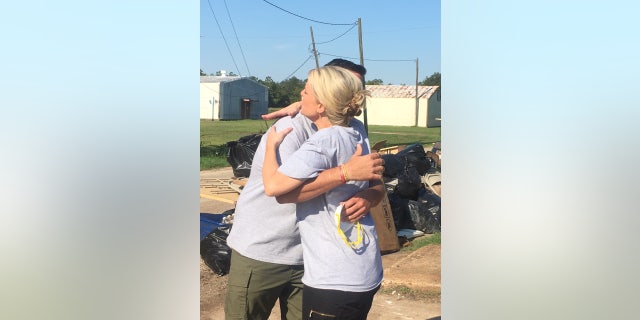 Always look for the helpers. We saw this most recently in the aftermath of the horrifying attack in Las Vegas – everyday people stepping forward to help those in need.
And it's what I saw when I met the men and women from Team Rubicon last weekend in Wharton, Texas.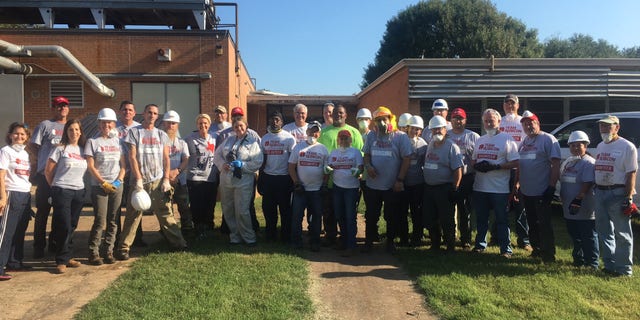 The history of this special group of helpers began in 2010 after the Haiti Earthquake. Two Marines, Jake Wood and William McNulty, wanted to help. They teamed up with six other veterans and first responders, gathered funds and supplies from friends and family, rented a truck and went in to help.
Since that first mission, Team Rubicon has expanded and has been moving into disasters ever since to lend a hand. They pair the skills and experience of military veterans with first responders and medical professionals.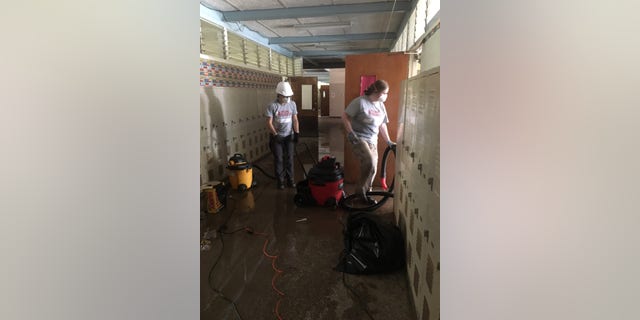 In Wharton, Texas, I found these hard working-men and women with their grey shirts moving flood-ravaged furniture and debris, cleaning up a community center so that residents could congregate, getting essentials and finding help for those returning to their flooded homes.
Even though they were strangers, Team Rubicon worked together as though they had known each other many years. When I asked them why they do this, they'd tell me it part of their DNA – as former servicemen and servicewomen, they continue to want to serve even after retirement. One army veteran, Rob, told me you can sit and watch the news and want to do something, but to really do something – get up and get out there.
I spoke with a team of several men and women from Australia that had travelled over 30 hours to come to the small town of Wharton to spread some "Aussie hope" and to remind people that what brings us together as human beings far outweighs what divides us. It doesn't matter what race, religion, or color you are or where you come from. No one is talking politics when they are picking up dirty, flood-torn children's books from a school desk, or peeling away moldy wallpaper and artwork from a classroom wall.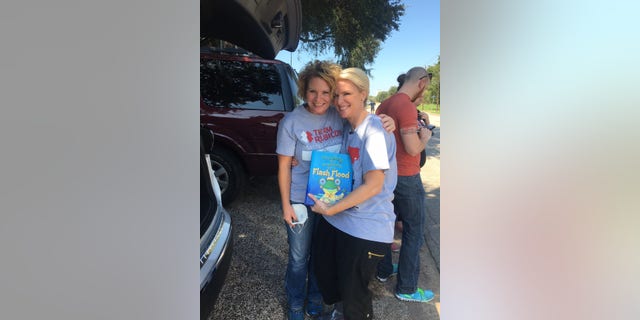 A resident of Wharton, Texas, who was gathering supplies such as cleaning items, diapers and food for her community told me she was in love with these teams of strangers who came in and were lending a hand. She said it made her heart feel great that people all over the world think about others. "When you have a serving heart" she told me, "it means everything."
I came away from that experience with a heart full of hope and a much stronger spirit than I had before I arrived in Wharton. I hugged a lot of people and told them they made me want to be better as a mom, wife, sister and as a human being. I too, wanted to be a helper.
As my friend Jake Wood, team leader and CEO of his wonderful Team Rubicon organization, told me, "There's nothing more American than getting out and helping your neighbors."
So true. And so inspiring in troubled times. Look for the helpers. They are always there.