Corn maze honors 'American Sniper' Chris Kyle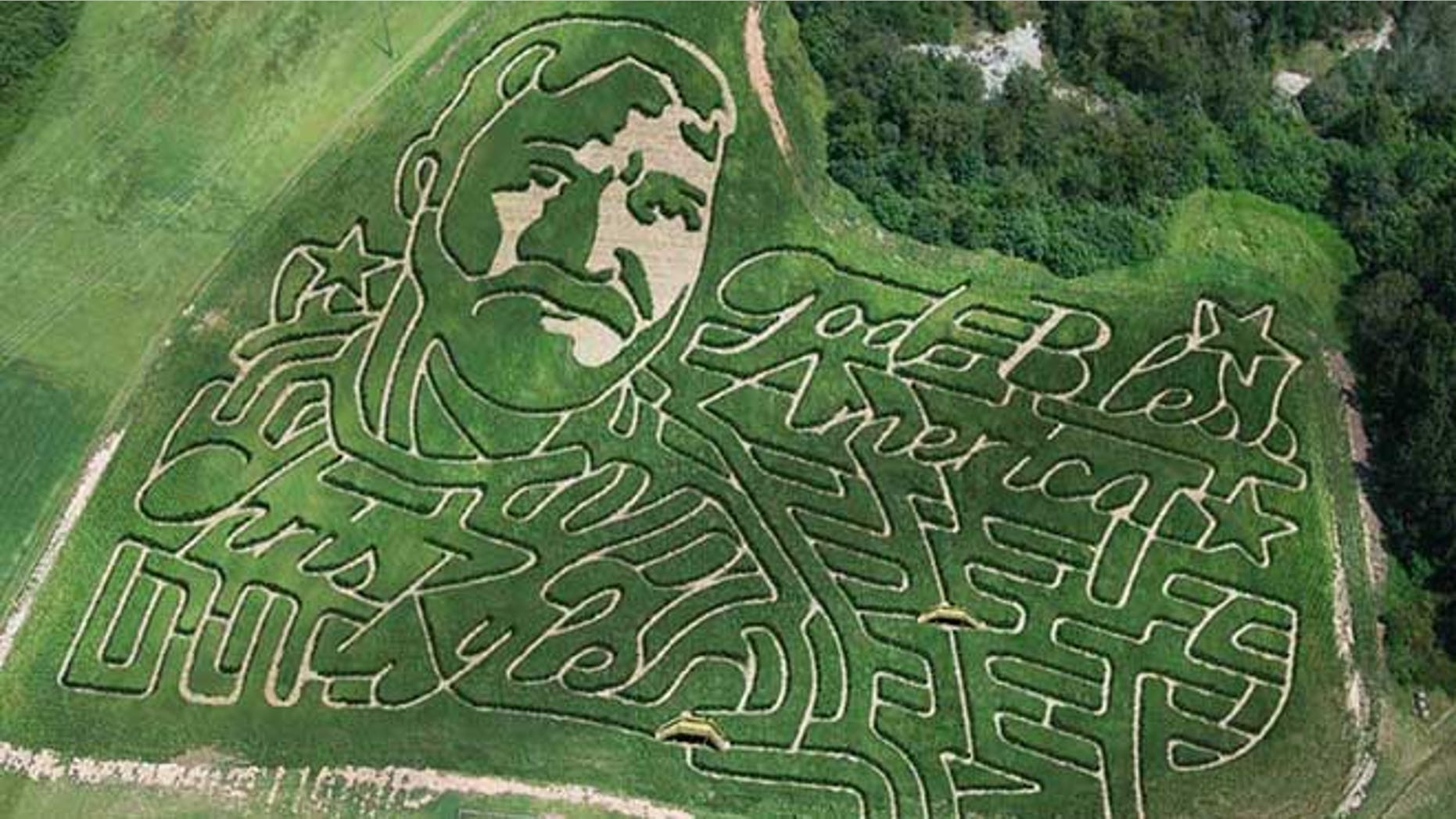 The owners of a small Georgia farm took a tractor, a global positioning system and seven acres of corn and created a masterpiece made of maize last month honoring American sniper Chris Kyle.
"I felt like we needed to do something patriotic," Misty Duren told me. "It hit me one day that it would be great to honor Chris Kyle."
Click here to join Todd's American Dispatch – a must read for conservatives!
Misty and Lamar Duren are the owners and operators of Corn Dawgs, an adventure park that includes a pumpkin patch, a petting zoo and a corn cannon that can blast an ear of corn at least 100 yards. And they also have a giant corn maze.

The maze was carved into seven acres of corn – creating three miles of trails.
It features a likeness of Kyle's face, along with stars and the words "God Bless America."
Kyle was a Navy SEAL and the most prolific sniper in U.S. military history. His best-selling autobiography "American Sniper" became a Hollywood blockbuster – grossing more than $500 million at the box office. Kyle was killed in 2013 at a Texas shooting range. 
Mrs. Duren said her family wanted to honor every member of the military with their corn creation.
"If we could put everybody in there we would," she said. "We  have the utmost respect for all of our veterans as well as the ones who are serving." 
The maze, she said, was just a way to give back and pay homage to their service. 
So how in the world were the Durens able to create their jaw-dropping masterpiece?
It's not as difficult as you might imagine, Mrs. Duren told me.
She said they hired a professional maze company (yes, there really is such a thing) back in July. They spent 48 hours designing the image and about six to eight hours carving the maze in August.
Six to eight hours? That's it? It takes me longer than that to gas up the weed whacker!
"They've got it down to a science," she told me. "It's pretty amazing how they can get it done."
I can only imagine what they can do with shrubbery.
"They put a GPS on the tractor and they download the software and it tells them exactly where to cut and where to turn," she said.
Last year, the maze was designed to resemble country music's Florida-Georgia Line. And the year before that -- they paid homage to Uncle Si of "Duck Dynasty" fame.
"We're just huge "Duck Dynasty" fans," she said.
The maze opens to the public on Sept. 18 and they expect  about 30,000 folks to wander through the twists and turns.
The Corn Dawgs maze is just old-fashioned, family-friendly fun. But it's also a reminder of the sacrifice made, the treasure lost defending our great nation.
And I reckon Chris Kyle would be mighty proud – mighty proud indeed.