Christmas Angel Award winner Beth Ailes: Grow your wings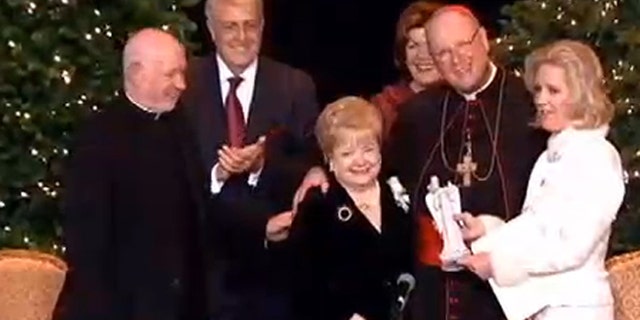 Editor's note: On December 18, Elizabeth "Beth" Ailes, board member of Catholic Big Sisters and Big Brothers, owner of the Hudson Valley Freedom Press and wife of Fox News CEO, Roger Ailes, received the Christmas Angel Award from his Eminence, Timothy Michael Cardinal Dolan, Archbishop of New York, at the 68th Annual Cardinal's Christmas Luncheon. The following is a transcript of her speech.
You know when I was first contacted about the Christmas Angel Award, I told my friends and family that I would have to start working in earnest to start growing my wings.
There's someone in the room today whose wings are much bigger than mine. His wings have a wide span of generosity that everyday lifts up so many people.
Someday I want my wings to be that big. And they belong to my better half. The man I love. The man I married 16 years ago in this very suit. The one and only Roger Ailes. Thank you, Roger.
And sitting right next to Roger is an angel in training, Our dear son Zachary. When I was growing up at my best, I was always an angel in training. And at my worst, I was a devil with a blue dress on.
[pullquote]
My uncle, Father Clearance, would come to visit us often and no matter what we kids were doing, whether we were arguing who had the bigger pile under the Christmas tree, or fighting over a plate full of Christmas cookies, father would appeal, as Lincoln put it "To the better angles in our nature" and he would grab the whole plate of Christmas cookies and say "We must learn to share."
Father, thank you for being here today, you came a long way and I want to share this award with you. You've been a constant light in my life and a source of inspiration and strength. And I thank you, very very sincerely.
I feel greatly humbled to be standing here amongst so many distinguished guests, your Eminence, Monsignor Sullivan, the Ladies of Charity, priests, nuns, my fellow honorees, the DiCerbos. So many people who are shining examples of Christian charity and I want to thank you for what you do to make the world a better place.
You know in the first few months after my father died in 1966, I remember one afternoon coming in from playing outside. It was hot and humid, there was no such thing as air conditioning, at least not in our house in those days, and I remember finding my mother kneeling on the floor.
She had been folding clothes and was putting them in our bottom dresser drawers, and she was weeping. And when you see your mother weeping, there's a feeling of dread attached to that moment. And I remember going over to her and in a small 5-year-old voice I said, "Don't worry Mom, everything's going to be all right." And I remember that at that moment, deep in my core I was telling her everything would be all right because I wanted to reassure her and myself. And a determination was forming within me.
I carry that sentiment today when I encounter people who are struggling. My instinct is to offer them help and support and comfort. And I try to do what I can.
God has greatly blessed my life and his goodness makes it possible for me to share that sense of hope that things will be all right.
If you have a chance to speak with my uncle today, and I hope you do, he will tell you that although we were poor, we'd like to play dress-up using Aunt Bernadine's old dresses and high heels, and he would come to see us in his '56 Chrysler and park it in the driveway.
We would clip-clop to the driveway and get behind the wheel. There was a record player in the front seat right by the dashboard, and my sisters and I would just sit there by the dashboard and pretend we were going somewhere. And it was just a simple game of imagination and play, and yet, what we were really doing was setting our navigation systems deep inside and envisioning success, prosperity and happiness.
There's a spiritual book called "Make Your Life Worthwhile" by Dr. Emmet Fox and in one chapter he reminds the reader what you think upon grows. Whatever you allow to occupy your mind you magnify in your own life.
In our busy lives I know that my mind is racing, but when I take time to pray, my soul responds to God. As our blessed mother said: "My soul doth magnify the Lord"
God calls on each and every one of us to practice the Golden rule. To love one another and to bear others burdens and that is what Catholic Charities is all about.
When I was young I belonged to a teen group called "Christos" which stood for Christians in Service to Others. Our pastor Father Phillip, who also happened to share my birthday, December 17th, would take us kids to one nursing home to another and we would sing for the people who live there.
Those places were drab and smelled funny, but through that simple act of sharing and afternoon with those less fortunate, of using our God given talents, in this case singing, we brought a bit of joy to peoples' lives. One song made a huge impression on me. It was called "Whatsoever You Do."
"When I was Hungry, you gave me to eat. When I was thirsty, you gave me to drink. Now enter into the home of my father."
The Gospel tells us to be doers of the word not hearers only.
Next year I'll be working with seniors in Putnam County, not singing but building, because my husband has generously donated money to a senior center up there and I will oversee the project for our family.
I would like to close my remarks today with an excerpt from a poem by a civil rights leader and theologian, Dr. Howard Thurman. It sums up for me what being a Christmas angel is really all about. It's called "The Work of Christmas"
"When the song of the angels is stilled, when the star in the sky is gone, when the Kings and the prices are home, and the sheppards are back with their flock, the work of Christmas begins to find the lost, to heal the broken, to feed the hungry, to make music in the heart"
May I suggest that as we leave here for today, each of us in our own way vow to grow our wings.
Thank you for all coming today, for your generosity in making this such a successful luncheon. And thank you your Eminence for being the leader of our flock.
I'm very honored and I appreciate being recognized with this special award. I'll cherish it always. God Bless you and Merry Christmas!