Fox News Poll: More than half of voters think Trump is a strong leader, Biden isn't
Majorities say Trump is corrupt, Biden isn't
Big announcements in the Republican presidential primary race produce little movement in the latest Fox News survey.
Former president Donald Trump maintains his lead with 53% support among GOP primary voters nationally, and Ron DeSantis once again comes in second at 20%. Last month, it was 53-21%. Since February, Trump has gained 10 points and DeSantis has lost 8.
The next tier includes Mike Pence at 5%, Nikki Haley and Vivek Ramaswamy both at 4%, and Liz Cheney and Tim Scott at 2% apiece. Greg Abbott, Kristi Noem, Chris Sununu, and Glenn Youngkin receive 1%, while Chris Christie, Larry Elder, Asa Hutchinson, and Francis Suarez are at less than 1% each.
RON DESANTIS OFFICIALLY FILES PAPERWORK FOR 2024 RUN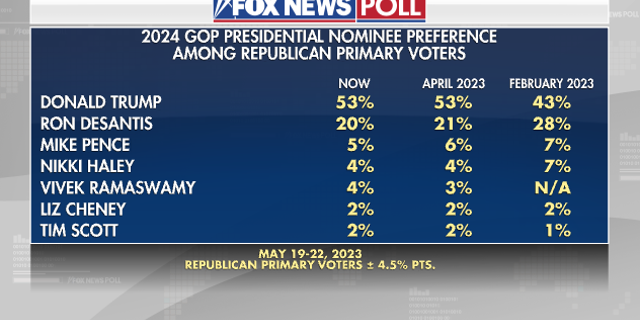 Florida Gov. DeSantis announced his candidacy Wednesday, and South Carolina Sen. Scott kicked off his presidential campaign Monday. The survey was completed before DeSantis jumped in and includes just one night after Scott did, but both announcements had been telegraphed for weeks.
Among GOP primary voters, Trump has a wide lead among most groups. DeSantis gets some of his highest support among more highly educated voters, and while 22% of those voting for Trump in 2020 now back the Florida governor, 58% are sticking with the former president.
In a potential contest on the other side, President Joe Biden leads with 62% among Democratic primary voters, ahead of Robert Kennedy Jr. (16%) and Marianne Williamson (8%).
OVER 100 FORMER WORLD LEADERS TELL BIDEN TO GET TOUGH ON IRAN AS SCRUTINY MOUNTS FOR LACK OF STRATEGY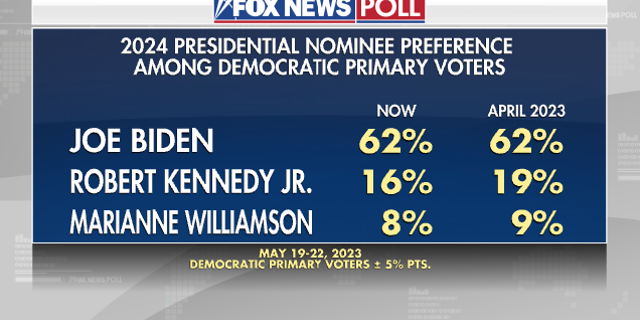 Forty-one percent of registered voters say they are more likely to participate in the Republican primary or caucus in their state next year and 40% the Democratic primary.
The survey also asks about traits for Biden and Trump, and the findings are stark. Majorities not only believe that both men lack honesty and empathy, but also the appropriate judgment and mental soundness to serve as the country's leader.
The top characteristics ascribed to Trump are corrupt (55%) and strong leader (51%). For Biden, it's caring (45%) and corrupt (44%) -- even as a majority says he isn't (53%).
MORE THAN 150 FORMER TRUMP ADMINISTRATION OFFICIALS NOW BACKING DESANTIS FOR PRESIDENT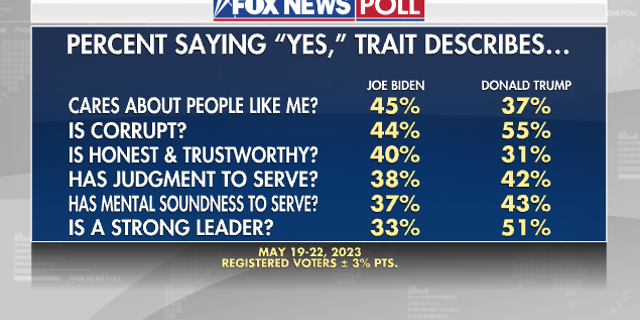 "It's hard to believe the choice Americans see for themselves -- a corrupt strongman former president or a mentally shaky current president who is a little more empathic," says Democratic pollster Chris Anderson, who conducts Fox News surveys with Republican Daron Shaw.
TRUMP TO STAND TRIAL IN MARCH 2024 FOR ALLEGED HUSH MONEY PAYMENTS
While perceptions of Biden have held steady in recent months, he's lost significant ground compared to before the 2020 election. Overall, only 33% think he is a strong leader. That marks a new low and is down 16 points from a high of 49% the month before he was elected.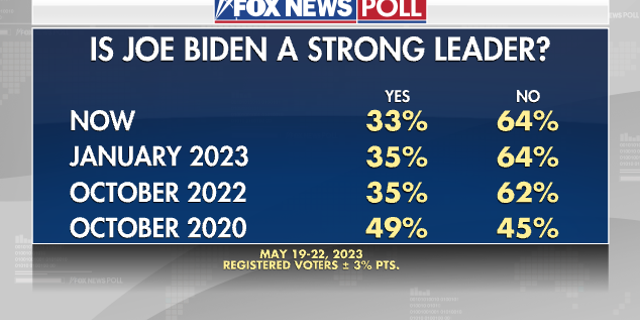 It's a similar story on other attributes. Since 2020, Biden's down 14 points on having the judgment to serve effectively as president, down 12 points on both being honest and trustworthy and having the mental soundness to serve, and down 11 points on empathy.
Majorities believe Trump lacks honesty (67%) and empathy (61%), but he's not slipping in those areas. About the same number thought he lacked those traits when he won in 2016.
A majority of 51% calling Trump a strong leader is notable for two reasons. First, it's the only positive attribute that a majority agrees on. Second, he trounces Biden by 18 points.
CLICK HERE TO GET THE FOX NEWS APP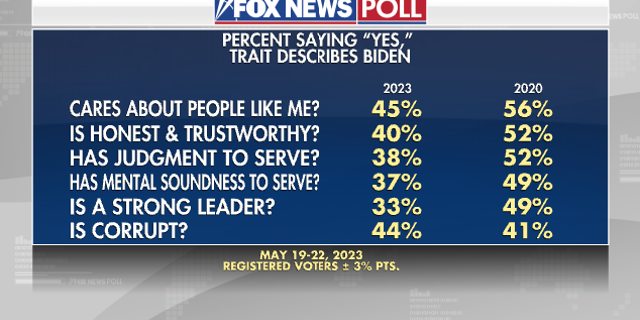 Compared to Biden, more also think Trump has the mental soundness to serve effectively as president (by 6 points).
But more believe Biden is honest (by 9 points) and has empathy (by 8) than say the same about Trump, and fewer believe Biden is corrupt (by 11).
When it comes to having the judgment to be president, Trump's 4-point edge over Biden is within the survey's margin of error.
Biden receives better marks among Democrats than Trump among Republicans on honesty, empathy, and corruption.
Trump rates higher among Republicans than Biden among Democrats on being a strong leader and having mental soundness and judgment.
Independents are more likely to describe Trump than Biden as a strong leader (by 28 points) and having the mental soundness (by 18) and judgment to serve (by 15). It's basically a draw on honesty (Trump by 1 point), empathy (Biden by 3), and corruption (Biden better by 3).
CLICK HERE FOR TOPLINE AND CROSS TABS
Conducted May 19-22, 2023, under the joint direction of Beacon Research (D) and Shaw & Company Research (R), this Fox News Poll includes interviews with 1,001 registered voters nationwide who were randomly selected from a voter file and spoke with live interviewers on both landlines and cellphones. The poll has a margin of sampling error of plus or minus 3 percentage points for all registered voters and plus or minus 5 points for Democratic and 4.5 points for Republican primary voters.
Fox News' Victoria Balara contributed to this report.