Multiple upscale New York restaurants barred one New York Post reporter who attempted to enter them while dressed like Sen. John Fetterman, D-Pa., at the U.S. Senate, video showed.
Taking inspiration from Fetterman's newly approved U.S. Senate attire, New York Post reporter Jon Levine donned a hoodie and shorts and attempted to enter several fine New York City eateries.
However, Levine was forced to leave most establishments while wearing the attire, according to his footage.
TOP DEMOCRAT BREAKS WITH SCHUMER ON SENATE DRESS CODE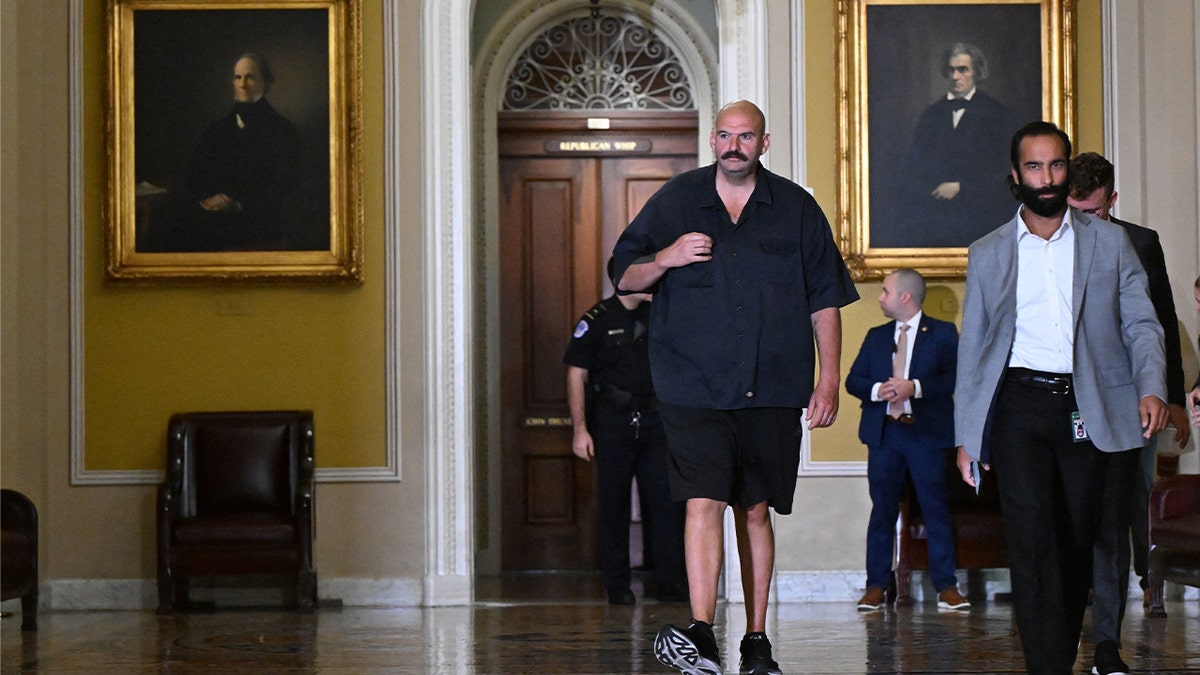 Levine's excursion was an experiment done in response to the U.S. Senate changing its rules so that it will no longer enforce a dress code on the Senate floor.
The rule change, promulgated by Senate Majority Leader Chuck Schumer, D-N.Y., has allowed Fetterman, who eschews suits and ties, to work on the Senate floor in casual attire, like a hoodie and shorts.
The two clothing items have become a staple of Fetterman's wardrobe in his political career.
Levine summed up his Manhattan dining tour: "Intrepid Post reporter Jon Levine learned that hard truth this week when he crisscrossed the Big Apple's culinary landmarks wearing Fetterman's trademark hoodie, gym shorts and sneakers and tried to gain entry — only to face scorn and mockery from maître d's with more common sense than Congress."
He recounted the reactions restaurant staff gave him.
"'He would not be permitted here,' sniffed a maître d at Daniel on the Upper East Side, where a seven-course tasting menu runs $275," Levine wrote.
That employee added: "We have turned away guests for being improperly dressed regardless of their occupation."
REPUBLICAN SENATORS SLAM RELAXED DRESS CODE, DEMAND SCHUMER REVERSE CHANGES
Levine recorded how a "suited maître d" at Le Bernardin "served up an amuse bouche of stink-eye when The Post arrived."
According to Levine, he said: "No athletic wear."
"The three-Michelin-starred dining room is reservation only but walk-ins are normally afforded the more casual lounge — but not if you're dressed like you just came from Pilates class," Levine wrote.
Another restaurant's staff kept Levine and his crew from even entering the dining room.
"At the double-Michelin star Jean-Georges near Columbus Circle, no less than four sentinels outside its dining room vetoed The Post's entry, ending the dream of feasting on the famed $368, 10-course tasting menu that includes caviar salad, king crab and smoked squab," he wrote.
CLICK HERE TO GET THE FOX NEWS APP
One of the employees told him, "Inside we don't allow shorts," according to video.
Another added, "It doesn't matter if it's Lady Gaga," Levine wrote.
However, his article noted that Jean-Georges staff did allow Levine to use the restroom.
Staffers at The Grill in Midtown held the door shut to prevent Levine from entering "after they caught one glimpse" of his appearance, he said.
Not all were so strict. Sushi restaurants Nobu and Masa, as well as Gramercy Tavern, didn't bar Levine from dining because of his style choices.
FOX News Digital reached out to Fetterman's office for comment.
For more Culture, Media, Education, Opinion and channel coverage, visit foxnews.com/media.