CDC director contradicts Biden's omicron testing defense: 'This is exactly what we anticipated'
Critics are accusing the Biden administration of inadequately preparing for the latest variant
Centers for Disease Control and Prevention Director Rochelle Walensky on Monday noticeably dodged a question pertaining to omicron's timeline in the United States as questions emerge about when the White House first got wind of the new variant.
During an appearance on "Special Report," Walensky was asked about President Biden's press conference earlier in the day where he outlined the administration's plan to contain the highly contagious strain by purchasing and administering more tests amidst large shortages throughout the country.
REPORTERS ASK BIDEN IF TESTING SHORTAGE IS A FAILURE FOR HIS ADMINISTRATION
"When did you realize, did you know that omicron was going to spread this quickly?" Baier asked Walensky. " Obviously you had South Africa in November. When did you realize it was going to be this?"
"Things are moving quickly," Walensky told Baier. "I know people are concerned, so maybe we will step back and reiterate, we are now seeing omicron in 73% in our projections of what we have right now. And in some areas of the country as you noted the areas are 90% omicron."
Critics are accusing Biden of inadequately preparing for the latest variant. CNN reporter Phil Mattingly asked the president following his address on Monday whether the testing shortage would qualify as a "failure" on the administration's part.
Biden told reporters that the variant spread "almost overnight," and blamed the testing shortage on the fact that nobody "anticipated that this was going to be as rapidly spreading as it did."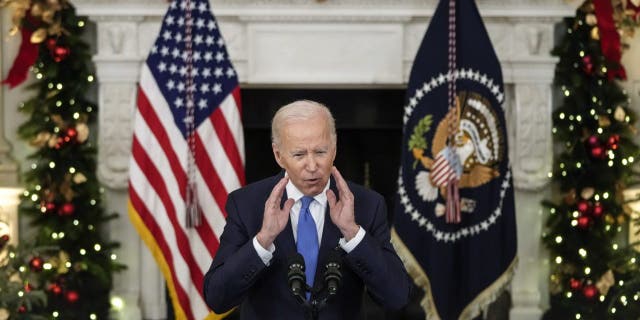 When pressed by Baier, however, Walensky appeared to contradict the president's assertion, telling the Fox News host that the pace by which omicron has spread is "exactly what we anticipated."
"This is what we have been preparing for," Walensky said. "There have been doubling times of this virus in other countries that have had the virus before us in one and a half to three-day range. So this is exactly what we anticipated."
The CDC director later praised the White House for launching a multi-pronged plan to increase surge capacity in hospitals, and focus on expanding access to free tests, vaccinations and boosters.
HARRIS FAULKNER, 'OUTNUMBERED' HOSTS KNOCK BIDEN ON COVID TESTING PUSH: 'BEHIND THE TIMES'
"I really do want to say we are in a very different position now than we were just a year ago because now we have the science," Walensky stressed. "We have the tools that we need in order to combat this pandemic, even the omicron variant and that includes getting vaccinated and boosted and practicing prevention measures we have been talking about," she said, "and even for vaccinated and boosted people that includes wearing a mask in public indoor settings."
Baier later asked Walensky to answer a question submitted by a viewer, who addressed reports of mild symptoms and few hospitalizations from the new variant.
Walensky said that while the agency is awaiting more data about "both the severity as well as the number of cases, if you are vaccinated and if you are boosted, you have a much lower rate of ending up as a severe case or ending up as a fatality.
"What I can tell you right now is the vast majority of people who are in the hospital right now are unvaccinated," she said.
Asked about the efficacy of natural immunity in fighting the variant, Walensky said, "that's a really good question."
CLICK HERE TO GET THE FOX NEWS APP
"What we can tell you with omicron, even with natural immunity is that there is increased risk of reinfection with omicron if you have been previously infected compared to the prior variant," she said, "So even those with natural immunity, we are recommending that you get vaccinated and get boosted."
"Really, what this is telling us, what omicron is telling us with a variant that has this many mutations [is] we need a really high level of immunity and that means getting yourself maximally vaccinated."