The Parents Defending Education (PDE) organization released documents revealing that a California school had been promoting "restorative justice" training sessions in place of traditional punishments for misbehaving students.
The documents obtained through a public records request by PDE contained a presentation for the Poway Unified School District allegedly shared during a September 2022 workshop for the 2022-2023 school year.
The primary focus of the presentation was "restorative justice" which the district defined as "a powerful approach to conflict resolution that focuses on repairing harm through inclusive processes that engage all stakeholders. Implemented well, RJ shifts the focus of conflict resolution from punishment to learning and from the individual to the community."
Part of implementing this form of "justice" included providing the set-up for a five-day course to use for students in response to misbehavior or "hate behavior" incidents. This followed the principles of the program to "Focus on repairing harm rather than receiving punishment for breaking a rule."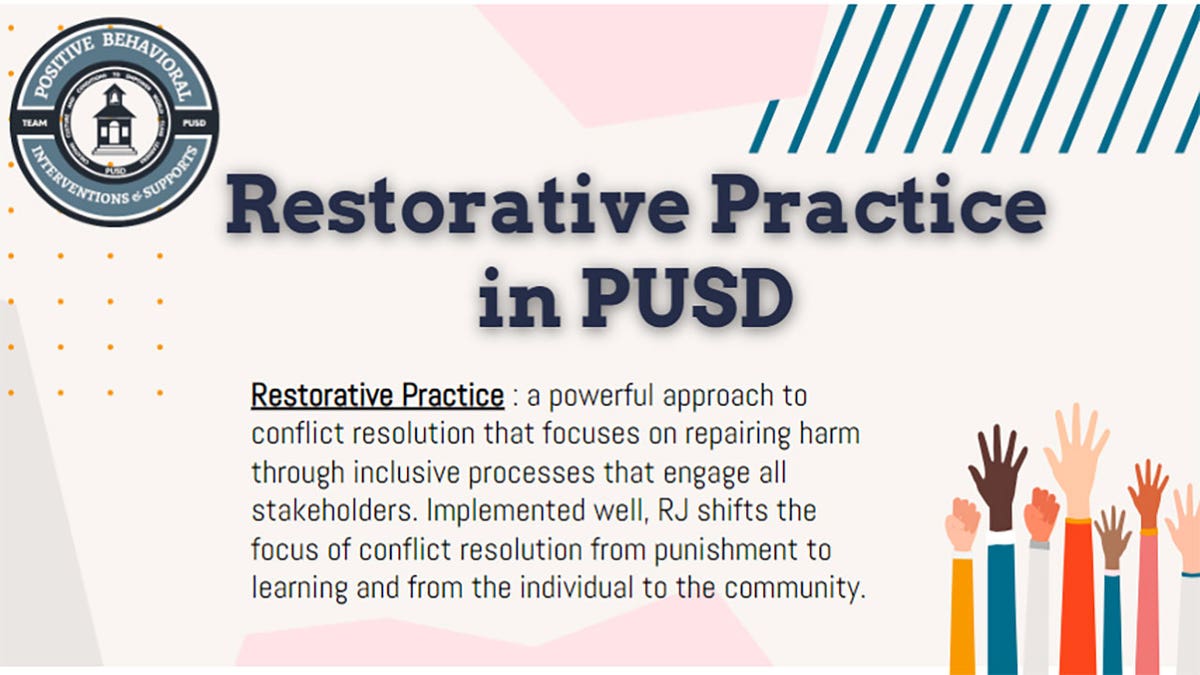 WHERE DOES 'RESTORATIVE JUSTICE' STAND IN SCHOOLS TODAY?
Most notably, the presentation offered some of these methods as "alternatives" to suspension, involuntary transfer and even expulsions.
Documents released by the PDE also showed examples of the "Poway Unified School District Other Means of Correction Contract." The contracts stated that students who take part in activities that would result in suspension, transfer or expulsion could instead take part in courses such as a "Caring Connections Session" or an "independent course providing education and the impact of Hate behavior."
The presentation noted that suspensions and expulsions may be used if a student is considered a danger to others or has committed multiple offenses. However, it emphasized that these punishments can only be considered after other means of correction have failed.
PDE also released slides of the five-day course including reflection on "hate speech" such as the "n-word," the "f-word," the phrase "that's so gay" and "comparing Blacks to monkeys." Another course focused on "empathy," emphasizing real-life examples of alleged "implicit bias."
The presentation also included Anti-Defamation League's "No Place for Hate" campaign which included the controversial "Pyramid of Hate" image on bias.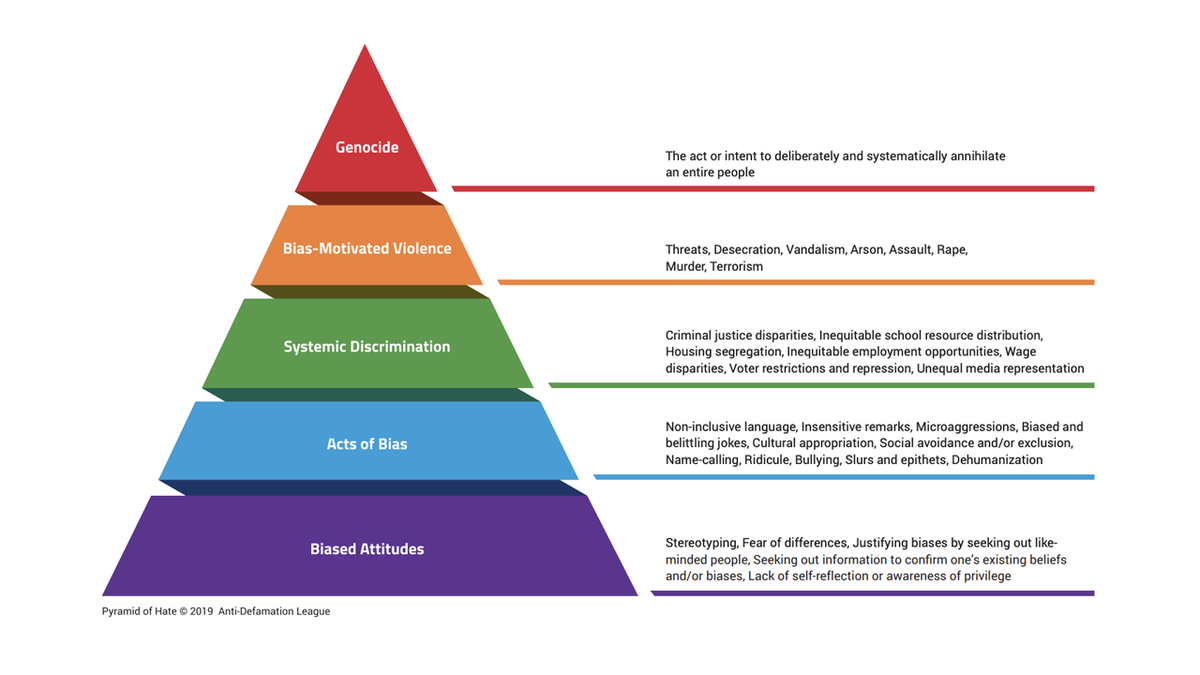 CALIFORNIA SCHOOL DISTRICT SUSPENDS KIDS FOR 5 DAYS FOR MISGENDERING TRANS STUDENT: 'RESTORATIVE JUSTICE'
"While every biased attitude or act does not lead to genocide, each genocide has been built on the acceptance of attitudes and actions described at the lower levels of the Pyramid," the campaign read.
The district responded to Fox News Digital with a statement in favor of the program.
"As a teaching and learning organization, the Poway Unified School District recognizes that mistakes are valuable learning opportunities for our students. Our disciplinary process is designed not only to uphold our Board policies but also to provide a chance for students to learn from their mistakes and grow as individuals. While appropriate discipline is applied when necessary, our focus remains on fostering a sense of responsibility and accountability among our students," the statement read.
It continued, "The diversity training referenced in the article is an integral part of our ongoing efforts to create a safe and inclusive environment for all members of our school community. We believe in the power of education to promote understanding and empathy, which is why we offer courses on care and hate behavior as alternatives to suspension. These courses aim to broaden perspectives, challenge biases, and encourage critical thinking. Our approach is rooted in a commitment to student growth, not just labeling or punishing them."
Restorative justice has been a concept applied in both schools and law enforcement to focus on mediation and agreement over traditional punishments. California has frequently pushed the change in schools.
In July, the Glendale Unified School District suspended two students for five days and forced them to attend restorative justice training after misgendering a transgender student. According to former Herbert Hoover High School Jennifer Earl, the students also ran away as a teacher was correcting them.
"I asked [the] teacher [involved in the incident] how he wanted to handle it, if he wanted me to just teach them about misgendering or would he like me to speak about being trans. He asked me to educate on transgender. It was well received from students and parents. [Restorative justice] will happen after suspension," Earl wrote in an email.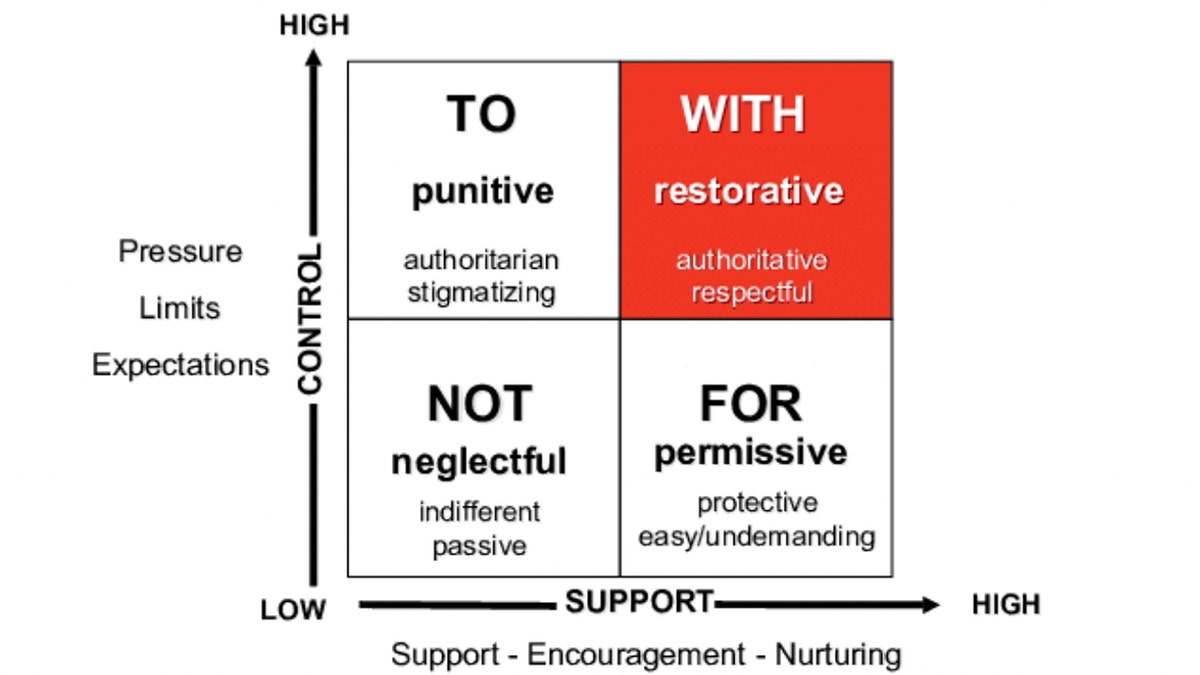 In a statement to Fox News Digital, PDE president Nicole Neily wrote, "Restorative justice has been tried in countless districts across the country, and it is failing students, teachers, and families alike. Children correctly perceive that there are no real consequences for bad behavior, which means that there is no incentive to change; teachers are frustrated that their administrations don't support them or prioritize classroom safety; and students who do want to learn are unable to do so because their misbehaving peers prevent them from focusing."
"It's time for districts to end the virtue-signaling and take steps to ensure that classrooms are conducive to learning – not babysitting," she concluded.
CLICK HERE TO GET THE FOX NEWS APP
For more Culture, Media, Education, Opinion, and channel coverage, visit foxnews.com/media