Woman raises more than $350K for homeless man who helped her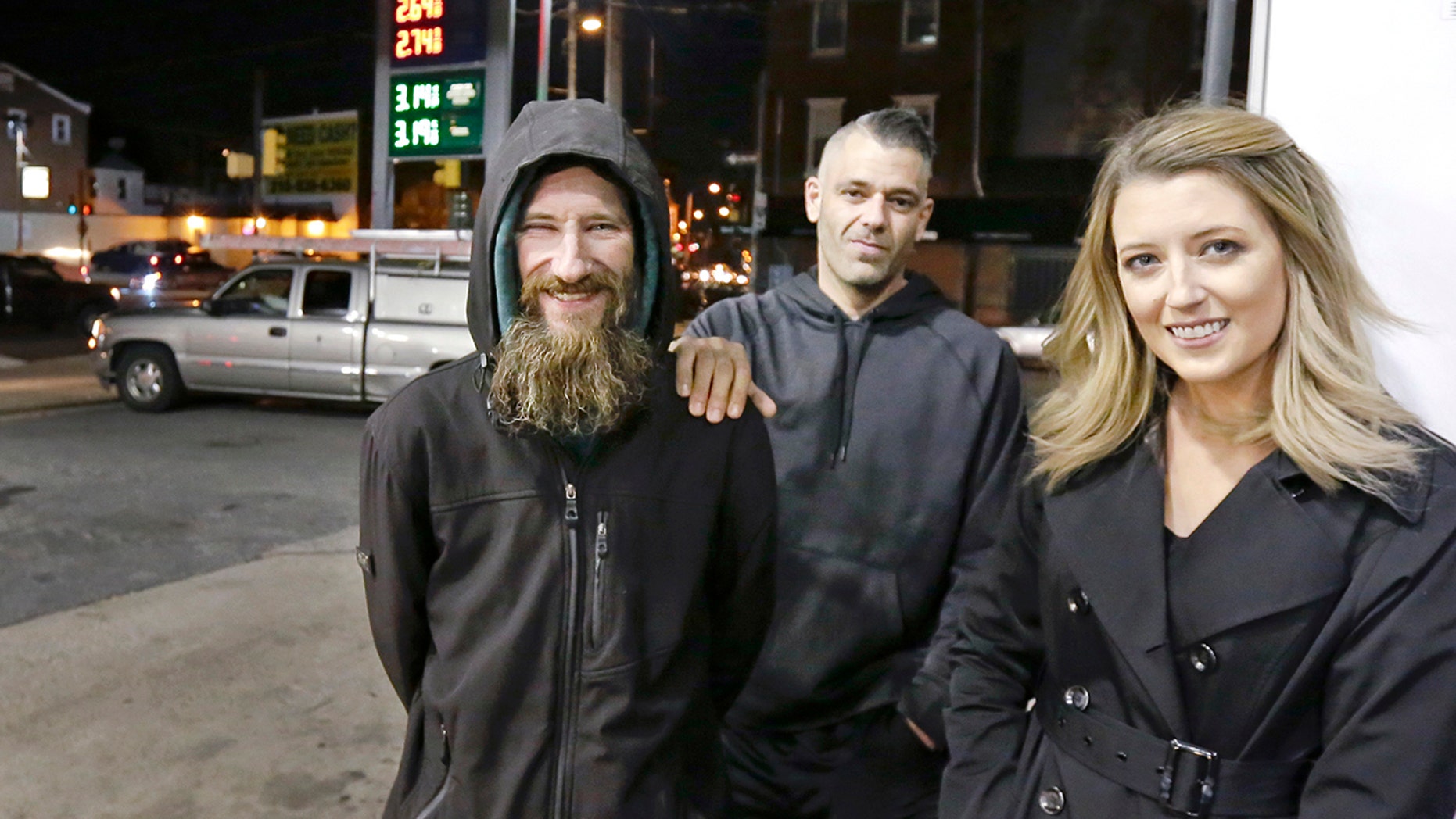 A New Jersey woman who was helped by a homeless man after she ran out of gas on an interstate in Philadelphia has raised more than $350,000 for the good Samaritan.
Kate McClure, 27, found herself stranded on Interstate 95 after she had run out of gas. Johnny Bobbitt Jr., a homeless veteran, approached her and told her to "get back in the car and lock the doors" while he walked a few blocks and bought her gas with his last $20, McClure wrote on the Gofundme.com campaign she started for Bobbitt.
"He comes back with a red gas can.  Using his last 20 dollars to make sure I could get home safe," she wrote.
McClure said she didn't have any money to repay him at the time but returned to the road several times with her boyfriend to give Bobbitt cash, clothes and food.
FATHER CRIES WHEN FAMILY SURPRISES HIM WITH NEW PUPPY
After a few visits, she started the fundraiser with the hopes of using the money toward housing and other expenses for the 34-year-old Bobbitt.
"I wish that I could do more for this selfless man, who went out of his way just to help me that day," she wrote on the fundraising page. "Truly believe that all Johnny needs is one little break. Hopefully with your help I can be the one to give it to him."
Donations have poured in, and the fundraiser has shattered its goal of raising $10,000 for Bobbitt within 15 days. Over 13,000 people had given to the campaign by Sunday afternoon.
McClure, who told ABC she visits Bobbitt about 2-3 times a week, discovered his old Facebook page that revealed he had been in the U.S. Marine Corps and worked as a firefighter and paramedic before he moved to Philadelphia for a job that fell through. After that, his apartment fell through and he became homeless. But now, he'd like to get re-certified as a paramedic, ABC News reports.
Before the holidays, McClure was able to secure Bobbitt a hotel room. On Thanksgiving Day, McClure posted that Bobbitt had requested her to stop accepting donations on Gofundme because of the overwhelming amount of money that had already been given.
METEOROLOGIST'S POST ABOUT BODY-HUGGING DRESS GOES VIRAL
"Johnny asked me to please stop accepting donations today. He is beyond humbled by the amount of support and love he has received over the last few days! He asked, instead of donating to his campaign, to maybe take a second to search for another worthy cause that, for whatever reason, hasn't gotten the attention his has," she wrote.
However, after receiving major backlash from people wanting to donate to Bobbitt, McClure opened the campaign again.
McClure set up appointments with a lawyer and financial planner, but Bobbitt has been adamant that he will not be keeping all of the money.
"I want to give a lot of it away," he said.
FOLLOW US ON FACEBOOK FOR MORE FOX LIFESTYLE NEWS
"I just want to do the right thing," Bobbitt said to ABC. "This money was given to help me. Why not help other people in similar situations or people that are actively helping other people in different situations?"
To ABC News, Bobbitt said he plans to use the money to get a place to live and a used car, and then make donations to organizations helping the homeless.
The Associated Press contributed to this report.