Univision, Telemundo Networks Fend Off Report Claiming Newscasts Have Liberal Bias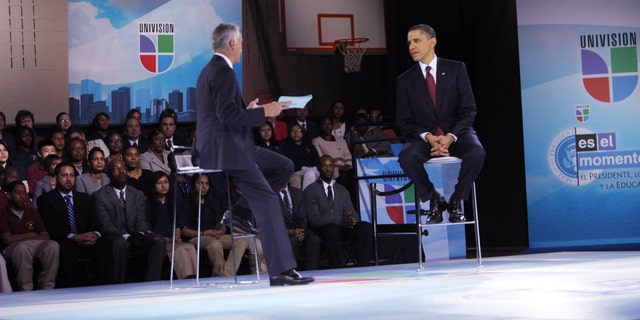 The conservative-leaning media watchdog group Media Research Center (MRC) released a study saying that the nightly newscasts from the main U.S. Spanish-language networks Telemundo and Univision tend to skew liberal on domestic issues.
The watchdog group said from November through February, in the news programs on Noticiero Univision and Noticiero Telemundo, about 45 percent of stories on domestic policy on immigration reform and health care tilted liberal, 49 percent were balanced or neutral and 6 percent were conservative, Politico reported.
Now, the networks are fighting back, claiming they don't have a liberal bias.
Camilo Pino, a spokesman for Telemundo, told Politico they strive to be "transparent, impartial and factual" in their reporting.
"Noticias Telemundo stands for accuracy, fairness and independence, while we strive to meet the highest ethical standards in the industry," he said. "We are devoted to our audience of U.S. Hispanics and strive to offer them the most reliable and objective information on the subjects that matter the most to them."
Jose Zamora with Univision told Politico the network is committed to providing all points of view on an issue and has "an open invitation to elected officials and representatives from all sides to address our community on issues of importance and relevance."
Univision anchor Jorge Ramos, dubbed the Brian Williams of Hispanic T.V., is a vocal advocate for immigration reform. He's pressed, and even criticized, President Obama on the issue and has attended rallies that advocate for more lenient immigration policies.
Critics have also called out Telemundo for allegedly playing a advocacy role on immigration reform -- rather than simply reporting on it.
MRC's study also found that the two networks featured Democratic and liberal-leaning groups more frequently than Republicans or conservative groups. However, they also accused conservatives of not reaching out more to Latino media.
"The main things is on domestic U.S. policy, the administration and their allies … are really dominating the narrative on major U.S. political stories," said Ken Oliver-Mendez, director of MRC's new Spanish-language watchdog group, MRC Latino. "So that points to a real need for conservatives to do a better job and for networks to do a better job including conservatives."
The study is part of the kickoff of MRC Latino, which officially launched on Tuesday.
MRC President Brent Bozell said on Monday they hope the study will lead to broader representation in Spanish-language and hoped to meet with Telemundo and Univision executives to discuss the study's results. In their statements, neither networks commented on whether they would meet with MRC.
Follow us on twitter.com/foxnewslatino
Like us at facebook.com/foxnewslatino