The art of grooming a Westminster show dog, Norwich terrier-style
NEWYou can now listen to Fox News articles!
You think your morning routine is tough? Try being a Westminster Show dog.
Fox News followed "Elizabeth Taylor," a Norwich terrier competing at the Westminster Kennel Club Dog Show, through her grooming regimen hours before her debut at the competition — and let's just say it was much more intense than your average day at the doggie spa.
MICROBLADING: A FACE TATTOO THAT CAN GIVE YOU BETTER BROWS
"You've got to think about dog shows as art — you're painting a picture with your dog, and you want to start with a clean canvas," explains Denis Johnson, Elizabeth's owner and groomer.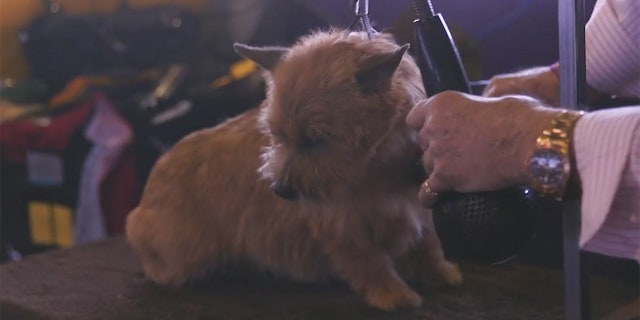 Before even arriving to the Westminster show venue, Elizabeth Taylor already had a month's worth of grooming prep, including services for both her hair and nails. Johnson revealed that upon arrival, he would quickly "ex" — or "exercise" (i.e. walk) Elizabeth — "before we start getting her ready, because we don't want any accidents." Once Elizabeth was "ex'd," Johnson begins adding his finishing grooming touches.
Johnson started by combing and shampooing Elizabeth in order to wash her extremities, and get her fur nice and fluffy for the competition; he then brushed Elizabeth dry in order to give her fur a little added volume.
Johnson also revealed an insider tip for maintaining the color of terriers' fur, saying, "These dogs are hand-stripped, they're not cut. It means [you] pull the hair, because terriers' hair will die and turn white and lose its colors if you don't pull it."
DAD FORCED TEEN DAUGHTER TO SHAVE HEAD, MOM CLAIMS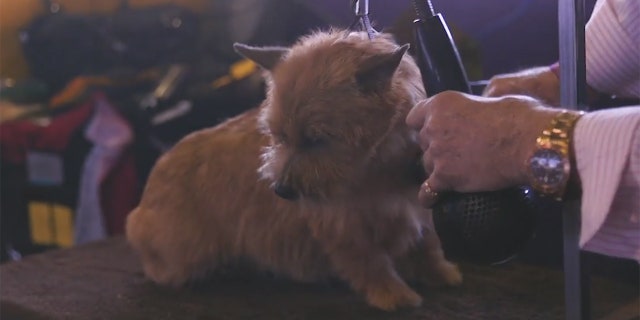 Johnson finished Elizabeth with a little mousse, and then some crystal powder, which helps to separate each little hair on Elizabeth's coat and give the appearance that they're standing on end.
Elizabeth later competed in the Norwich Terrier Preliminary Round, where the 'Best of Breed' was chosen — but unfortunately she was not picked. On the other hand, she was definitely prepped and ready to enjoy a night on the town in New York City.