Texas teen takes mom to prom, goes viral: 'It meant the world to me'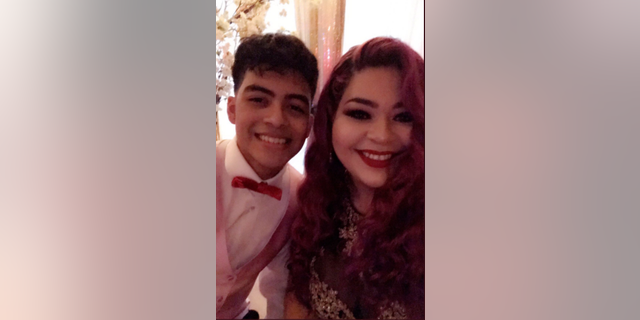 An 18-year-old Texas student took an unexpected date to one of high school's biggest nights of the year: the senior prom.
Joe Moreno of Corpus Christi took his mother, Vanessa, to prom at Collegiate High School on Friday -- officially keeping a promise he made to her when he was in middle school.
"My mom had me at 17, so she didn't get to experience prom," the teen told Fox News on Tuesday. "I just really wanted to take her."
"Senior year came up and he brought up prom and I kept asking who he was taking, and he kept reassuring that it was me," Vanessa told KRIS-TV.
While Joe got some flack for his prom date, most people, including the school's faculty, "really loved" the gesture, he said, adding that some people were "really emotional because it was such a beautiful thing."
Ahead of the big night, Joe helped his mother pick out a prom dress and also bought her a corsage. He even "picked her up like a real date and walked in arm-in-arm with her." The rest of the night included typical prom activities like dancing and taking an abundance of pictures.
"We danced and danced -- it was great," Vanessa said.
"Sometimes people don't know the sacrifices us mothers make. We just hope that it does get seen, and I am so glad my son did see my sacrifice and wanted to give back. It meant the world to me," she added.
The 18-year-old "can't believe" his pictures have garnered so much attention. As of Tuesday afternoon, the photos had over 160,000 likes and 26,000 retweets.
"You're awesome and that is a brilliant idea. You are so blessed with your mom and you are really a blessing to her," one user commented.
"If you told me this was your date, I'd believe you. She's so youthful and gorgeous, bless y'all," another wrote.
"This is something that will last in her memory forever. It really means so much to give that opportunity to her."
Joe, who said taking his mom to the prom was the "least he could do," said Vanessa "loved and really appreciated the night." He hopes that his two younger brothers -- ages 17 and 8, respectively -- may consider doing the same one day.
"This is something that will last in her memory forever," said Joe. "It really means so much [to me] to give that opportunity to her."