Tarantula burger special sold at North Carolina restaurant has legs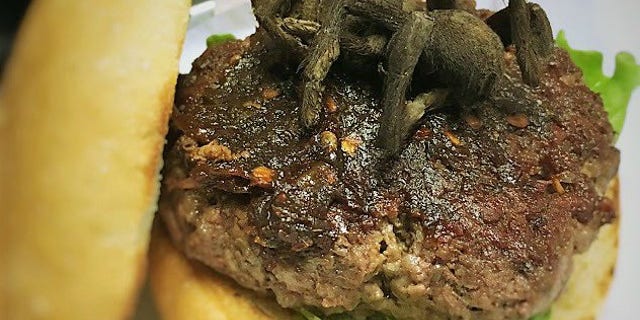 NEWYou can now listen to Fox News articles!
Hungry customers began calling Bull City Burger and Brewery in Durham, North Carolina, last month asking for its famous tarantula burgers.
The restaurant has been serving the eight-legged dish for the past three years during "Exotic Meat Month" — and this year will be no different.
Seth Gross, owner of Bull City Burger and Brewery, began introducing exotic food, including elk, crickets and chocolate-covered bugs, to the menu about seven years ago.
'BOXED BEER' COULD BE THE NEW DRINKING TREND
"He was just looking at what kind of food trends are out there and how people in other parts of the world eat — how they get their protein," Megan Cindrich, self-described "media maven" at Bull City Burger and Brewery, told Fox News. "He thought, 'Why not have the tarantula?'"
Thus, three years ago, the "Tarantula Challenge" was born.
Throughout the month of April, "adventurous" customers can enter a raffle to eat the unique burger with a side of "dirty fries" for $30. Once your name is picked, you have 48 hours to respond and arrange a date and time to come in.
"Should you be unable to call within the two-day period to claim your tarantula, it will be returned to the spider burrow and raffled off to another lucky winner," rules on the restaurant's website read.
Anyone who completes the challenge is given a free T-shirt with the restaurant's logo on it.
"There's no age limit, so it's really for an adventurous kid that likes to try new things — like kids that are eating spiders or ants already," Cindrich said.
The exclusive beef burger is topped with gruyere cheese, oven-roasted tarantula and spicy chili sauce. The tarantulas are "free-ranged" and certified edible, Cindrich explained.
Everyone has a unique way of consuming the large burger.
"One person took the tarantula off the burger, dipped it in ketchup and just popped it in there," Cindrich said.
FOLLOW US ON FACEBOOK FOR MORE FOX LIFESTYLE NEWS
The tarantula burger tastes like a crustacean, Cindrich described. It's crablike — salty but bitter, though the chili sauce adds a bit of heat to it.
The "Tarantula Challenge" will continue through the end of the month. So far six people have participated, with several more scheduled to come in.