Spanish art exhibit shows former King Juan Carlos being sodomized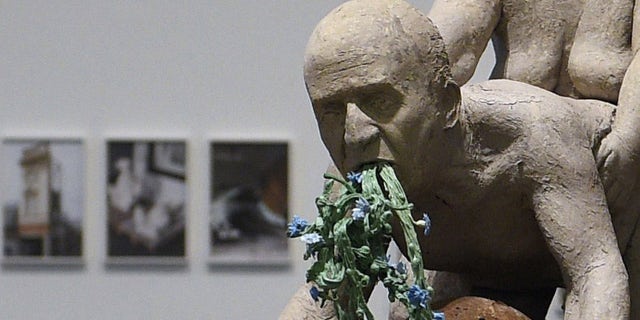 A new exhibit at the Museum of Contemporary Art in Barcelona (MACABA) has a papier-maché statue depicting former Spanish King Juan Carlos being sodomized while vomiting a bluebottle bouquet over a bed of Nazi helmets.
At the last minute, just hours before it was scheduled to open last week, the museum's director decided to cancel the exhibition, called The Beast and The Sovereign, but ultimately backtracked on his decision.
The controversial piece by Austrian artist Ines Doujak, titled Not Dressed for Conquering/Haute Couture 04 Transport, is said to depict the former king naked and on all fours as he is being sodomized by late Bolivian labor leader and feminist Domitila Barrios, who is also being sodomized by a dog.
According to Doujak's website, the controversial sculpture is part of a series that aim to shed light "on the highly complex and asymmetrical relationships between Europe and Latin America."
The Spanish newspaper El Periodico reported that the museum's director Bartomeu Mari had initially requested the curators to pull the piece from exhibition, but it was turned down amid accusations of censorship. He called the sculpture "inappropriate."
The exhibit's organizers demanded to show all artworks or cancel the whole thing.
Mari seemed to opt for canceling the entire exhibition; however, he changed his mind on Friday.
In an open letter, in which he also offered his resignation, Mari explained his decision to open the exhibit to the public.
"The opinions expressed by many different sectors of society, from the world of art and culture to politics and media, as well as international art professionals have made me reconsider the original decision not to inaugurate," Mari wrote, according to La Opinion.
The director said his intention to cancel the exhibit was to protect MACABA's reputation as a "cultural institution dedicated to public service."
"I never thought what I was doing was censorship," Mari continued in the letter. "I understood it as a disagreement with the presence of specific work and the effects of its possible interpretations."
The 77-year-old Juan Carlos, whose popularity with the people dropped over the last couple of years of his reign, announced he was abdicating the Spanish throne in June of last year, after 39 years, to his son King Felipe IV.
Like us on Facebook
Follow us on Twitter & Instagram