Spain's 'Smurf Village,' though popular with tourists, must cease references to the Smurfs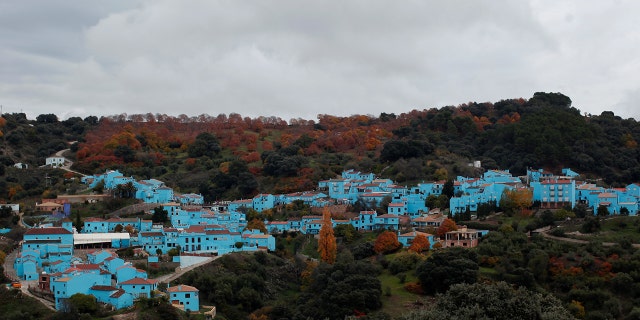 The Spanish village that shot to fame after being painted blue and dubbing itself the home of the Smurfs has now been banned from associating itself with the popular cartoon.
The tiny Andalusian village of Júzcar was painted blue in 2011 as part of a publicity stunt by Sony Pictures to promote the film "The Smurfs."
Paintings of Smurfs also decorated the walls, stalls were stuffed with Smurf souvenirs, and some locals even dressed up as Smurf characters to pose for photos.
VOLUNTEER DETECTIVES REVEAL POSSIBLE BREAKTHROUGH IN DB COOPER CASE
It was supposed to be a temporary stunt, but locals voted to keep it after the town saw interest from tourists. In fact, the once sleepy village, which is home to only 250 people, began attracting up to 80,000 tourists a year, according to The Independent.
However, the sudden influx of visitors from all over the globe led to a dispute between the town hall and the heirs of Pierre Culliford, the Belgian artist who created the Smurf comics.
It was believed to have been resolved when locals agreed to pay 12 percent in royalties on all Smurf-related income, but now the Smurfs must be evicted for good.
WHY AUSTRALIANS WILL PAY FOR CASSIE SAINSBURY'S DEFENCE
In a notice posted on the village's council website last week, the mayor's office announced that as of August 15, all smurf related activities must cease — although the village will remain blue.
Labelled "important information for tourists," the notice said Júzcar had "lost the authorization to market itself as a Smurf town" and "from Tuesday August 15th there will be no more statues or references to that brand," The Local reports.
FEMALE PASSENGERS ON SAUDIA AIRLINES WARNED TO COVER ARMS AND LEGS
There was no further explanation from the council about the events that led up to this decision and they have said they "have nothing further to comment" on the matter.
Sony Pictures originally chose the village as it is famous for its fungi, which grow in the surrounding hills, and Smurfs are known for their love of mushrooms.