She shoots, she doesn't score: Messi blocks Miss BumBum on Instagram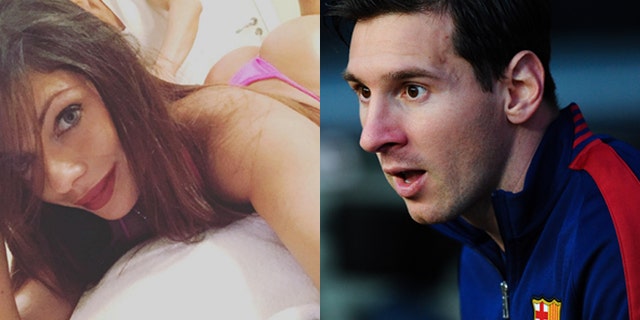 Lionel Messi's wife keeps a tight leash on the Argentine soccer star. There's no if, ands or buts about it.
But there is at least one butt involved.
Messi's missus, Antonella Roccuzzo, forced the soccer star to block the Brazilian beauty and Miss BumBum contest winner, Suzy Cortez, on Instagram after the model barraged the FC Barcelona forward with a slew of sexy photos.
In one of the more risqué ones (actually they're all risqué, but this one might take the cake), Cortez is shown from behind in a Barcelona jersey and shorts that have been painted on. A frontal shot shows features Cortez in her body-painted jersey discretely covering just one of her breasts.
While Roccuzzo has blocked Cortez from her and her husband's online accounts, the move has apparently not stopped the bottom-heavy Brazilian from showing her support for the Barça striker.
Cortez was recently caught cavorting on a Portuguese beach in nothing more than a white thong and a Messi jersey, which she would cast aside at opportune times.
According to the New York Post, Cortez said she was shocked to hear that she had been blockedm.
"I was completely shocked when I spotted it. If I could, I would tell her not to be worried about me – I'm just a fan. I'm surprised that she isn't more sure of herself," she said. "I guess it can only be because she is jealous. It's very silly because I'm just a football fan and a huge fan of Barcelona. This is such an overreaction"
Cortez added, "I only follow about 10 people, and he was one of them. So when I saw that I was blocked I thought it could only be jealousy. Why would he block me if he has 40 million followers? Then I checked her profile and confirmed she had also blocked me."
Last November, the booty-ful Brazilian beat out 14 of her fellow curvaceous countrywomen to earn the crown of 2015 Miss BumBum.
And just like a professional athlete, Cortez, from the capital city of Brasilia, said before her victory that she had followed a strict diet and exercise regimen to make sure she was in top bottom form.
"I've been preparing myself for the past four months. I've always wanted to win this contest," she said at the time. "I dedicated myself completely. I dieted and did rigorous training."
Like us on Facebook
Follow us on Twitter & Instagram