'Sad' library dog goes viral, gets friends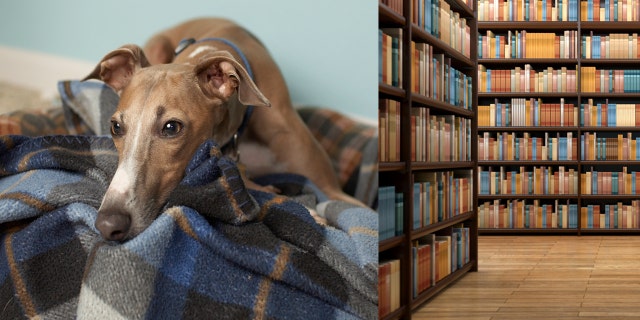 A long-faced pup has been making the rounds on social media recently – and gaining a lot of fans along the way.
Sting, a 10-year-old greyhound, was making one of this visits to the Ramsey County Library in White Bear Lake, MN. The retired racing dog visits the library branch twice a month as part of the Paws to Read program that encourages young kids to come in and read to dogs.
Sting has participated in the program for the last two years, TODAY reports, but during his most recent session no one showed up.
THE ART OF GROOMING A WESTMINSTER SHOW DOG, NORWICH TERRIER-STYLE
"Unfortunately nobody signed up to read to Sting at the White Bear Lake library tonight," Sting's owner, John Muellner, posted to Facebook last week, along with a few very lonely looking shots of Sting.
In the post, Muellner added, "If you know of a 4 to 8yr old who would like to read to a dog. Please contact the White Bear Lake library by phone or their website about the Paws to Read program Sting will be there Feb 21st 6:30 - 7:30."
Seems like there are plenty of 4 to 8 year olds – and even adults – who want to read to Sting, because the post has gone viral and the library's phone has been ringing off the hook.
"People are asking if we could hold the phone to Sting's ear so they could read to him," Ann Wahlstrom, children's librarian at the Ramsey County Library, said to TODAY. "The whole staff of a Petco in California called to say they love Sting. It's just amazing, the outpouring."
"[Sting] is booked through April," Wahlstrom said.
He's not the only one who has a busy schedule. A fellow therapy dog who is also part of the Paws to Read program is nearly all booked up as well. Other library branches have said their reading dogs are becoming more in demand too, TODAY reported.
Wahlstrom couldn't be happier at the response and hopes it leads to more dogs being read to by many more kids throughout Minnesota.
"It's meant to be a fun environment," Wahlstrom said. "To give kids a fun, nonthreatening place where they can practice their reading skills to a dog."
FOLLOW US ON FACEBOOK FOR MORE FOX LIFESTYLE NEWS
"We love promoting the joy of reading," she said. "The joy of reading to dogs."
Sting's sessions usually last an hour with three kids each reading to him for 20 minutes.
The "easygoing" pup, as Muellner, 56, describes him, is ideal for his life as a therapy dog.
"Nothing scares him; nothing bothers him," he said. "Not even squirrels."
Muellner added that Sting is involved in a therapy program at a local children's hospital as well.
But as far as Sting's "sad" expression which many on social media say makes them "want to cry," Muellner assured TODAY that he wasn't too upset that no one came to his reading hour, that's just his face.
"It's his signature look," he said. "It's just his look."