Residents debate Hispanic neighborhood changing street signs into Spanish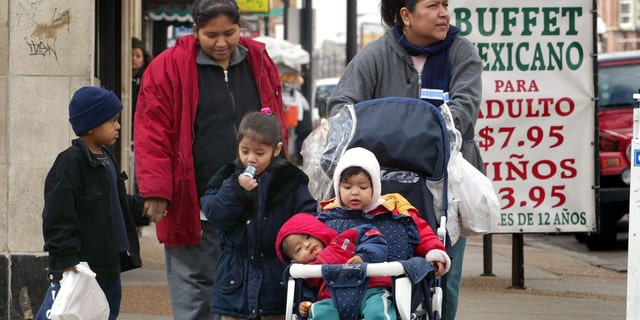 NEWYou can now listen to Fox News articles!
ALLENTOWN, Pa. (AP) – When Hispanic residents of downtown Allentown want to grab a bite, get their hair cut or shop for groceries, they often head to Seventh Street — but they don't call it that. To them, it's Calle Siete.
A councilman wants to honor the city's growing Hispanic population by installing decorative Spanish-language street signs on one of its main commercial thoroughfares, where a profusion of Latino-owned restaurants, barbershops and corner stores reflects the rapidly changing demographics of the state's third-largest city. Hispanics now represent nearly half the population of 120,000.
But where Democratic Councilman Julio Guridy and other residents and business owners on Seventh Street see the Calle Siete signs as a small but long overdue gesture of respect, others call the proposal unnecessary and divisive.
Critics also say the proposal for the signs is a distraction from issues of poverty, drugs, crime and lack of opportunity in Allentown's urban core.
"With all the problems this community has, please don't talk to me about signs," said John Rosario, 54, who moved to the U.S. from the Dominican Republic about four decades ago and owns a Seventh Street insurance, tax and real estate business. "If you really want to help somebody, roll up your sleeves, come down here and let's talk about it."
A city council committee tabled the sign proposal for more discussion after dozens of people showed up at a public meeting this week to voice support and opposition. Guridy hopes to bring it up for a vote in a month.
The debate in Allentown would have been unimaginable not so long ago, when Hispanics were a tiny minority. For much of its history, the city, an hour's drive north of Philadelphia, was a bustling industrial center populated largely by European immigrants and their descendants.
As manufacturing declined, so did the population. Then, drawn in part by cheap housing, Hispanics began swelling Allentown's numbers again. The Latino population has more than doubled since 2000.
Guridy said the Hispanic community has contributed to Allentown's efforts to remake its economy and deserves to be recognized.
"It is a good thing for Allentown because it provides a sense of pride, and a sense of belonging, to the Hispanic community, who have been working hard and contributing to this community, and who feel alienated because they are not recognized for their contributions," he said.
Inside Seventh Street's bustling Los Compadres Barber Shop, Steven Castillo, 27, views the Spanish-language signs as a good marketing tool, no different from cities that boast Chinatowns or Little Italys.
"When you want Spanish food in Allentown, where do you go? Calle Siete," he said.
Zack Alali, 48, a Syrian immigrant who moved to the United States about 25 years ago, opened Casa Dollar on Seventh Street to cater to the Hispanic population. He said Calle Siete simply reflects the reality of what the street has become.
"It's just a little appreciation for the people here," Alali said. "It's just a name."
But the controversy goes deeper than those two words.
For some, it's about language and culture. Shaniqua Andrews, 25, who lives a block from Seventh Street and works in a warehouse, said her co-workers mostly speak Spanish and her supervisor typically gives instructions in Spanish. She said she resents having to ask for them in English.
"It makes me upset," said Andrews, who's black. "They should come here with the mindset that it's America."