Recent vandalism of Catholic churches a result of political rhetoric and pop culture, says Raymond Arroyo
Catholic church attacks are also related to 'diminishment' of Christian teaching, he said
During an appearance on "Fox & Friends" on Tuesday, Jan. 24, Fox News contributor Raymond Arroyo blamed the recent spate of vandalism of U.S. Catholic churches on the influence of both pop culture and politicians.
Nearly 300 Catholic churches have been vandalized since May 2020, with over 40% of those attacks coming after the leak of the Supreme Court's decision in Dobbs v. Jackson Women's Health Organization, noted the Catholic organization CatholicVote.
"You have a combination here of people being motivated by a diminishment of holy images, holy people, the doctrines of basic Christian teaching — all of that has been diminished in pop culture," Arroyo pointed out.
ATTACKS AGAINST CATHOLIC CHURCHES APPROACH 300 INCIDENTS SINCE MAY 2020: REPORT
American pop star Madonna, he said, recently posed on the cover of Vanity Fair's "Icon Issue" dressed as Our Lady of Sorrows.
"The pop culture treats the Mother of God like a cheap pop singer, and we treat a cheap pop singer like the mother of God," he said. "This is a problem."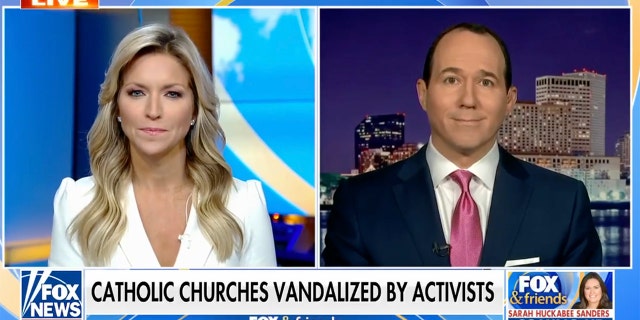 Pop culture's deification of singers and actors, said Arroyo, has led to key issues: "These holy images, these places of worship, things we revere or were once held as sacred are no longer so."
PRO-LIFE ACTIVIST ELIZABETH JOHNSTON: 'WE REMEMBER ALL THE LIVES LOST THROUGH ABORTION'
In May, a draft of the Supreme Court's decision in Dobbs v. Jackson Women's Health Organization was leaked to the press, as Fox News Digital reported.
In the leaked draft, the high court overturned the 1973 Supreme Court decision Roe v. Wade, which found that a woman had a legal right to an abortion throughout her pregnancy.
That leaked draft eventually became official when the Supreme Court issued its decision to overturn Roe v. Wade on June 24, 2022.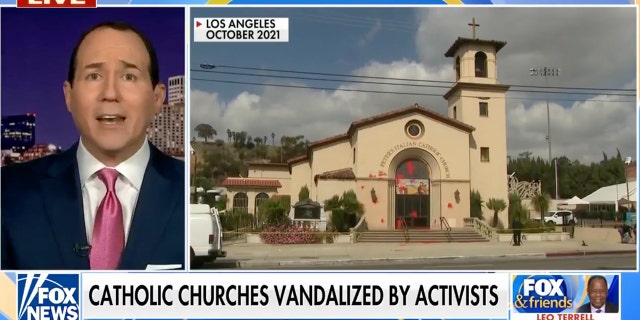 The rhetoric of the "political establishment" after the Dobbs decision led to a belief that "these churches are standing in the way of progressive politics" and body autonomy, said Arroyo.
This, in turn, has led to churches being vandalized, in his view.
It's possible to "disagree on policy" without demonizing another person, said Arroyo. 
"There is something odd that is happening here, phenomena that is not being reported. I think it's a combination of people who believe it's correct to desecrate and defile houses [of worship] as a means of political protest," he said.
RAISING PRO-LIFE KIDS IN A PRO-CHOICE CULTURE IN AMERICA: 'IT ALL BEGINS IN THE HOME,' SAY ACTIVISTS
"That is not acceptable and cannot be acceptable in our republic."
Arroyo also was critical of a tweet from Vice President Kamala Harris on Jan. 22 that pro-life, "extremist, so-called leaders" are taking rights away from women.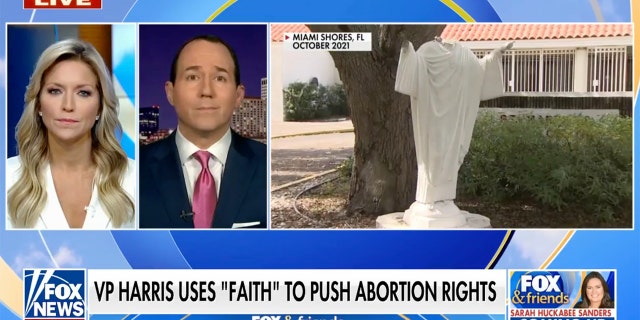 "Now that's toxic language," he said.
"And this is what I'm saying. It's a perfect storm in many ways."
In 2022, the FBI reported that there were 240 "religiously motivated" hate crimes in the United States, noted Arroyo.
CLICK HERE TO SIGN UP FOR OUR LIFESTYLE NEWSLETTER
"I worry that this hot political rhetoric, and labeling faithful Christian people, ministers, pastors, rabbis and priests as somehow 'extremist leaders' — that is a problem, and [it] should be decried from both right and left," he said.
It's possible to "disagree on policy" without demonizing another person, he also said.
CLICK HERE TO GET THE FOX NEWS APP
"Argue on the facts and the merits," he said.
"Stop demonizing people. It leads to very bad ends."