Pope Francis encourages bravery of 10 refugee athletes at Rio Games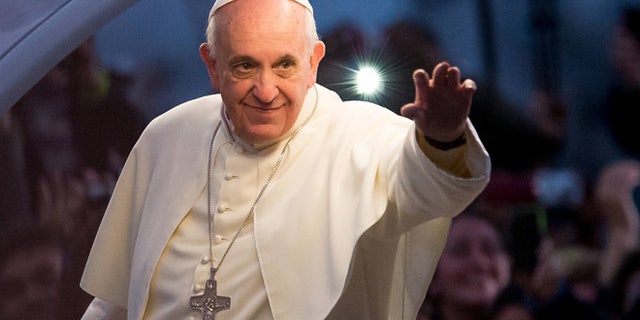 NEWYou can now listen to Fox News articles!
RIO DE JANEIRO (AP) – Pope Francis has written a letter of encouragement to the first team of refugees to participate in the Olympic Games.
Francis wished each of the 10 athletes success, saying he hoped that "your courage and strength find expression through the Olympic Games and serve as a cry for peace and solidarity." The letter, written in Spanish and dated July 26, was released by the Vatican on Saturday.
The pope said he had researched each of their lives through interviews and news reports. He said he was offering his prayers and signed the letter "In brotherhood, Francis."
The team of six men and four women is completing under the Olympic flag.
___
6:30 a.m.
The fireworks are over, the samba on temporary hold — and now it's time for Olympic athletes to take center stage in Rio de Janeiro.
Dozens of competitions are being held Saturday in over 20 Olympic sports, ranging from archery to basketball, cycling, gymnastics, rowing, soccer, swimming and volleyball, among others. Twelve gold medals will be awarded.
On Friday, Brazil laced its high-energy opening party for the games of the 31st Olympiad with a sobering message of the dangers of global warming. Graphic projections of world cities being swamped by rising seas set Rio de Janeiro's otherwise fun and festive gala apart from other Olympic openers.
But nowhere parties quite like Rio. Supermodel Gisele Bundchen shimmered to the tune of "The Girl from Ipanema." Fireworks formed the word "Rio" in the skies. The city's colossal Christ the Redeemer statue was bathed in Brazilian yellow and green. Dancers, all hips and wobble, grooved to thumping funk and sultry samba.
___
6:15 a.m.
The Olympic women's basketball teams from Turkey and France want to shift the conversation away from attacks and back to national pride.
Both nations have faced difficult times after being hit with deadly extremist attacks, and Turkey is struggling with the aftermath of a bloody attempted coup. For players on both teams, being at the Summer Olympics in Rio offers a respite from what's happening at home — and a chance to show the world a united front.
The teams play each other in their Olympic tournament opener Saturday.
French center Isabelle Yacoubou says "in France, we started to lose faith in people ... I hope these Olympics will show people how we can come back together."
Yacoubou adds "it's kind of special that we face each other first."
___
6 a.m.
For U.S. soccer goalie Hope Solo, the firsts just keep on coming.
On Saturday, barring anything unusual, Solo will appear in her 200th game for the U.S. women's national team in a group stage match against France at the Rio Olympics. She'll be the first goalkeeper in history to reach the milestone in international play — no small feat.
It also will make her the 11th U.S. player — across all positions — to reach that number of caps.
The 200th cap is just the latest notable statistic for Solo in a long, illustrious and always interesting career.
Last month, Solo became the first goalkeeper with 100 international shutouts when the United States defeated South Africa 1-0 in Chicago. It was also her 150th career win. Earlier this week, 16-year national team veteran got her 101st shutout when the United States defeated New Zealand 2-0 in the team's Olympic opener in Belo Horizonte.
Like us on Facebook
Follow us on Twitter & Instagram