'Hot' police officer has social media users swooning in new driving law video
One buff young police officer from Tennessee has become something of an overnight social media sensation after starring in a two-minute video explaining a new hands-free driving law on behalf of the Knoxville Police Department.
The Hands Free Law took effect on July 1 in the state, banning drivers from holding their phones on the road, WTVF reports. Legislators hope the policy will reduce distracted driving accidents and fatalities, as Tennessee had over 24,000 crashes related to distracted driving last year.
Reps for the Knoxville Police Department easily got the message across, with Officer Derrick White sending hearts racing across the Internet, the Knoxville News Sentinel reports.
100 YEARS AGO: AMERICAN SOLDIERS WHO SERVED IN WORLD WAR I COMPETED IN 'OLYMPIC-STYLE' INTER-ALLIED GAMES
In the quick clip shared to Twitter, since viewed over one million times, the aviator-sunglasses-wearing policeman urges motorists to respect the new policy and "do your part to keep our roads safe," standing side-by-side with fellow official identified as Officer Wilson, as they fully explain the new law.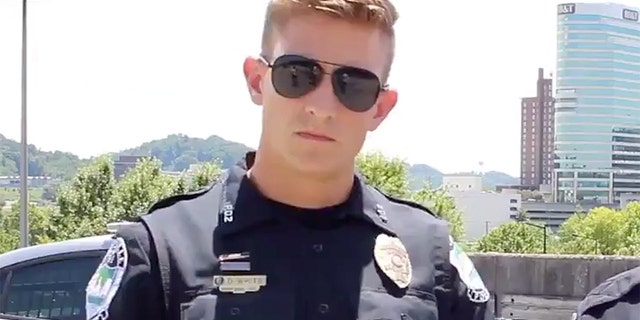 Romantic admirers, meanwhile, were more interested in getting the 411 on Officer Wilson's personal life.
"Officer White I will throw my phone into a river if that's what it takes for a date with you" one fan cried in a tweet that has since been liked over 51,000 times.
"Is Officer White single? Asking for a friend," another echoed of the "hot" cop.
"Where does the officer on the left patrol EXACTLY???" one charged.
"What days and where does Officer White work?  I need him to personally explain this new law to me please," another agreed.
FOLLOW US ON FACEBOOK FOR MORE FOX LIFESTYLE NEWS
Cheekier commenters, too, didn't shy from being bold.
"Can I get arrested by Officer White?" one commenter gushed.
"If the only way to meet Officer White is to text and drive then you already know what I'm doing," another dared.
"These two need a reality show stat," one user joked of Officers White and Wilson.
All advances aside, a rep for the Knoxville Police Department has since revealed that White has been with the department for eight years, working as a resource officer for the Richard Yoakley School and covering the motors unit when school is not in session, the News Sentinel reports.