Pet cat gets stuck in laundry vent, literally needs buttering up to get out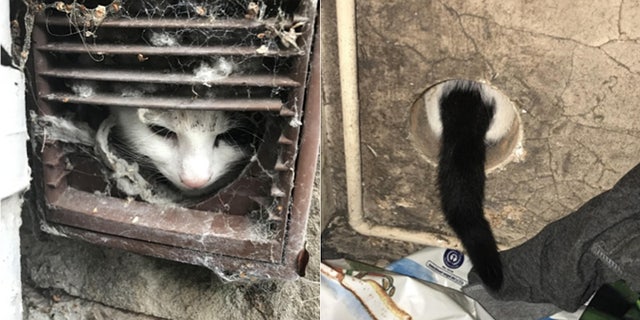 A cat in England still has all nine lives after a close call ended in a successful rescue.
The black and white feline crawled into a dryer vent hole Thursday and got wedged inside with its tail hanging out one end and its face peeking out the other.
'WING MOM' GOES VIRAL FOR PLAYING SON'S MATCHMAKER AT GROCERY STORE
The concerned owner called the Royal Society for the Prevention of Cruelty to Animals (RSPCA) after discovering their beloved pet was in serious trouble.
"The curious cat had crawled inside the vent and pipework for the tumble dryer and got jammed in tight," RSPCA animal collection officer Glenn Baird explained in a press release.
In order to rescue the animal, Baird had to get creative after discovering he couldn't fit his hands inside the small space.
"I couldn't get anything around her in order to pull her free and it was such a small space – only about 6 inches wide – that I couldn't get my hand in either," he said.
FOLLOW US ON FACEBOOK FOR MORE FOX LIFESTYLE NEWS
So he decided to make use of a common household good.
"I put butter inside the pipe using a lolly stick, removed the vent cover with my hammer, and pushed her. Luckily, she slid right out," Baird said.