Parents only go on 12 date nights a year, study finds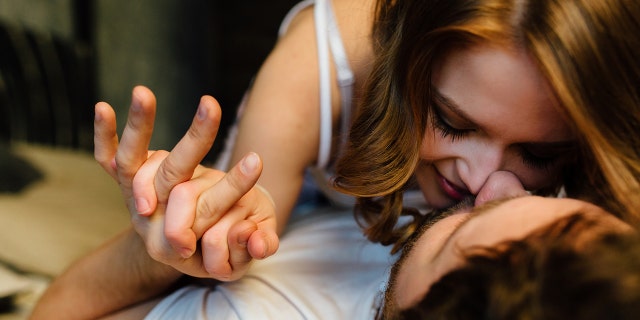 A study of the routines and quality time of 2,000 families found the majority of parents (54 percent) say they only get 12 date nights at the most per year, and as many as one in three (31 percent) get less than one date a month together.
When the frantic nature of family life does subside, parents do manage to get a little alone time with the average couple getting 20 date nights a year together.
Even when finally managing quality time together, 65 percent of parents say that their dates typically involve doing domestic chores together or running errands outside of the home — which might be why more than half of parents (54 percent) believe that they don't get enough alone time with their partner.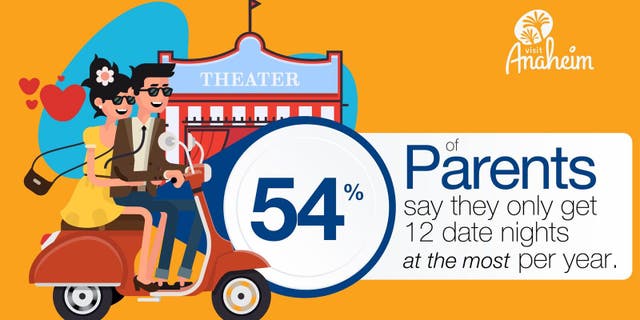 THESE ARE BIG DEAL-BREAKERS ON A FIRST DATE, SINGLES SAY
The study by Visit Anaheim, the destination marketing organization for Anaheim, Calif., found the lack of time also extends right into Americans' vacations — the average family polled said they get seven days a year when they are all away on vacation together.
And it can be hard to get the best of everything while away as a family, which is why 55 percent of those studied said they are constantly looking for things they can do as a whole family.
The study found American families get just 37 minutes of quality time together per day overall.
And, while the quality time figure does jump up to two hours 40 minutes on weekend days, many families are still struggling for time to properly bond and enjoy each other without distraction.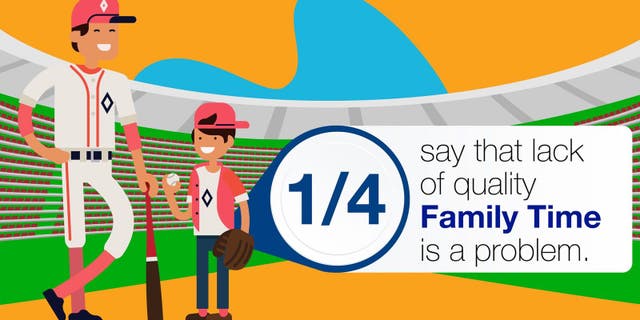 BEING IN A RELATIONSHIP CAUSES YOU TO GAIN WEIGHT, STUDY FINDS
That might be because 60 percent of parents describe their daily lives as "hectic" and one in four say that lack of family quality time away from chores, work, school or TV is a real problem.
The top things to blame are, inevitably, long hours at work (67 percent), weekends spent doing chores, and the kids' school schedule.
Every month, American families also spend time on an average of three appointments at the doctor, dentist or similar as well as an endless flow of day-to-day life admin.
FOLLOW US ON FACEBOOK FOR MORE FOX LIFESTYLE NEWS
If you can manage to find time for a family getaway, Jay Burress, the president and CEO of Visit Anaheim, says it's well worth it. "A vacation offers a refreshing opportunity for families to leave their hectic routines at home and focus on bonding with each other, building memories that last a lifetime."