Oklahoma boy with autism has 'best day ever' even after no one shows up to his birthday party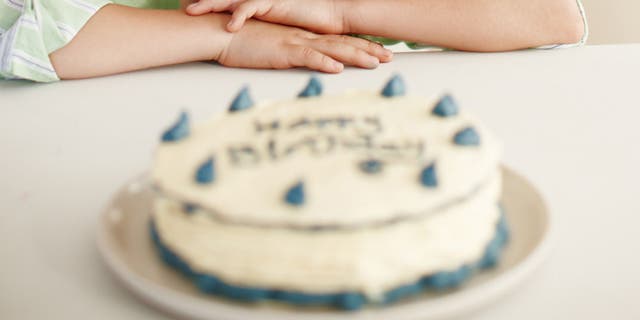 A 10-year-old boy in Oklahoma who has autism says he had the "best day ever" after a group of strangers celebrated his birthday when none of his friends showed up to his party.
Brody Barron recently moved with his family from the U.K. to Guthrie. While his birthday is in August, the boy decided to hold out on celebrating so he could have a party with his new classmates, Yahoo reports.
BOY WHO MADE MEGHAN MARKLE'S MACARONI NECKLACE NOW SELLING SIMILAR NECKLACES FOR CHARITY
When the day finally arrived for his Fortnite-themed celebration at Main Event in Oklahoma City, Barron eagerly awaited the arrival of his 10 party guests. However, things started to go downhill when no one showed up.
"We weren't expecting everyone to show up, but 30 minutes after the party was supposed to start, we knew no one was coming. I told Brody, 'Let's figure out what to do, because I don't know if your friends are going to make it,'" Barron's mom, Susan, told Yahoo.
Because of Barron's autism, he doesn't always understand social cues, so he told his mom he didn't mind waiting.
"That broke my heart. I told him, 'I don't think they're coming.' His entire body deflated and he hung his head. I was crying," Susan said.
When Susan consulted the venue staff, the manager told her not to worry about the $300 event and that they would give Barron an "amazing party" at no cost.
The staff sang "Happy Birthday" to the boy, played laser tag with him and gifted him a Fortnite-themed bowling pin. He also got a gift bag from a customer who called the venue and heard about what was going on.
A spokesperson for Main Event told Yahoo that "Brody touched all of us."
Susan said her son "felt like a celebrity" and called this "the best day ever."
"He said, 'Everyone missed out,'" she said.
FOLLOW US ON FACEBOOK FOR MORE FOX LIFESTYLE NEWS
Last week, another boy experienced a similar let down when none of his 32 classmates showed up for his 6th birthday. When a photo of the kid sitting at an empty table went viral, he was given several birthday gifts to help make up for the disappointment, including tickets to watch the Phoenix Suns play the Los Angeles Lakers.