New Tide 'Eco-Box' package being compared to 'boxed wine' on Twitter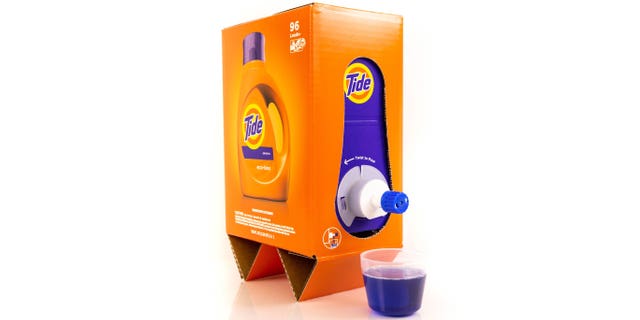 As if Tide Pods that look tasty enough to eat weren't bad enough — now we have "boxed wine."
Procter & Gamble's new "Tide Eco-Box" debuted Friday, and features a handy twist-spout. The liquid detergent comes in a sealed bag — just like your fave boxed organic vino from the trendy wine shop up the block.
The trendy packaging is already generating ample buzz in the Twitterverse.
MAN EATS SOUP DIRECTLY FROM HOT BAR, ENRAGES TWITTER
"I've never wanted to do anything as much as I want to f---ing chug detergent out of this Franzia box," tweets Ryan Broderick, deputy global news director for BuzzFeed. "I can't believe their solution to kids eating Tide pods was to literally put it in a box with a spigot."
The "visibly grape-flavored" liquid even comes complete with what one tweeter dubs a "shot glass."
Wow, just when we were finally recovering from the great "Tide Pod Challenge" hangover of 2017.
That idiotic meme went viral, with teens recording themselves chewing the appetizing blue, white and green swirls encased in see-through packets.
THE WORST DAY TO DO THANKSGIVING SHOPPING? IT ISN'T WHEN YOU THINK
Eating the product can cause seizures, respiratory arrest and even death, according to the American Association of Poison Control Centers, which says more than 10,000 exposures to "single-load detergent packets" were reported in 2017.
Poison-control centers also handled 86 cases in the first three weeks of 2018 alone, the AAPCC reports.
But Tide's new inside-the-box concept isn't all bad: it uses 60 percent less plastic than required when shipping an equivalent 150-ounce bottle. It also weighs less, doesn't need additional layers of cardboard boxing or bubble wrap — and takes up less space in a delivery truck.
"Its size is perfect for the e-commerce supply chain," David Luttenberger, global packaging director at market research firm Mintel, tells CNN. "It's an easy package for nearly any consumer to pick it up, manipulate the opening features, and dispense from."
FOLLOW US ON FACEBOOK FOR MORE FOX LIFESTYLE NEWS
Translation: It saves P&G some bucks — but here's hoping this latest round online notoriety doesn't spawn another laundry list of viral losers.