Model who lost leg from tampon-induced toxic shock could also lose the other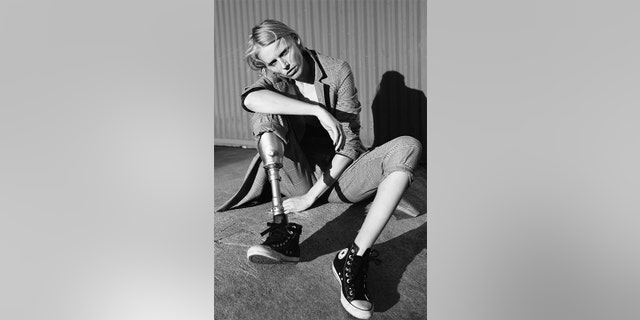 Five years ago, at age 24, model Lauren Wasser nearly died from toxic shock after using a tampon, which resulted in her losing her right leg and part of her left foot. Now, she may lose her entire left leg as well.
"Had I known toxic shock was real, and had I seen someone that had either lost limbs or spoke about it publicly, I would have never used tampons," Wasser told People.
WISCONSIN FIREFIGHTER PROPOSES TO GIRLFRIEND AND HER DAUGHTER AT PARADE
Toxic Shock Syndrome is a life-threatening complication caused by toxins from the bacteria Staphylococcus aureus, or staph, which is found in many women's bodies. TSS is linked primarily to menstruating women, especially those who use super-absorbent tampons, and made headlines in the 1970s and 1980s for causing the death of several young women.
The model, who now appears on runways and ad campaigns with her gold prosthetic leg, is still struggling with the damage left behind from TSS. At the time of the initial incident in 2012, Wasser told Vice that doctors wanted to amputate both legs, but she fought to keep the left one.
Now, however, she faces the possibility of becoming a double-amputee. "I'm in excruciating pain every day," she told the Post.
Wasser has made it her mission to warn other women about the risks associated with using tampons, as well as advocate for more transparency regarding feminine hygiene products. "I think this is my purpose and I wouldn't change it for the world," she recently told The Washington Post.
Besides being a public advocate and speaking out about the disease that changed her life, Wasser is also working with Congresswoman Carolyn Maloney of New York to promote legislation that calls for the National Institutes of Health to help determine whether certain elements of feminine hygiene products are safe, the Post reports.
FOLLOW US ON FACEBOOK FOR MORE FOX LIFESTYLE NEWS
"Toxic Shock Syndrome cost me my leg, but, years later, I have since dedicated myself to raising awareness about TSS prevention," Wasser wrote in an Op-Ed for InStyle last month. "I want to educate women about the potential risks of using tampons. TSS has been killing and harming women for more than 30 years: let that sink in. How many lives is it going to take for something to change?"