Rescued 'inseparable' mini horse and goose get adopted together
Two unlikely animal friends from Pennsylvania have gotten the fairy-"tail" ending they deserve with adoption into a safe, loving home after being rescued together earlier this summer from a neglectful environment.
Earlier this month, the Bucks County SPCA announced on Facebook that applications were open for their "celebrity" residents, Waffles the miniature horse and Hemingway the goose, under one condition – the duo had to stay together.
In July, Waffles and Hemingway were rescued, along with peacocks, ducks and other geese, from a local farm, where they lived in "extremely unsanitary" conditions," the SPCA said.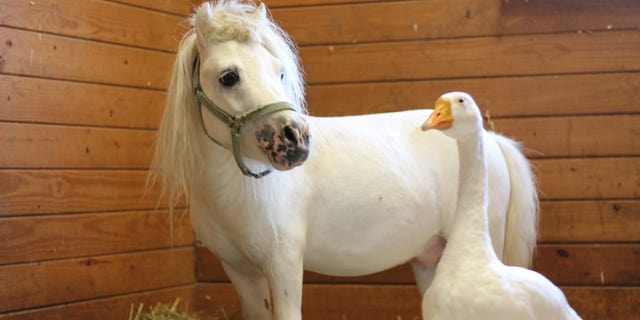 MINIATURE HORSES STILL ALLOWED TO FLY AS SERVICE ANIMALS, DEPARTMENT OF TRANSPORTATION ANNOUNCES
As they adjusted to life at the Quakertown barn, the tiny equine and bird shared a barn stall together and became "inseparable," The Philadelphia Inquirer reports.
When it came time to find a new family for the 6-year-old mini horse and goose, who officials believe is between 1 and 6 years old, SPCA reps felt it would be wrong to separate the animals.
"Everything they've gone through, they've gone through together," shelter supervisor Rachel Freeman told Fox 29. "So for us to bring them in here and separate them would have been pretty detrimental."
According to the Inquirer, over 150 applications poured in for Waffles and Hemingway – likely spurred by their Facebook fame, where their adoption post by the SCPA has been liked and shared dozens of times.
CLICK HERE TO SIGN UP FOR OUR LIFESTYLE NEWSLETTER
On Wednesday, the shelter reported that both animals had departed for their new forever home. According to the Inquirer, the pals had been adopted by a Philadelphia-area woman who is employed at a veterinary office and has a background in working with large animals.
"Waffles and Hemingway have left our barn for their new home! Waffles hopped right in and was ready to go with his best buddy by his side," the Bucks County SPCA wrote online. In an emotional video that has since been viewed over 1,000 times on Facebook, the mini horse joyfully hopped into a trailer, en route to his new home.
"We will miss them, but we couldn't be happier for this special pair," they added.
The animal's original owners, a Pike County-area couple, have since been charged with animal neglect in a case that is pending, as per the outlet.